Johnson: No respite for England
Australia fast bowler Mitchell Johnson has warned England there will be no respite from his short-pitched attack when he returns for the second one-day international in Brisbane on Friday.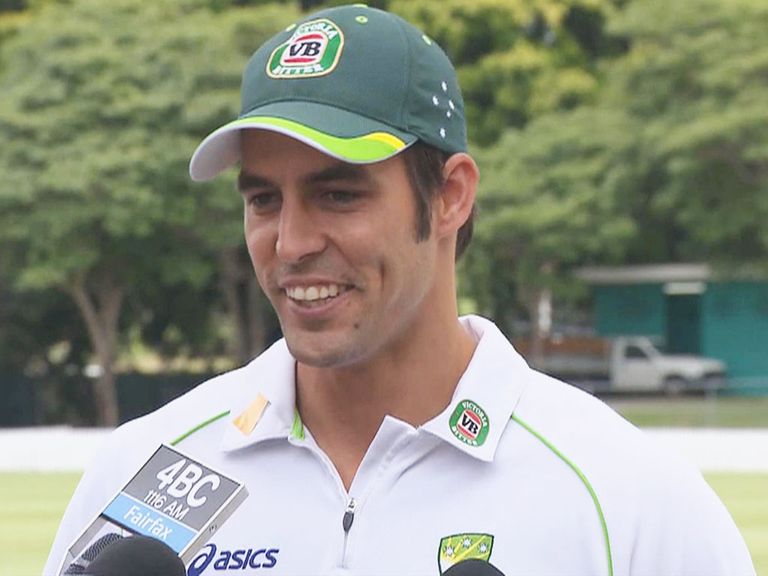 Johnson was rested for the series opener in Melbourne after his 37 wickets fired Australia to their 5-0 Ashes whitewash.
Refreshed after a 10-day break Johnson - minus his Ashes handlebar moustache - is ready to get stuck into England again and believes he can create just as much damage with the white ball.
"Definitely, I think I proved that in the last one-day series in India and England, you can still use the short-pitched ball and be aggressive," he said.
"I really enjoy bowling with the white ball, it swings a bit more and I think you can still be as intimidating with the white ball.
"That doesn't change a thing for me.
"The break was really good just to get back home and freshen up a little bit. It was definitely something I needed to do to get back and be with the family and just chill out for a while.
"I'm ready to go now."
That may be bad news for an England top-order that is struggling to find form.
Skipper Alastair Cook has failed to survive the first over of his past two matches, while Joe Root is in danger of losing his place after some scratchy performances.
Cook's latest failure came after he edged behind a short ball from 37-year-old former Australia paceman Brett Lee in his side's 172-run win against a Prime Minister's XI in Canberra on Tuesday.
Johnson, who has endured his fair share of low points during his career, is not feeling any empathy though.
"I don't think I'm going to feel sorry for an opposition player," he said.
"We all go through our highs and lows and I understand that and have been through it just like any other cricketer.
"It's definitely very tough for him at the moment. Obviously everyone looks up to their captain so I'm sure he's finding it very hard at the moment.
"There's a lot of pressure on him and he's definitely feeling it."
Johnson revealed that, while he had shaved off his moustache during his break, that he intended to grow it back for next month's Test series against South Africa.
The 32-year-old's facial hair has taken on a revered status Down Under this winter, and the left-armer admits even he is missing it after it was shaved off by his wife Jess on live television.
"Looking back at the Ashes series and the mo it definitely was intimidating at times," he said.
"I'm going to grow it for the Test series (against South Africa). I miss it a little bit.
"It was with me that good period of time. The wife was quite happy to see me shave it off."
Such is the status of Johnson's moustache he fielded five different questions on it, ranging from if it helped build his confidence to, alarmingly, whether had the effects of a chastity belt.
"I don't know how I'm going to answer that," he said.
"I was able to get a nice kiss out of the wife.
"She just doesn't like mos.
"I was happy to do that and raise some money for men's health for Movember and it all really took off after (the first Test in) Brisbane really.
"I do feel bare without it, but it's coming back. I think it definitely makes a statement."
---
New Sky Bet customers: Free matched bet up to £30
---