Sydney Five-fer: Day Two
Dave Tickner picks out the key points from day two of the fifth Ashes Test at the SCG.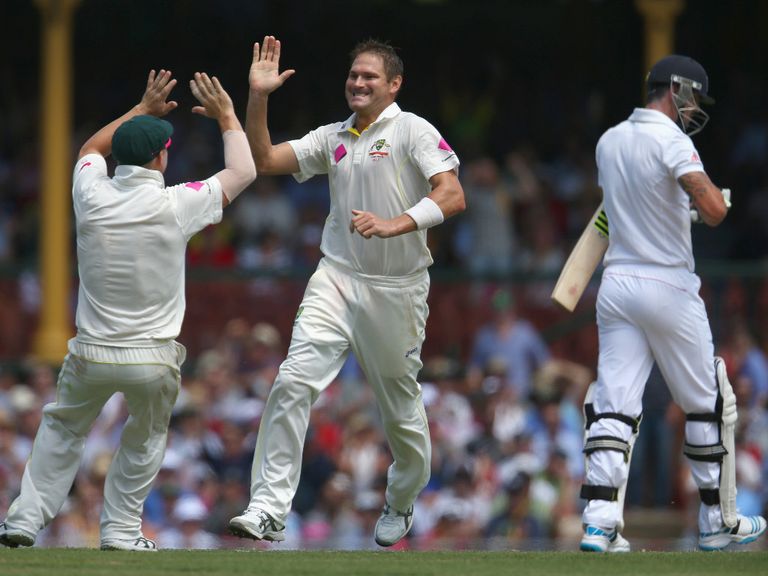 1. And another
It's becoming increasingly testing to find new ways to say the same old things when discussing this series.
Another vintage England batting collapse - 4/15 this time. Another masterclass from Mitchell Johnson and Ryan Harris. Another raft of bafflingly bad decisions from England with both bat and ball. Another solitary shaft of light among the gloom in the shape of Ben Stokes.
The only surprise was that Brad Haddin didn't score a 50 as England craftily failed to take the fifth Australian wicket.
For the fourth time in five Tests, England have effectively lost the match by stumps on day two. For much of the first half of the day, it looked like the might actually complete the job inside two days.
What is startling is the manner Australia have managed to so entirely shut down England's batting. No England batsman averages more than Ben Stokes' 35. Only three of Australia's ever-present 11 have a batting average in this series below that of Kevin Pietersen, England's leading scorer.
England's five first innings have not mustered 1000 runs between them. Only Australia's equally fallible first-innings batting in Melbourne has allowed England to stay competitive in a Test beyond the second day.
2. Ryan mighty
Ryan Harris is a phenomenal bowler. Perhaps the most incredible feature of his bowling, though, is his ability to get it right from ball one. He removed Alastair Cook in Perth with the first ball of England's second innings. It was unplayable, swerving in and decking away before clipping the off bail.
His first over this morning was outrageous. It contained four potentially wicket-taking deliveries. The second ball arced into the middle of Cook's pad in front of off stump. The third found Ian Bell's outside edge but was shelled by Shane Watson at first slip. The fourth whistled past the outside edge. The sixth found a leading edge that dropped short of mid-on.
These were batsmen with 200 Test caps and close to 15000 runs between them. Made to look foolish. Repeatedly. In the first over of the day.
Harris' relentless targeting of the good length that had rewarded England on the infuriatingly few occasions they found it on the opening day always threatened damage. He removed Kevin Pietersen and Scott Borthwick caught behind the wicket and bowled superbly well throughout the day.
To think of how well Harris has bowled in this series, and then realise that Johnson has twice as many wickets, is astonishing. It's no criticism of Johnson - the opposite, if anything. It's just almost impossible to get one's head around the idea that it's possible for a bowler to be twice as deadly in this series as Harris has been.
3. Three and easy
It was fitting that Harris, Johnson and Peter Siddle shared the wickets today. Three each for the three men who, along with Nathan Lyon, have ripped England's batting to shreds throughout this series.
Johnson brings the theatre, the buzz, the thrill. But Harris and Siddle have been superb foils for the star of the show. The bowling in the first hour of today's play was of a standard rarely seen these days. Relentless, hostile, menacing, accurate fast bowling.
It's all too easy to focus on England's obvious frailties. The cracks in their batting especially are clear. But plenty of credit must go to the men who have so mercilessly exposed and widened those cracks, like this metaphor, way beyond breaking point.
4. Se7en
Cricket's a great game. Sometimes it just throws up little moments that make things easy, a little detail that, in microcosm, sums up the state of play.
Today, Australia's opening batsman Chris Rogers scored as many in one ball as any of England's top five made in total.
All right, that top five included a nightwatchman but a) England chose to use that nightwatchman, cricket's most inexplicable, counter-intuitive and cowardly act, so don't deserve any leeway there and b) James Anderson's seven was the joint highest score anyway.
Anderson and Cook battled to those scores. It was difficult. It was painful. Rogers got that number of runs for an edge past the slips that brought him three orthodox runs and then four more when Jonny Bairstow decided for reasons perhaps not known even to himself to gather Stokes' - of course Stokes' - bullet throw from the deep and then hurl it past a disbelieving Anderson, who only just managed to get his ankles out of the way, for four additional overthrows.
5. Narrative
Another horribly tame dismissal for the captain today. The job appears to be weighing heavily on him as his own form - usually so reliable - deserts him almost entirely. The increasingly odd shot selections and misjudgements point to a man whose mind is elsewhere and scrambled, fried or something else more normally done to eggs as the stresses and strains of back-to-back Ashes series take their toll.
Yes, as he walked off the field with a single-figure score to his name and only 101 runs in his last seven innings, Michael Clarke cut a forlorn and concerned figure.
---
New Sky Bet customers: Free £30 matched bet
---