Melbourne Five-fer: Day Three
Dave Tickner picks out the key points from day three of the fourth Ashes Test at the MCG.
The Ashes. Click here to bet.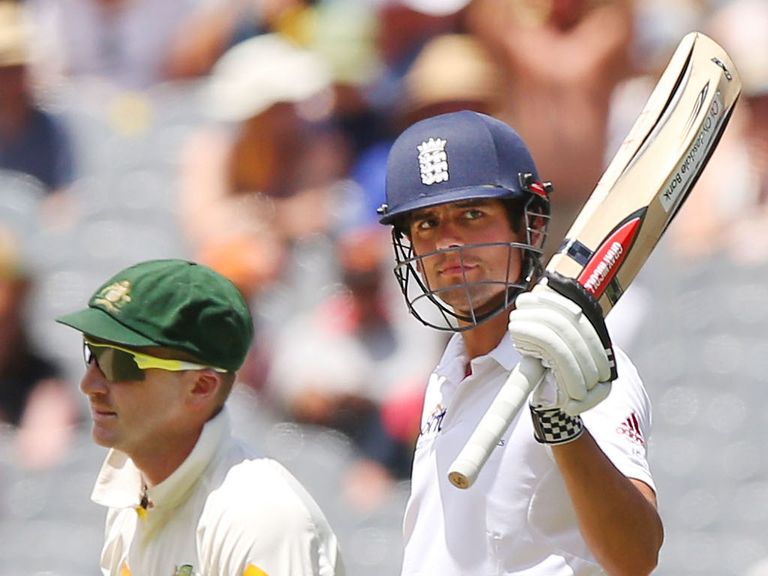 1. Blown Away
The wind howled, sending plastic bags blowing across the MCG outfield like American Beauty tribute acts, and England were blown away.
It was a horrendous batting performance by any standards, even those of this tour.
England's worst batting efforts of the series so far have at least included only one collapse. This contained two. First, England lost three wickets for one to turn the rich promise of 86/1 to a precarious 87/4 before the grisly final act of losing their last five wickets for six runs in 40 balls. That Australia managed to add 40 runs for their final wicket in the morning only added to the teeth-grinding frustration for England supporters.
In all, Australia made 70/1 either side of England's lamentable 179 all out. The home side's efforts looked like a better reflection of a pitch that appeared quicker but also less two-paced than before.
But the worst feature of this double-yolker of a batting collapse from England was the match situation. This was a collapse that scrubbed off the last few remaining excuses the batting unit could cling to.
Here, for the first time, was the chance to bat in a position of relative strength. Even with the efforts of Brad Haddin and Nathan Lyon, England started their second innings with a lead of 51. By the time the nonsense began, a fluent Alastair Cook had taken that lead to 137.
There was no scoreboard pressure here to mitigate the collapse. There is also now no type of pitch on which the batting has not faltered.
And this time the chief architect of England's demise was not Mitchell Johnson bowling legitimately terrifying 93mph thunderbolts but Nathan Lyon bowling honest, tidy, orthodox offspin on a pitch offering him precious little assistance.
Australia have set very good fields to England's batsmen, and set some smart traps. But England have been extraordinarily generous in stumbling into quite so many of them. The England batting may have hit a new reckless, naive and pitiful low today, but it would still be a brave man to state they've found rock bottom. While the human imagination may not be able to concoct a way for England to bat worse than this, there is nothing to say they won't manage it.
2. Cook record
There were two England batsmen, senior players both, who can be excused blame for the steaming wreckage that was today's scorecard.
The first was Alastair Cook, who has spent most of the tour having very nearly as much trouble with his technique as with the Australian bowlers. but today compiled a stroke-filled, fluent and attractive half-century.
Along the way he became the 26th cricketer - and sixth from England - to reach 8000 Test runs. While he may be only the 18th fastest to reach that milestone in terms of innings, he is the youngest to join the club.
At 29 years and three days, he beat Sachin Tendulkar by 21 days. They are the only two 20-somethings to gain membership.
It is a remarkable achievement, and there remains time and scope for Cook to break more of the Little Master's marks as his career continues.
There are those who will point to the natural advantage Cook enjoys by virtue of playing for England. He has been able to beat Tendulkar because he was selected at an unusually young age for England, the country that plays the largest number of Test matches in this era. Cook has reached the 8000 landmark in the 101st Test of a career not yet eight years old. The only other man to reach 8000 within nine years is his team-mate Kevin Pietersen. Those two and Indian great Rahul Dravid are the only three to do it in less than a decade.
It's clear England's schedule does give Cook - and Pietersen - an advantage. But if ever there was a tour that showed the other edge to that particular sword it is this one. To play 100 Tests in under eight years and score runs as consistently as Cook has (even in this series, where so much has gone wrong and his own form and footwork been patchy, he has still contributed three half-centuries in eight innings) is worthy of high praise.
How long he is able to continue to battle form, schedules and opponents will determine how far down the road to Tendulkar's final mark he is able to get. Everyone else looks well within his compass.
3. KP
The other England batsman not to embarrass himself was the other 8000 man Pietersen.
What a relief for England that the team is not selected via Twitter. While a startlingly large number people who are allowed to vote in elections demanded England's best batsman be dropped, he has shown, if such a showing were needed, why such a move would have been utterly ludicrous. That he has still been on the end of highly vocal criticism despite scoring 120 runs across two disaster-littered England innings is too depressing to think about for too long.
As the tail set about once again justifying Pietersen's decision to go on the attack in the first innings (if not quite the wild way he went about it), England's 'selfish' number four perished searching for a boundary against a deep-set field while one run short of a personal landmark.
Once again left to bat with nine, ten and Jack in England's collapsible house of cards, Pietersen tweaked his method of attack. He decided this time to play Johnson in more orthodox fashion and look for success elsewhere. It failed again. This time even less of the blame for that failure rests on KP's shoulders than first time round.
4. Car stalls
Having spent most of this series looking in really good form but not being able to go on and make a sizable, memorable contribution, Michael Carberry today looked like a batsman who has been found out. With Australia now almost instantly targeting his weakness from round the wicket - against both left- and right-armers oddly - his run-scoring options have been reduced even further. He limped to 12 from 81 balls even as Cook raced to a quickfire half-century.
The similarities to Nick Compton's final Test innings should not be lost on anyone.
Carberry will probably get the final Test in Sydney because a) the series is gone and b) others have done worse than him, but the way Australia have worked him out and shut him down across these four Tests is ominous for his five-day ambitions beyond the first week of 2014. He may come to rue not taking advantage of his good form earlier in the campaign.
5. Hope
Finally, for all the understandable doom and gloom, it would be remiss not to mention that Australia are chasing 231 for victory here, not 31. Today went strikingly badly for an England side that looks fragile and increasingly unable to cope with the frequency and ferocity of the myriad setbacks and embarrassments they are suffering.
But an Australian side that has never truly shed its reputation for flunking small-to-medium-sized run-chases and a top six that has been exposed more than once despite the march to a 3-0 lead in this series still requires over 200 more runs to win.
England should not give up hope of victory on the fourth day right up until the moment Brad Haddin edges the winning boundary over the slip cordon.
---
New Sky Bet customers: Free £30 matched bet
---