Perth Five-fer: Day four
Dave Tickner picks out the key points from day four of the third Ashes Test match at the WACA.
The Ashes. Click here to bet.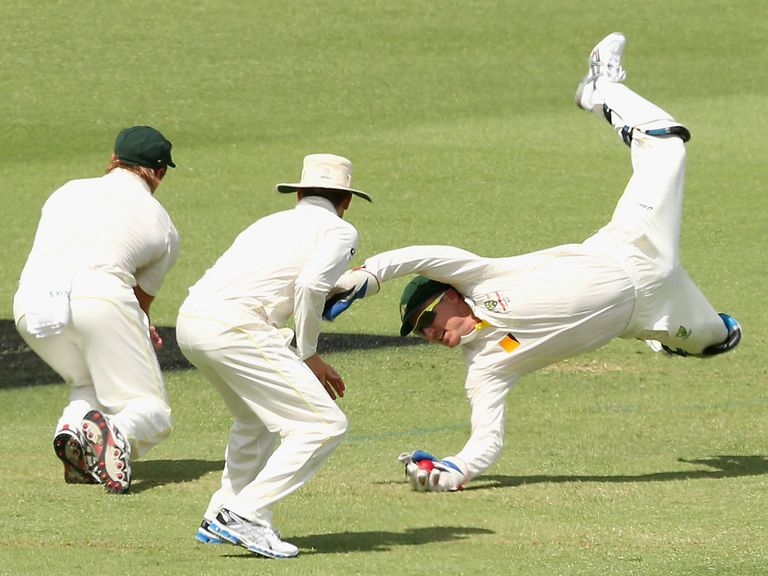 1. KP: nuts?
It was a familiar sight. Kevin Pietersen, almost wilfully becalmed in England's first innings, was playing a fine array of spectator-thrilling shots and had made his way to 45 counter-punching runs that were just starting to make those of a glass-half-full disposition glance at how many more England needed to win.
Then one of those attacking shots that had brought him 45 runs got him out, and everyone began seething.
He fell trying to hit Nathan Lyon over long-on, a feat he had achieved in the offspinner's previous over. And here's the thing: you cannot revel in the first shot and then criticise the second. Same shot, same field setting, just a different outcome.
It may have been a poor choice of shot, a low-percentage choice of shot. But that was the case with the one that went for six. If you yelled "SHOT!" at that one, if you loved his innings at The Oval in 2005, then I'm afraid you just have to suck it up and accept it when things go wrong.
KP's defenders and detractors will turn at times like this to the same phrase: it's the way he plays. It's a compliment and a criticism, depending on your starting point.
But it's only half-right. The point is not that this is the way KP plays; the point is that this is the way he has had success. He is an attacking batsman who looks to grasp the game and take it away from the opposition or at least, on days like these, fractionally loosen the opposition's vice-like grip on it.
His method - and it is a method; Pietersen tirelessly, constantly thinks about his game and works on it - has brought him over 8000 Test runs at an average of 47. He will become England's leading Test runscorer, and quite probably the first to reach 10000.
You may say that had he played differently he would have even more runs. Maybe. Maybe he would have made far less. Certainly he would not have played some of his greatest innings - such as the great 2012 trilogy of Colombo, Leeds and Mumbai - where he took risks and so thrillingly changed the whole dynamic of those matches.
Pietersen is not a consistent batsman. He never will be and, it's obvious now, was never going to be. But he is unlike just about any other batsman in the world and remains a man capable of breaking open just about any game. He may even have done so in this one.
His game-changing ability combined with a record that stands up to the closest scrutiny means Pietersen's remains among the first names in any England Test XI. He will frustrate you. He will infuriate you. But he will dazzle, delight and amaze you.
With Pietersen you have to take the rough with the smooth, even if that rough comes after not quite as much of the smooth as you would've liked.
2. Six appeal
This tour has tested even England's ability to search for and successfully locate positives to take from even the most shambling, atrocious mess. But they have one in Ben Stokes.
Before today, there was an element of slightly desperate if entirely understandable straw-clutching to the way the Durham all-rounder had been talked up. He had shown heart for the fight and bowled whole-heartedly if not always particularly thoughtfully or successfully. There were signs of promise, but he had done little more than fulfil the most basic requirement of not looking entirely out of place. Before today, he had done okay but in truth looked neither a third seamer nor a number six batsman. And to stay in the side, he needs to be at least one of those things.
But in Australia's second innings, he was arguably the pick of England's bowlers. And if that's damning with faint praise, there is no such edge to the superlatives for his batting.
It would be entirely possible in this forlorn situation for a player to smash 72 not out off 96 balls and it mean little. A couple of lucky swipes here, a lusty slog or two there. All good fun to delay the inevitable.
Not the case here, though. Stokes played like a batsman. His strokeplay was crisp. His drives down the ground were particularly striking, while his pull shots - always well in front of square - were dismissive. But almost more impressive was what happened between the judicious, calculated, high-percentage attacking shots. He left the ball well, he was solid in defence and only very rarely was he tempted into a rash shot.
He has a glorious chance to register a maiden Test century on the final day here. Even in almost inevitable defeat, it would be a significant achievement. It would also be only the 70th Test century ever scored by an England number six. Which highlights also that the recent years of Bell and Collingwood averaging 60 and 45 there have slightly skewed English thinking.
England's best number sixes - those two apart - have almost never been pure batsmen. They've been all-rounder, and not always batting ones. Graeme Swann has in recent years made it far easier for England to play only four bowlers; he has been on the one hand a wicket-taking threat and on the other able to tie up and end for long periods.
It's unclear how much more Swann has to give the England cause, but when he goes the four-bowler attack that has served them so well may no longer be practical.
Stokes is just 22 and is potential for improvement is vast. He might just be the real deal.
3. Elementary for Watson
The man who provides the batting-fifth-bowler goods for Australia didn't have a bad day, either.
Shane Watson remains a curiously divisive character, with his fourth Test century received almost as badly it seemed in Australia as in England.
This is made even more odd by the spectacular brilliance of today's effort. He raced from an overnight 29 to a century in the blink of an eye. His second 50 took just 28 balls. Swann was obliterated.
Watson - assisted by George Bailey smoking a Test record-equalling 28 runs off a James Anderson over that proved to be the last of the innings - enabled Australia to reach their target of a 500-run lead far quicker than Michael Clarke could've dared to hope when the day began, allowing him to declare well before lunch and pick up the crucial wicket of Alastair Cook before the break with the very first ball of the England second innings.
With England losing only four more wickets in the subsequent 66.4 overs, Watson's role in bringing that declaration forward looked ever more significant.
But Watson being Watson, there was a twist to the end of his innings. It takes a special kind of talent to hit 103 off 108 balls. It takes a rarer one yet to do that and still manage to walk off a laughing stock.
It's a dismissal that will go down in the game's history as one of the all-time greats. Watson skied the ball horribly, Bell came in from midwicket to take the simplest of catches but contrived to drop it.
Watson, who apparently had not been watching England's fielding efforts throughout the series was so surprised by this turn of events that he found himself dawdling fatally in mid-pitch as the furious bowler Tim Bresnan picked up the ball and angrily threw down the stumps.
4. Loosener
Cook became the first man ever to bag a golden duck in his 100th Test, but could depart the field knowing there was precious little he could have done to avoid it.
After the Watson assault allowed Australia a bowl at England before lunch, Ryan Harris produced perhaps the finest delivery he will ever bowl to remove the England captain.
It shaped in through the air, jagged away off the pitch, beat the outside edge and flicked the off bail. An incredible delivery to bowl at any time; to bowl it first up was almost indecent.
But if ever one ball summed up the intensity, professionalism, ruthlessness and constant readiness of this Australian team throughout the series, this was it.
What Cook wouldn't have given for a few easy sighters after a traumatic morning in the field; Harris was never going to give him that luxury.
5. Flying
Mitchell Johnson's dismissal of Joe Root was interesting for a couple of reasons. Firstly, Root's instantaneous decision to review it despite getting a massive outside edge further highlights why player reaction cannot and must not ever be used as a guide to decision-making - maybe he did hit that one in the first innings after all. But secondly, what a catch from Brad Haddin.
He is right up there for player of the series and this was a gem, diving right across Watson at first slip to pluck right-handed, clean as whistle, a 90mph bullet that never got above shin height after leaving Root's bat.
A stunning catch in its own right, but a marked contrast to two other incidents. One, from this game, when Matt Prior, shorn of all confidence, failed to go for a similar chance offered by Chris Rogers and the second from Haddin himself when, with Australia on the back foot at Lord's, he failed to move for a chance offered by Root when he had made just eight of his 180 in the second innings. So much has changed since that day.
---
New Sky Bet customers: Free £30 matched bet
---