Perth Five-fer: Day two
Dave Tickner picks out the key points from day two of the third Ashes Test at the WACA.
The Ashes. Click here to bet.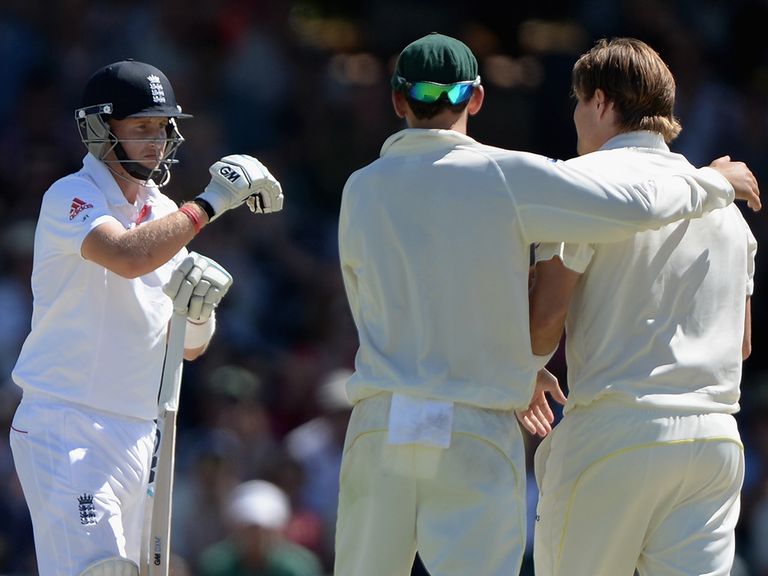 1. Half measures
After the Adelaide Hooking Incident, today's was a big innings for Alastair Cook.
And he did pretty well, despite appearing to play himself in to and then back out of form about halfway through his hard-earned 72 runs.
But that score of 72 is in itself a troubling one. After a run of five successful conversions of 50 to 100, today's 72 represents the best of his last five half-centuries.
It could be a statistical quirk, it could be that he's just not in the very best of form but, being Cook, he is still able to accrue some runs along the way. But it could be that the weight of captaincy is affecting his previous ability to concentrate for hours on end and bat forever.
In 2010/11, I was utterly convinced that Cook was not in fact a human being. Those eyes looked decidedly painted on, the jawline too square to be organic. Clearly, he was a cyborg of some kind.
Now that may have been the hours I was keeping and the solitude, but this time around the England skipper looks all too human. All too frail. His dismissal today was in its way every bit as disappointing as the Adelaide hook, miscuing a cut shot off Nathan Lyon tamely to point.
2. Bunny
Kevin Pietersen today joined an elite five-man club of England players with 8,000 Test runs.
It's a fine achievement from a batsman who will only be truly appreciated when he's no longer a fixture in England's middle-order, but he also joined an even more exclusive club today: Test batsmen who have been dismissed 10 times by Peter Siddle.
The banana-chomping vegan is an admirable performer but it's bizarre that he has now taken Pietersen's wicket 10 times in Test cricket for the cost of just 174 runs. It's clear that Pietersen doesn't rate Siddle, just as he doesn't rate a great many of the left-arm spinners to have dismissed him through the years.
Pietersen's batting is always a study in extremes. It's what makes him better to watch than just about any other batsman on the planet, what makes him by turn a genius and infuriating wastrel.
Today, so determined was Pietersen not to give his wicket away against the pace of Mitchell Johnson and the probing of Ryan Harris that he took strokeless defence to almost illogical extremes as he crawled to four from 43 balls.
Just as he so often demonstratively attacks bowlers, so he made a great show here of not attacking them. Every forward defensive shot exaggerated and pose held. Every leave finished with a flourish. LOOK, it seemed to scream, I AM BATTING SENSIBLY.
It couldn't last, and with Siddle coming into the attack soon after Pietersen had inadvertently got himself going by accidentally hitting a couple of boundaries off Johnson, you sensed what may happen. On another day, the slightly miscued pull shot may have cleared the man at mid-on. On another day, we may have been talking about KP batting through the tough times and cashing in. Had he not got out, he may have biffed his way to 60 not out in the final hour. But he didn't clear the man. He did get out. Siddle has his bunny yet again, and an all-too obvious additional entry is made in the 'infuriating' column.
3. Review the situation
This series has been sorely lacking in DRS controversies in which the only point of widespread agreement is that everyone's pre-conceived ideas about the validity and effectiveness of the system are reinforced by whatever takes place on the field.
First, we had a textbook use of DRS as Steve Smith got a faint edge through to Matt Prior. Tricky to detect in real time, but TV replays, audio, Hot Spot and snicko were all in agreement that an edge there was and off Smith went for a fine 111.
Splendid. Pats on the back all round.
Then Joe Root was given out caught behind off Shane Watson just before tea, and this time things worked less well. Brad Haddin was convinced Root had hit the ball. Root was equally convinced he had not. Marais Erasmus didn't seem too sure either way, but eventually raised the finger.
Root instantly reviewed. The first thing to say here is that Root's reaction, however genuine it appeared to be and most likely was, is as irrelevant as Haddin's confidence. Umpires cannot (or certainly should not) start taking such things into account when making decisions lest the whole thing descend into pantomime.
DRS then swung into action. TV replays were... inconclusive. There was no deflection, no clear contact between bat and ball, but equally no tell-tale daylight between them. Then the audio. Yes, a noise, but a fraction late perhaps? And not particularly 'nicky' (a technical term I've just invented). So far we've learned little: to the gizmos! Hot Spot. Nothing. Good news for Root, but Hot Spot is not perfect. It can, as we know from the fondly remembered silicone tape scandal of the summer, confirm the presence of an edge but not the absence of one. Proving a negative is a tricky business.
To real-time snicko, and the piece of flimsy evidence that probably condemned Root. There was a flicker on the graph a frame-and-a-half after the ball passed the bat.
We then discovered that the snicko response can be a frame after the contact and that umpires had been briefed to this effect before the series.
On this basis, and with DRS protocols requiring clear, overwhelming evidence to overturn the on-field decision, the correct call was made.
What remain wrong are those protocols. As with the illogical umpire's call for lbw reviews, here we had the caught behind equivalent. The oft-quoted but non-existent law that states the benefit of the doubt goes to the batsman has now been replaced in DRS-enabled cricket; the benefit of the doubt goes to the umpire.
Was Erasmus clearly wrong to give Root out? Probably not. Was Root out, though? Probably not.
It seems unsatisfactory. The system is a fudge, with the grey area given over to the umpire.
As with umpire's call for lbw, here is a situation where a batsman can be simultaneously out and not out; had Root been given not out and Australia reviewed, that decision too would've been upheld.
The benefit of the doubt should go to neither the batsman nor the umpire. The correct decision has to be the aim here. Once a decision is reviewed, the third umpire should become the umpire. Study the footage, use the technology. Make a decision. The original call should be irrelevant; all we're after is the correct one or the best stab at it whenever uncertainty remains.
Had the third umpire studied the Root incident and decided that, in his mind, he was satisfied it was out, then many would disagree with that assessment and decision. But at least it would've been a decision made for the right reasons.
4. Stuck
Whatever the rights and wrongs of that decision, though, it was further reward for Australia's highly successful Plan B - for Bowling dry - in this series.
Whenever Australia's Plan A of blitzing England with pace hasn't worked, they have been able to apply pressure, stop the runs, and reap the benefits.
This is at least in part down to flawed batting, with England too often seemingly unable to find an option between reckless attack and total shot-free defence. Whether the dry bowling is causing this batting frailty or the other way round is a chicken-and-egg conundrum that will vex great minds for generations to come, but it is helping Australia win these Ashes.
After 25.3 overs of their innings, England had 85/0; they made just 95/4 from the remaining 42.3 overs on a ground where runs come as swiftly as anywhere. Pietersen's attempt to change from first gear to fifth failed, while Ian Bell has thus far made no attempt to change the funeral pace of his innings. Cook batted at a generally Cookish tempo for his 72 off 153 balls but the fact it was the Test novice Carberry who came closest to getting the balance right is a legitimate criticism of the more senior members of England's top five. Even Ben Stokes showed purpose, getting down the pitch to smack Nathan Lyon down the ground for four late in the day.
5. Mitch
One thing England have undeniably put right in the last innings and a half is the tendency to get completely ripped to shreds by Mitchell Johnson.
When Alastair Cook fell hooking on day three in Adelaide, Johnson's series figures were 17/143. He has bowled 10 wicketless spells and has figures of 0/116 since Cook fell.
He may well once again detonate England's middle and lower order on the third morning and turn his current 0/43 in this innings into 5/65. But at least there will be a sense that he's been made to work for it. Small victories.
---
New Sky Bet customers: Free £30 matched bet
---