Adelaide Five-fer: Day four
Dave Tickner picks out the key points from day four of the second Ashes Test at the Adelaide Oval.
The Ashes. Click here to bet.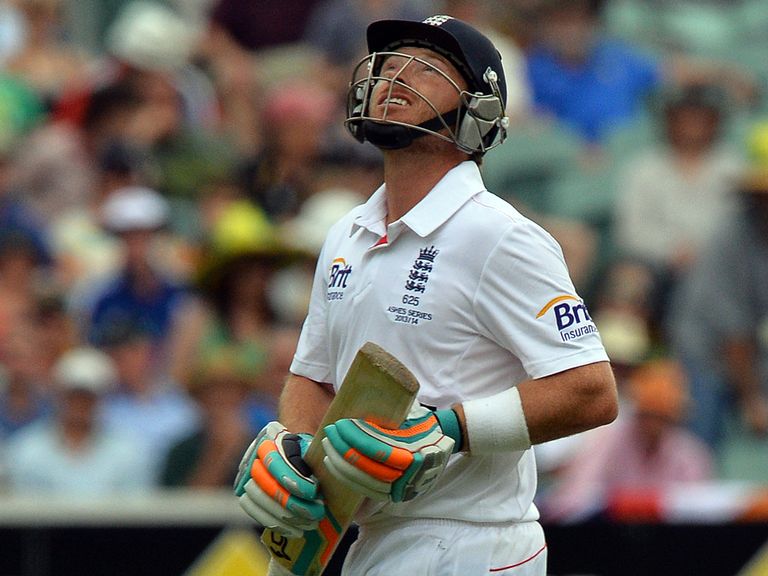 1. Fight on
England deserve some praise today, but it must be kept in perspective. Showing fight and defiance in adversity is admirable, but England as a team today did nothing more than lift their performance to competence. It was acceptable. It was okay. It was a large improvement, but an improvement from a desperately low base.
In more normal circumstances, a score of 247/6 in conditions such as these and with four of the top six hugely complicit in their own downfalls would probably provoke criticism. The abdication of responsibility from the opening batsmen. The failure of set batsmen to go on to three figures. Ian Bell getting out to Steve Smith for a frankly ludicrous third time in Test cricket. The fact that the match is still all but certain to be lost by a humiliating margin unless rain - and there is some forecast for the final day - intervenes to hilarious, grotesquely unfair effect.
Today, though, hungry England fans will swallow the smallest crumbs of comfort. After three pitiful and spineless middle-order collapses, there was spunk and spark to the batting. There were plans. Strategies. Ideas. They weren't all good ones, and they didn't all work, but England have batted through a day's Test cricket without being dismissed. For the first time, they have not been humiliated. They countered Mitchell Johnson, who could not add to the early scalp of Alastair Cook. Nathan Lyon looked ordinary and unthreatening in conditions that favoured him. (It has been a curious feature of this match that three talented and experienced finger-spinners have all had persistent problems with bowling short.) For the first time in the series, a crash of English wickets did not seem inevitable. Having discovered that Johnson and his mates will not just blow them away every time, England now need to just stop donating wickets quite so generously and they'll be set.
2. Root cheer
Among the partial successes and spurious positives to be taken (KP looking good, Stokes getting stuck in, Prior not getting nought, extending a five-day contest into the fifth day) there was one undeniable, stand-out, genuinely significant bright spot for England.
The number-three question should be put to bed for at least an innings or two now after Joe Root played a gem having found himself in the middle 1.3 overs into England's attempt at an 180-over rearguard.
He defied the new ball expertly. He visibly relished the contest with Johnson, who appeared rattled by the Yorkshireman's infuriatingly unshakeable good humour. Importantly, after carefully playing himself in, he then looked for, found and exploited scoring opportunities.
In the match situation, a strike-rate in the mid-40s points to just about the ideal blend of keeping busy and looking to score while minimising risk against a quality attack sensing blood.
His dismissal when it came was unfortunate and unexpected, but by then he had shown the ticker, technique and temperament to fully justify his promotion to number three.
This is a special talent. I said after day two that the failure of anyone since Jonathan Trott to establish themselves in this England side was a huge worry. Today, Root took a huge stride towards putting himself in the established category.
3. History repeating
England still have a problem with batsmen getting out in the same way and to the same bowlers.
Peter Siddle dismissed Pietersen for the ninth time in Tests, a ludicrous number and one that represents one in six of all the banana-chomping vegan's England victims.
Michael Carberry was out to the short ball for the second time in the match, even if for the second time he can allow himself to feel a mite unfortunate.
Ian Bell getting out to Steve Smith is an affront to cricketing decency. Once might be considered unfortunate, twice is a concern, but three times is beyond a joke.
Collectively, too, England keep plummeting into the same traps set by Michael Clarke, whether that be one of many variations on the leg-trap theme (Matt Prior came perilously close to a third identical dismissal in four innings off Lyon) or simple bowling dry.
Carberry fell at the end of a five-maiden stretch on day three. Today, Pietersen and Root's enterprising partnership was ended after another Shane Watson-inspired run of dot balls.
Smith coming on when Bell was new to the crease with tea approaching should've been insultingly obvious to a batsman of his quality. But still he obliged. Their heads were undoubtedly clearer today, but England remain muddled and vulnerable.
4. Catching
While any invariably smug use of the phrase "catches win matches" brings all right-thinking people out in hives, there is no denying that taking catches is a very good thing for a cricket team to do, and far preferable to dropping them.
It's far from the only aspect of the game in which Australia have been palpably superior in Adelaide, but it's a compelling one.
After England dropped three catches that ranged from the tricky to the basic, Australia have shown the way with some superbly safe handling. There were five catches taken today and, while none was a stand-out screamer to rival Dave Warner's on day three, they were all in their own way impressive. None were straightforward.
Particularly praiseworthy were three catches that required smart movement and safe hands low to the turf, all taken by bowlers: Ryan Harris, Nathan Lyon and Mitchell Johnson.
Brad Haddin, too, was smart and alert to grab the bat-thighpad chance offered by Root. And a fast, low slip catch at the end of a day in the field is exactly the sort of thing a captain can muff if his mind is even slightly elsewhere. Clarke made no such error.
5. TV review
Ben Stokes is a thoroughly modern cricketer, with his fondness for a sledge, his tattooed arm and a game built on physicality and power.
But few players can have made such a thoroughly modern start to a Test career. Within the first 67 balls he faced at the elite level, he was the subject of a successful DRS review, two failed ones, a plumb lbw that would've been reviewed had one been available and a 'catch' referred upstairs by the standing umpires to see whether the ball had hit the ground (it had). That's a TV review-based incident every 13 balls.
It's also a result of the ICC's maddening and illogical decision to top up a team's reviews after 80 overs, a rule change that encouraged Clarke to deploy a couple of gambler's reviews here as he bet (incorrectly as it turned out) on the basis that his side were unlikely to be on the wrong end of a howler in the 10 or so overs remaining before the 80-over mark where a shiny new ball is joined by shiny new reviews to boost a fielding side's spirits. A DRS gamble window has been created, increasing precisely the sort of reviews that the governing body should be looking to cut out.
---
New Sky Bet customers: Free £30 matched bet
---