Adelaide Five-fer: Day two
Dave Tickner picks out the key points from day two of the second Ashes Test between Australia and England.
The Ashes. Click here to bet.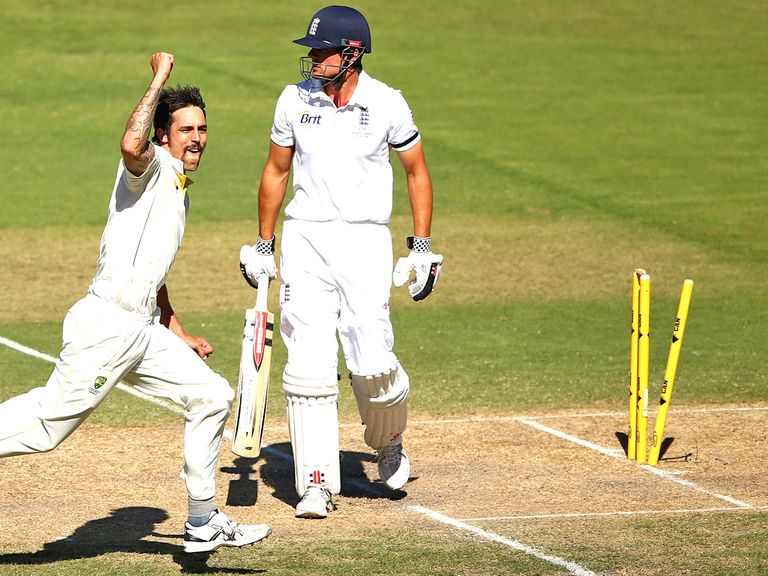 1. Intent
After a tense, fluctuating first day at the Adelaide Oval, this match was waiting to be grabbed by someone. Michael Clarke gambled and in so doing grasped that opportunity.
It could have gone horribly wrong, Australia's captain miscuing after advancing down the wicket to the very first ball he faced in the morning session. But fortune favoured the brave on that occasion and from then on Clarke needed precious little assistance from any source than his own talent as he took the game - and, barring something sensational, the series - decisively and swiftly away from the tourists with his 26th Test century, his sixth in Adelaide, and his seventh against England.
It was a glorious innings, his plans and their execution as clear and crisp as his footwork against the spinners.
He was always busy, always looking for the gaps, usually finding them. Whether advancing at the spinners to knock them down the ground for one through midwicket or inside-out over cover, or rocking back to cut, he was always the aggressor. It was less an innings than a statement.
The run-rate for the day never dipped below four as England's chances of a series-levelling victory evaporated.
After getting him early in the first innings at Brisbane with the short ball, England gave away singles to get him back on strike in the second. He made a hundred in that innings and played even better in reaching three figures again here.
The only relief for England came when he got a leading edge to midwicket to hand Ben Stokes a first Test wicket and fall 52 short of the double-century that has become customary for him here. But by then, it was surely too late.
2. Never Hadd a chance
Captain Clarke was ably assisted by his deputy Brad Haddin in a match-shaping, possibly series-defining, 200-run partnership.
The Australia keeper, who like his skipper averages over 100 on this ground, also kept the scoring rate high, albeit in chancier fashion than his partner.
After the outrageous Michael Carberry let-off on day one, Haddin escaped a clear run-out chance due to a weak throw from the same man, could have been caught by a livelier fielder than Monty Panesar off a top-edged hook shot and was caught behind off a Stokes no-ball.
But he accepted all those gifts and took full advantage. He too was crystal clear in his thinking, repeatedly and successfully targeting the short square boundaries and clearing them off both middle and edge of the bat.
The sight of a top-edge off a spinner going for six is an unedifying one for Test cricket, but inevitable on this ground and certainly no fault of Haddin. He had the percentages in his favour, knowing that even a poor contact was unlikely to spell trouble, and played them to great success.
Haddin has now been involved in the series' two most important partnerships. Incredible to think his career at this level appeared over. Even more incredible to think that was because of Matthew Wade.
3. Big guns
Before this game, Alastair Cook spoke of the need for big performances from England's big beasts. He talked of "five or six" senior players leading from the front, creating the mathematical possibility at least of more leaders than followers. In any case, this has not thus far transpired. This bowling attack is the most experienced and successful, in terms of Test wickets, England have ever fielded. But James Anderson and Stuart Broad were manful yet toothless, Panesar was knocked around with minimal alarm by both Clarke and Haddin, and Swann was deposited over the (admittedly not very far away) boundary ropes with alarming frequency before Cook himself failed to negotiate Mitchell Johnson's brutal, exhilarating, primal new-ball spell of 95mph rockets.
Instead debutant Ben Stokes took the bowling honours - such as they were - for England, belatedly bowling a fuller length and reaping the rewards for skiddy pace in unhelpful conditions.
He also showed stomach for the fight, taking no backward step in a sledge-off with Haddin after taking too large a forward step to see his dismissal of the Aussie wicketkeeper chalked off. He felt like a legitimate positive on a day where they were desperately needed. Certainly he showed enough skill and heart to show why those who matter in the England set-up are so keen on him.
Later, Carberry and Joe Root were left to negotiate the final hour before stumps.
There remains time for this to change. Kevin Pietersen and his formidable record here and in second Tests generally is next in, followed by Ian Bell who still has some hold over Australia following his century-laden summer.
But for now, England's Adelaide fightback has stalled and their main men have not produced.
4. Decline
There's a feeling, no doubt exaggerated by the freshness of the Brisbane wounds and the current struggles here but present nonetheless, that here is an England team - Flower's England team - coming to the end.
There's a symmetry to their journey, a rise to the top with a home Ashes win along the way, and a gradual descent from that peak, with a home Ashes win along the way.
From the start of the 2010 summer, this England produced 18 months of consistently great cricket that few sides from these shores have matched. The 2010/11 win in Australia and the subsequent 4-0 demolition of India took England deservedly to the top of the Test rankings.
Since then, things just haven't been the same. The 3-0 defeat to Pakistan in the UAE and 1-1 draw in Sri Lanka opened cracks in a batting line-up that had busied itself racking up improbable scores and big individual centuries. Those cracks have never really been filled. The bowling held up, though, until South Africa came and ripped England's No. 1 status from them.
That England responded by winning in India and retaining the Ashes 3-0 on home turf points both to their spirit and resilience and also to the fact that this is not a bad team. Just no longer quite the one it once was.
The signs have been there for a while. The consistent failure - 18 innings and counting - to reach 400. The 0-0 draw in New Zealand, in which the hosts' batsmen found life disconcertingly straightforward. Even in the Ashes, while England were deserved and clear winners, they were way short of the consistent excellence of the previous campaign.
Andrew Strauss' retirement has been a factor. Paul Collingwood has never adequately been replaced as sixth batsman.
Anderson is past 30. While dullards point to his bowling average's stubborn insistence on remaining above 30, there is no doubt that he no longer menaces top batsmen as he did during his best years. As Broad's average has crossed Anderson's, so too, quietly, almost imperceptibly, has their status. Broad is the attack leader now.
Swann's time as an England player may end swiftly after this series. Jonathan Trott's return cannot be assumed.
And England need new names to step up and take their place. Trott is doubly noteworthy here, as he is perhaps the last player to come into this England side and thoroughly establish himself as a fixture in it.
Of the dozen or so others to get a chance since, Root has come closest to cementing a spot. He will almost certainly do so. Others may get a first, second or third chance soon enough.
5. No ball
A fittingly frantic end to the day saw two things go England's way on a day when precious little had.
First, from the fifth legal delivery of the over, Root, partly out of a sound and understandable need to keep things ticking but mainly out of an unsound but equally understandable desire to get to the safety of the non-striker's end, called Carberry through for a nonsense of a quick single that would have seen the opening batsman run out a yard short of his ground.
Then, with the day's final ball, Johnson sent one last missile thudding into the batsman's pads. The lbw appeal was rejected and Australia declined the chance to review.
It would've been overturned, enough of the ball hitting enough of the stump to satisfy even the draconian standards demanded by DRS to overturn an incorrect not out lbw call.
But what was also interesting was the fact that Carberry, had he been dismissed, would, due to an earlier front-foot no-ball in the over, have fallen to the seventh ball of the over.
Probably just the situation making me daft, but I've wondered before whether the extra delivery following a wide or no-ball should be mandatory, or rather delivered (or not) at the discretion of the batting side.
The extra ball, like the one-run penalty, is designed to penalise the transgressor; the bowler. In situations like this, where a batting side have nothing to gain but much to lose from an extra delivery, the opposite is true. Only in the closing moments of a day or when batting for a draw would a batting side likely exercise such an option to decline the extra delivery, but is it an option that should be available? Or is it an unnecessary solution to a problem that doesn't exist?
---
New Sky Bet customers: Claim free £5 bet every week
---