Adelaide Five-fer: Day one
Dave Tickner picks out the key points from day one of the second Ashes Test at the Adelaide Oval.
The Ashes. Click here to bet.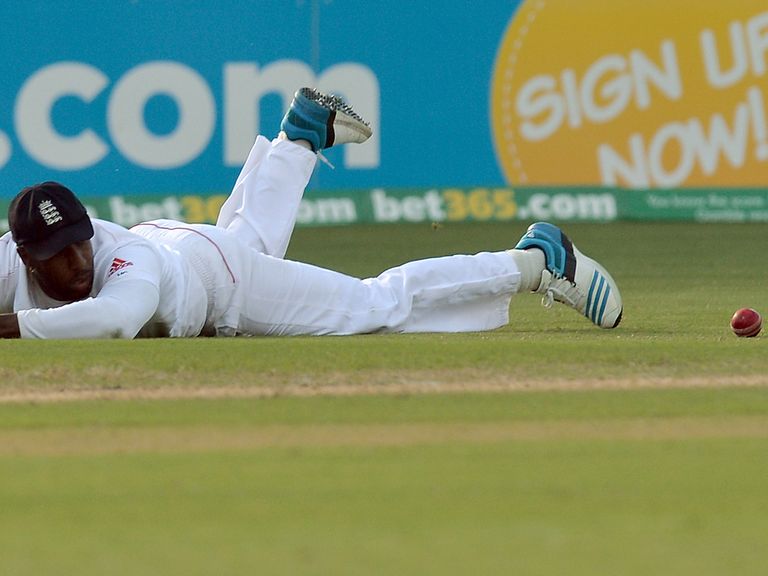 1. Balance
A fine day's Test cricket and, like all the best opening day, tough to get a clear read on at this stage. At times attritional, at times explosive, the day fluctuated one way and then the other without ever really settling on a winner.
In summary: both teams played quite well apart from the moments when they didn't, and the same was true of the pitch.
For Australia, the bad moments were another cluster of avoidable dismissals from set batsmen to go with their day-one Gabba generosity. For England, the bad moments were the three dropped catches of varying difficulty that cast a shadow over their admirable evening efforts. (It should be noted, for fairness, that James Anderson and Graeme Swann took fine catches along the way.) As for the pitch, it is dry and for the most part true, but there were some moments of alarming turn late in the day and Chris Rogers, who made 72, said afterwards it felt like a day-three pitch and cannot see the match ending in a draw.
With England's current problems scoring 400 - something they haven't managed in 18 innings - you're inclined to slightly favour Australia's runs on the board, especially should Michael Clarke, Brad Haddin and the tail steer this total towards of even north of that figure. Batting last will be no fun here.
But after winning the toss against a side whose selection made batting first a priority, Australia had the chance to take full control of this match and with it the series. At 155/1, they were doing so. At 273/5, they are not. Yet.
2. Selection
Early days, but England's bold two-spinner selection already looks like the right call despite the setback at the toss. They have often been criticised for their inflexibility and are prone to picking the wrong moment to experiment, but after the Brisbane shellacking this looks a prudent, considered gamble.
Alastair Cook had one of his best days in the job, with imaginative - one might even say funky - fields and shrewd, frequent bowling changes making good used of the expanded resources available to him. He even managed to oversee a day with 91 overs in it before the scheduled close.
Graeme Swann was whipped out of the attack straight after removing Rogers, with Monty Panesar then removing Steve Smith with a good ball that the batsman made appear unplayable.
Panesar produced a curious display really. He probably should've had Rogers lbw, bowled a startling number of long-hops (England in general will be disappointed with the runs square of the wicket given the slowness of the wicket and the dimensions of this ground), did Smith with turn and flight, troubled Clarke early in his innings and then should've had Haddin late in the day with one of the worst balls he bowled.
This mixed bag produced the deceptively steady day-one figures of 1-68 from 24 overs.
Swann too bowled with more vim and vigour than he had managed in Brisbane, although where Panesar generally erred too short he erred too full. And without wishing to Khawaja him too much, Ben Stokes was quietly promising on his first day as a Test cricketer.
3. Archetypal
Was 29 off 32 ending with a lazy flash to point more typically Dave Warner, or was 51 ending with an over-confident drive more classically Shane Watson?
Probably a score draw. Either side of his second-innings century at Brisbane, Warner has now given away good starts on good pitches with identical shots. He's not fully capitalising on his current superb form.
For Watson, Adelaide is becoming a microcosm of his Test career. His five innings here now read 96, 48, 51, 57 and 51. You can't get more Watson than that. He now has 24 Test half-centuries - 10 of them between 51 and 57 - to go with just three centuries. His record remains inadequate for both his talent and a top-order batsman.
This was textbook Watson. He looked utterly untroubled. He played a couple of glorious drives through the offside. He whacked the spinners. He got to 50. He got out.
4. Pinnacle
There is always something glorious about the highest level of the sport reverting, however briefly, to the standards of the village green. So it was in the 89th over of the day when the trifecta of terrible delivery, awful shot and clownish juggling drop combined to great effect.
Panesar's was a generally worthy effort on his return to the side - one strangely rhythm-lacking spell after tea when England were looking to press home an advantage won with a spell of 3/19 before the interval - and no-one would've begrudged him a cheap wicket. But this would have been burglary, never mind cheap, as a rank long-hop outside the off stump was carved to backward point by a skittish Haddin.
Carberry, perhaps deciding that not even Monty deserved such a break, promptly fumbled the easiest of chances.
5. Finn's Law
Graeme Smith has achieved much in a stellar career. One hundred and twelve Tests; 104 as captain; 9000 Test runs, 27 centuries.
But surely his greatest achievement is convincing the game's law makers that a bowler disturbing the stumps at the non-striker's end is a distraction for the batsman.
Stokes was the latest bowler to fall foul of Finn's Law today, with the horribly distracted Chris Rogers somehow recovering in time to slap the resulting long-hop through point for four. Heroic.
---
New Sky Bet customers: Claim free £5 bet every week
---