England query Trott dismissal
England have asked ICC match referee Ranjan Madugalle for clarification over Jonathan Trott's dismissal in the first Investec Ashes Test, Press Association Sport understands.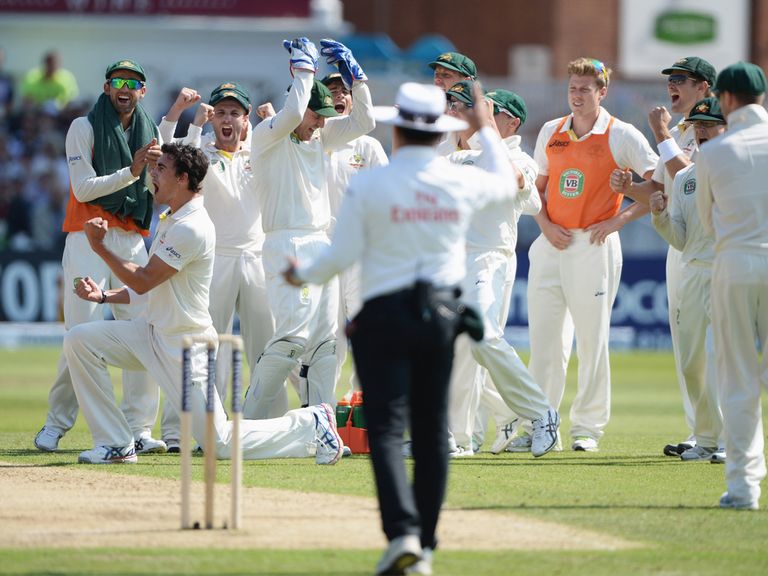 England were upset with an lbw decision given out on review by third umpire Marais Erasmus and have made contact with Madugalle and his ICC employers to seek clarification over the DRS process.
Trott was dismissed for a golden duck at the end of the second afternoon, but made his dissatisfaction with the decision clear before leaving the field.
On-field umpire Aleem Dar turned down Mitchell Starc's initial appeal only for Australia to call for DRS.
Trott clearly felt he had hit the ball but initial replays did not offer concrete evidence either way.
The issue was muddied by the absence of side-on 'hotspot' technology which could have reprieved Trott, and Erasmus signalled that Dar was to be over-ruled.
England have been told that the crucial 'hotspot' angle was not available, a situation believed to have come about because broadcasters were using the system to replay Joe Root's dismissal from the previous delivery.
Images cannot be captured and replayed on the same device concurrently.
England are thought to be baffled that an on-field decision to give Trott not out was over-ruled despite the fact that all the relevant TV tools were not available to Erasmus.
Having raised that point with Madugalle and his ICC employers, ECB are hoping for some guidance as to whether the correct protocols were followed in this instance.
Meanwhile, Former England bowler Bob Willis has hit out at the "staggeringly bad" officiating of third umpire Erasmus.
Willis, speaking as a pundit on Sky Sports, claimed Erasmus may have cost England a chance of victory at Trent Bridge.
Erasmus then earned further scorn after overturning an lbw decision against "It was staggeringly bad - unbelievable," Willis said about the Trott decision.
"(On-field umpire) Aleem Dar clearly heard and saw the deflection into Trott's pad. Trott was plumb in front of the stumps if there was no contact.
"The fact of the matter was Hot Spot was not conclusive so the batsman should have been given in.
"Both Trott and Dar were flabbergasted when the third umpire said he was giving him out."
The 64-year-old, who played 90 Tests for England, was equally unreserved tonight as he also blasted the decision not to give out Agar.
"It was a shocking decision," he said.
"It cost England dearly. That was a terrible decision and it may lose the game for England. Not a good day for the third umpire."
---
Click here for completely free £10 bet with Sky Bet
---