Bresnan: Our morale is good
England presented a united and happy front as they adapted to life without Kevin Pietersen, and fine-tuned their preparations for the must-win Lord's Test.
England v South Africa. Click here to bet.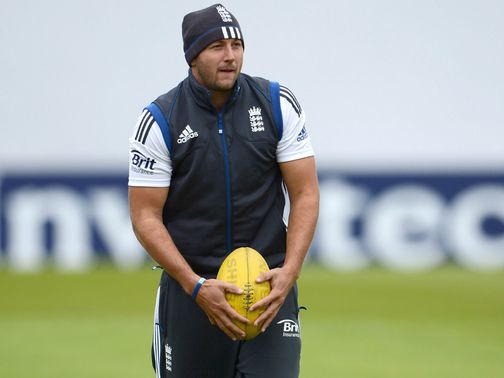 While Pietersen considered his next move - and it seems only a heart-felt apology for text messages allegedly sent to opposition players can salvage his career - England's task is to find a way of beating South Africa without him.
The content, derogatory or otherwise about his own team-mates, is still unknown in texts Pietersen has been unable or unwilling to deny he sent during the drawn second Investec Test in Leeds.
His resulting absence here, dropped because of an apparent breakdown in trust with his England and Wales Cricket Board employers, means Andrew Strauss and Co will miss his mercurial batsmanship but perhaps not the destabilising influence his summer-long contract wrangles have had on team morale.
Tim Bresnan has denied the existence of the second of those factors, and quibbled over the importance of the first.
But England's Yorkshire seamer was moved to voice his "100%" support for the ECB in deciding enough was enough - and being sufficiently strong to take action at such a high-profile moment, when their hard-earned number one Test status is on the line.
"I think the ECB and the management have got to take a stance at some point," he said.
"It doesn't necessarily matter what's going on in the calendar - if they feel the stance is now then the stance is now."
Pietersen first put his place in the Lord's squad, and therefore the continuation of his England career, in jeopardy when he refused to clarify in his man-of-the-match press conference at Headingley whether this Test could be his last.
He sought to rebuild broken bridges on Saturday night, revoking his retirement from limited-overs internationals - but his failure to address the issue of those text messages remained a stumbling block, and when he did nothing to correct the situation after being given five extra hours to do so on Sunday morning, England announced a 13-man squad without him.
"Obviously, he's said something or done something," added Bresnan.
"I don't know what that is ... but if they feel they need to take that action, then I back them 100%."
Bresnan was taken aback when the usual Pietersen rumblings suddenly hit crisis point - and will be happy to play alongside him again if necessary.
"I didn't feel anything out of the ordinary the last couple of games.
"I was very surprised when he said those things in his press conference at the end of the Leeds game, and I think a few of the other lads were as surprised as I was.
"I didn't feel anything had changed inside the dressing-room - there was no bickering, no fighting, there was nothing.
"Personally I've got no problem with Kevin.
"So if everyone a lot higher up the pecking order than me says it's deemed okay for him to come back and play, that's fine by me."
Pietersen's absence means a second chance this summer for Jonny Bairstow, dropped after an unconvincing start to his Test career against West Indies and now back in an inexperienced middle order following James Taylor's Headingley debut.
"It's the same welcome he'll get as Jonny got yesterday and 'Titch' Taylor got last week," said Bresnan, envisaging the possibility of a return for 32-year-old Pietersen at some point.
"It doesn't change because of who he is or what he's done - he's still an England player."
Bresnan, however, does not subscribe to an obvious consensus that England will be weaker without Pietersen's game-changing ability.
"I think we have a squad so deep in talent, it doesn't matter who plays; if we play our best cricket on that given day we can beat anyone.
"It shows you, what's happened in the one-dayers - we're unbeaten without certain individuals in the side.
"From inside the dressing-room we've got nothing but confidence; we've got nothing but energy, nothing but drive and determination to win this Test match - and if we go out there and play our best cricket, which we know we can, it doesn't matter who's playing.
"Over the last 18 months, we've become really good at coping with the must-win games - the pressure of a short-term goal to focus on.
"There was the win in Melbourne, the win in Colombo, to tie a series up or to put a series to bed - and that's what we've done.
"Whenever we've been presented with a challenge we've overcome that challenge. That's why we are currently number one."
Pietersen lit up Headingley with one of his finest innings, a 21st Test century which gave England a fleeting chance of series-levelling victory when none had previously existed.
Bresnan, however, is adamant he is far from the only England batsman capable of such heights.
"From a spectator's point of view, he's phenomenal to watch," he said.
"But I've seen Matty Prior play like that; I've seen Jonny play like that - and I've certainly seen 'Titch' play like that this year.
"Who knows? I could out there and play like that. I might give it a go. It might be the secret!"