Yorkshire ended Roses rivals Lancashire's winning run in a thrilling NatWest t20 Blast match which had something for everyone at Old Trafford.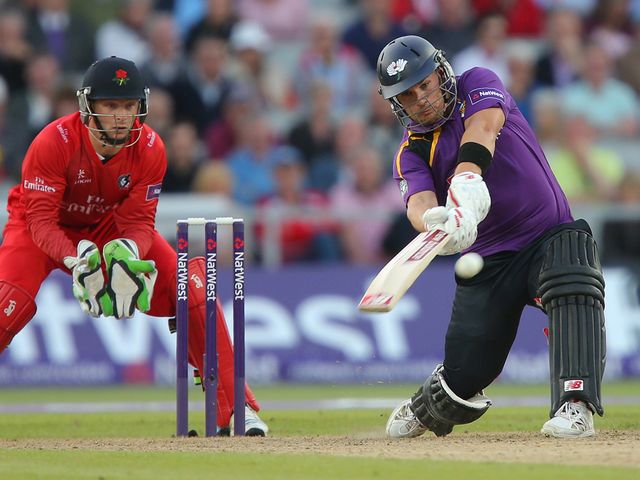 Even after a wonderful innings of 88 from Aaron Finch in pursuit of 179 for six, it seemed table-toppers Lancashire might send their celebrity spectator Andrew Flintoff - and several thousand more - home happy after a night to remember.
But instead, with a dash of controversy after Paul Horton's hosts were docked six crucial runs for their slow over rate, Yorkshire just got over the line.
It fell ultimately to Rich Pyrah to complete the task when he speared Kabir Ali over cover for six, to inch the verdict with three balls and five wickets in hand.
Several others had, however, combined to serve up some wonderful entertainment.
Lancashire's former Ashes-winning all-rounder Flintoff, in attendance but merely with a watching brief for a match in which he had hoped to make his much-touted comeback, could hardly have wished for a better way to spend three hours - albeit ultimately with a disappointing outcome for the Red Rose.
Smith's 50 from just 22 balls, the joint-quickest for Lancashire, half-centuries too from Horton (60) and then Finch - not to mention one of the all-time great catches thrown in - were all worth the admission in their own right.
After Lancashire chose to bat first on a sunny evening, the hosts had 58 for one on the board in the first five overs - thanks almost exclusively to Smith.
But then they mustered only 22 more in the next five for the loss of Smith, a special innings ended appropriately by a very special catch.
It was one for which Adam Lyth will get no mention in the scorecard, despite his perfectly-timed leap high to intercept what would have been a six off Adil Rashid over long off and parry the ball back for a simple take inside the rope by Finch.
Even in the Twenty20 era of commonplace brilliance in the field, it was a moment Lyth and plenty of others will rightly never forget.
Lancashire's opening stand had already been broken when Alex Davies holed out tamely at mid-off to Pyrah's final ball of the fifth over.
Rashid held a brutal drive straight back at him by Karl Brown.
But Horton rode his luck, escaping an obvious stumping chance on six off Azeem Rafiq when Jonny Bairstow fumbled badly and then on 13 chipping the same bowler just short of deep mid on.
Lyth was safe again at long on, to account for danger man Jos Buttler despite the encumbrance of the loose-fitting microphone he was carrying for inter-round summaries with match broadcasters.
Horton completed his second Twenty20 50, from a positively pedestrian 39 balls in comparison to Smith's record-equalling strike rate, and helped Steven Croft ensure Yorkshire would face a tough chase.
Kabir quickly dispatched Yorkshire captain Andrew Gale, bowled off-stump slogging as the visitors immediately faltered to three for one.
But the seamer was unable to hold a return chance which reprieved Finch on only six.
He and Alex Lees then shared a stand of 99 in 12 overs.
But the contest remained even as Horton brought back Junaid Khan early to hit the base of Lees' leg-stump in an over which cost just three and then Kabir returned to bowl Lyth and concede only two in another.
In between, Finch twice clubbed Jordan Clark for huge sixes into The Point edifice which Lancashire have built at long on.
Still there were twists and turns, Finch undone by a slower ball from Smith when he was caught at short third-man to end a 55-ball innings containing eight fours and five sixes.
But the telling moment came with information from beyond the boundary, with Lancashire's time fault which meant Yorkshire needed only eight off the last over - and Pyrah did the rest.