Surrey cruised to a 10-wicket victory in their NatWest T20 Blast clash with Sussex at The Oval.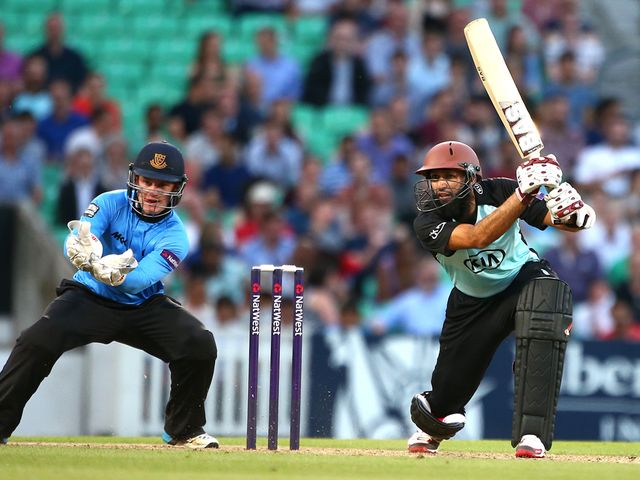 Set a target of 149 to win, Hashim Amla and Jason Roy guided the hosts to victory in 15.3 overs to give Surrey their third win from five games.
Surrey got off to a flying start, reaching 42 from just three overs, and the result never looked in doubt.
Roy was the more aggressive of the opening pair, hitting 81 from 43 balls, with two sixes and 11 fours.
Amla finished on 61, striking the winning two runs from his 50th ball.
Kevin Pietersen had been due to come in at number three but his team-mates' prowess meant he did not need to leave the pavilion.
Sussex, who were without England duo Matt Prior and Chris Jordan, hung on to their wickets fairly well in their total of 148 for five but were unable to score at a fast enough rate to put too much pressure on Surrey's response.
Luke Wright reached 31 off 26 balls before he was bowled by Tom Curran while fellow opener Matt Machan managed 21 off 22 balls.
Captain Ed Joyce top scored but his innings ended on 45 in the final over when he was run out trying to push the score along.
Ben Brown also contributed valuable runs and ended on 33 not out, hitting a six off the final ball.
It was a sobering result for the Sharks, who had hoped to repeat the thrilling victory they claimed over Surrey in their opening match.