Former Derbyshire all-rounder Wayne White condemned his ex-team mates to a fifth Friends Life t20 defeat as the Leicestershire Foxes won a thrilling North Group match by four wickets off the last ball at Derby.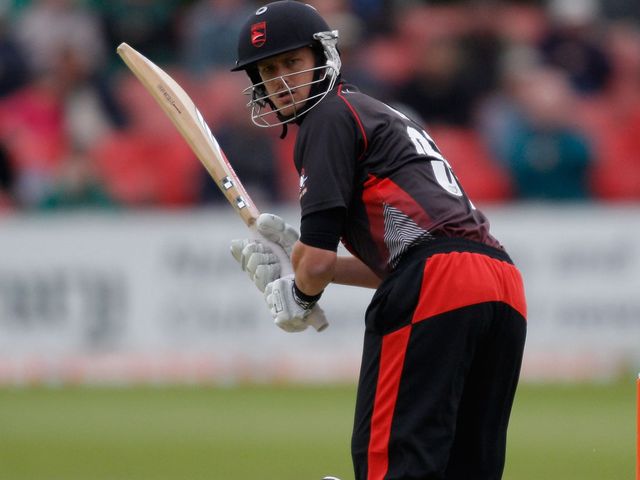 White hit the final ball from Rana Naved-ul-Hasan to the fine leg boundary to clinch victory and overhaul the Falcons' 171 for three which was built around an unbeaten 55 from Wes Durston.
The Foxes looked out of it needing 37 from the last three overs but after 23 came from the penultimate over from Alex Hughes, White and Robert Taylor saw their side home.
The Falcons looked favourites after Durston and Chesney
Hughes timed the ball well to lay the foundation for Derbyshire's biggest total in this season's competition.
Hughes drove Taylor for a straight six and dispatched Claude Henderson over the long on boundary before Josh Cobb beat an attempted drive to bowl the Anguillan in the 12th over.
But skipper Wayne Madsen joined Durston to keep the runs flowing and twice swept Cobb for four before he lifted Robert Taylor over mid off for another boundary.
He cleverly steered Matthew Hoggard to third man and the third wicket pair had added 54 from 33 balls when Razzaq cleverly beat Madsen with a slower ball to bowl him for 33 which had come off only 19 deliveries.
Razzaq and Nathan Buck checked the Falcons charge by conceding only 13 from two overs but the last one was a big one for the home side who plundered 17 from the experienced Razzaq.
Durston completed a well paced half century from 48 balls before Garry Park put a big dent in the Pakistani's figures by swinging him over backward square leg for six and clipping him to the midwicket boundary.
The Foxes had to take the attack to the Falcons from the start and Cobb and Razzaq launched into the bowling by taking 66 from the first five overs.
Cobb pulled Jon Clare for six in an over that cost 20 and Razzaq drove Hughes for three fours before he carved the spinner into the hands of cover.
Cobb hoisted Durston for another six but Rana beat him with a slower ball that he chipped to midwicket and after 10 overs, the Foxes needed another 82 with a lot resting on Sarwan.but with the pressure building, he was run out by a direct hit for 22.
The game appeared to be in the Falcons' grasp but when Hughes dropped White at short fine leg off the fourth ball of the last over, he made them pay by clipping Rana for four to clinch a dramatic victory.