Coach Jon Lewis refused to panic as Durham had to put their hopes of clinching the LV= County Championship Division One title on ice.
County Championship. Click here to bet.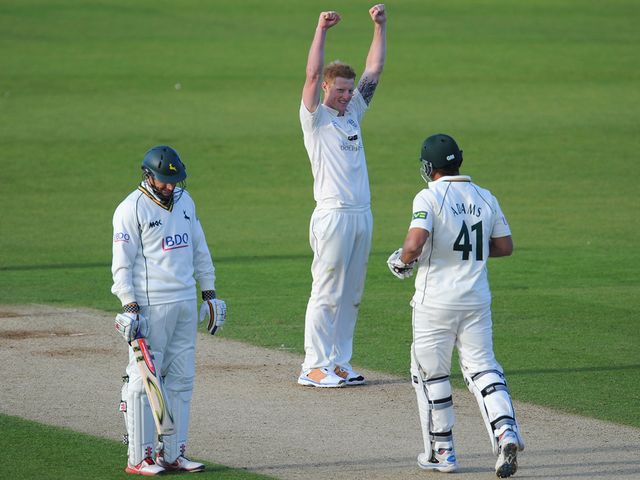 Paul Collingwood's side came tantalisingly close to winning their home clash with Nottinghamshire - and as a result, claiming a third league crown in six years - inside two days as they bowled the visitors out in their second innings for 246, a lead of 68.
However, with just one over remaining, Durham opted not to claim the extra half-hour and a possible eight more to attempt to chase down the target before the close of play.
In the event, they safely negotiated the final six balls of the day and ended on 7 without loss, leaving themselves 62 more runs for victory, although with rain forecast on Thursday morning.
Asked if he had considered requesting the addition 30 minutes, Lewis said: "We were doing some calculations as they got to eight down and nine down, and even when we got the 10th wicket.
"As the guys came off, we had a quick chat with Colly. We talked about it and Phil Mustard was very keen to strap his pads on - not surprisingly, Phil likes quick cricket.
"I broached it with the umpires. One said he didn't really think it was a goer, the other said, 'We would have to see how you played the first over'.
"It was just looking like it was getting a bit silly and with two days to go, we thought, 'There's no need to panic here, let's just get it done properly tomorrow'.
"If tomorrow was the fourth day, it might have been a bit more of a worry, but it's the third day.
"We are pretty confident. If there's a bit (of rain) about, we might have to sit around for a while, but it's not like we are going to be panicking or anything.
"There's plenty of time in this game."
Lewis' caution was based on the difficulty of playing the new ball at Chester-le-Street with Notts having lost six wickets inside the opening 13 overs of their first innings and Durham three before the 12th over of theirs had been completed.
He said: "The light would have been an issue, but it was the difficulty of playing the new ball on this pitch.
"The new ball is the key part, so why put ourselves under any additional pressure when we have got about 190 overs left in the game, in theory?
"If it had been Day three, maybe it would have been something we would have thought about in case the weather just sat there all day tomorrow, but Friday looks fine anyway, so we are quite comfortable."
Durham started the day on 207 for eight and secured the priceless second batting point which ensured that victory in the game would put them out of sight of second-placed Yorkshire as Collingwood's unbeaten 88 helped them to a total of 256 all out.
Notts were far more resilient at the top of their second innings than they had been in the first, during which they scored just 78, and reached tea at 134 for three.
However, Steven Mullaney, Samit Patel and Chris Read all departed in the space of four overs after the resumption with just nine added to the total, and although David Hussey retaliated with a pugnacious 57, it was only a matter of time.
Durham will return knowing they could face a frustrating wait before they can attempt to complete the job with rain forecast, but Lewis has no doubts about his team's ability to focus on the task at hand rather than the prize at the end of it.
He said: "The question has been there for two or three weeks, but the guys haven't changed, really.
"We talk about the six inches in front of us, the half-an-hour coming up. That's all we've focused on for probably the last four or five games.
"We have been good at it so far, so I've got no real worry that we will change from it now."
---
Sky Bet Free Bet Club: £10 free bet - £5 free every week
---