Post-match reaction to England's six-wicket victory over New Zealand at the ICC World Twenty20.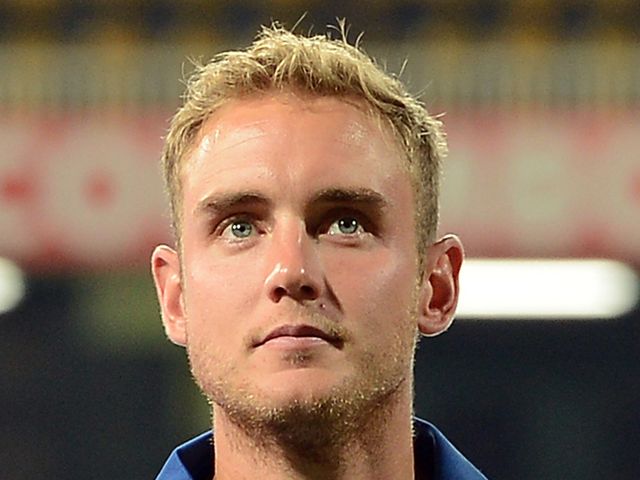 ICC World Twenty20 champions England can look forward with hope, not back with regret, after today's much-needed six-wicket Super Eight win over New Zealand.
Steven Finn's three for 16 and Luke Wright's man-of-the-match 76 headlined a comfortable but crucial success at Pallekele, which means England will return here on Monday with all still to play for in defence of their title.
After Sri Lanka beat West Indies tonight, a second consecutive win for England - over the hosts here - would almost certainly secure a return trip for Stuart Broad's team to Colombo for the knockout stages.
There was a touch of relief as well as satisfaction that - despite England's defeat against the Windies two days ago - they still have a realistic chance of retaining the trophy, and have at last done themselves some justice in this tournament.
"Obviously, it was a must-win game for us - and the way we won it was really good," said Broad.
"The guys bowled fantastically well. Finny set the tone brilliantly for us...getting two key men out.
"I always think if you've got a batter and bowler who have a chance of winning the man-of-the-match award, you've played well. I think we had that today."
England thought they had lost an important toss, on a dry surface favouring the spinners, but knew at the interval they had done enough with the ball to have a favourite's chance.
"We were delighted with (a target of) 148 (for six)," added Broad.
"We just needed one big partnership, and Wrighty and 'Morgs' [Eoin Morgan] obviously delivered that."
England's third-wicket pair put on 89 in 10 overs, effectively sealing the match.
"I thought we were pretty sensible up top; we knew we didn't have to go hell for leather," said the captain.
"It was about having wickets in hand, and the way Wrighty and 'Morgs' set about it was lovely. The rate got up to the nines at one stage, around the 10th over, and it's easy to start panicking then.
"When you're in the dugout and not in the middle, you start looking at that and getting a bit nervous - but the guys showed a lot of calmness and skill to get us over the line as comfortably as we did."
It was a convincing display which has heartened the captain, and doubtless plenty England followers.
"I genuinely believe we will get that perfect game, and I think we'll be pretty unstoppable when that happens," he said.
"The guys will gain a lot of confidence from that - and they are delivering under pressure, which is what you need.
"It's obviously another must-win game for us on Monday. It will be an electric atmosphere. It will be loud, hectic and a lot of fans screaming for Sri Lanka - so it will be important for us to keep our composure."
After his 99 not out against Afghanistan last week, Wright is second among the competition's top runscorers.
"To win any game like that for England, and win man of the match, is obviously very special," he said.
"It's something I'll remember for a long time."
It has not all been plain sailing for England's number three, out for a golden duck here against the Windies.
"It was just nice to get past the first ball, to be honest, after the last innings," he added. Once I did that, I was able to chill out a little bit.
"Morgs is great to bat with, and kept it very cool and calm as he always is."
New Zealand are highly unlikely to make it to the last four now.
Their captain Ross Taylor paid gracious tribute nonetheless to England's matchwinners.
"We have to give credit to Wright. I thought he batted very well, and was well-supported by Morgan.
"(For Finn) to get two wickets up front put us on the back foot - because when the ball was new was probably the easiest time to score."
Taylor was less enthused by Finn's aggravating habit of knocking over the stumps in delivery. It is a recurring theme which today cost the Kiwis a handful of runs, via the dead-ball ruling the International Cricket Council have settled on - but not, as Taylor suggested, a wicket as well.
"I disagree with the rule. It's a rule for one person," he said.
"Unless the batsman gets out, you should just carry on. It should be a dead-ball once a wicket happens."
A no-ball call is the other option.
"Talking to one umpire out there, that's what he thinks the rule should be," added Taylor.
Broad is also exasperated by Finn's clumsiness - which cost England themselves a big wicket last month, when South Africa captain Graeme Smith should have been caught at slip in the Leeds Test.
"This is the only time it's ever worked for us," he said.
"The number one point of it is Finny's got to try to stop doing it. (Bowling coach) David Saker's pulling out whatever hair he has left at the problem - because it's up to those two to sort it out.
"Obviously today, New Zealand were quite unlucky with that. The best solution is for Finny to stop doing it."