Post-match reaction to England's 116-run victory over Afghanistan at the ICC World Twenty20.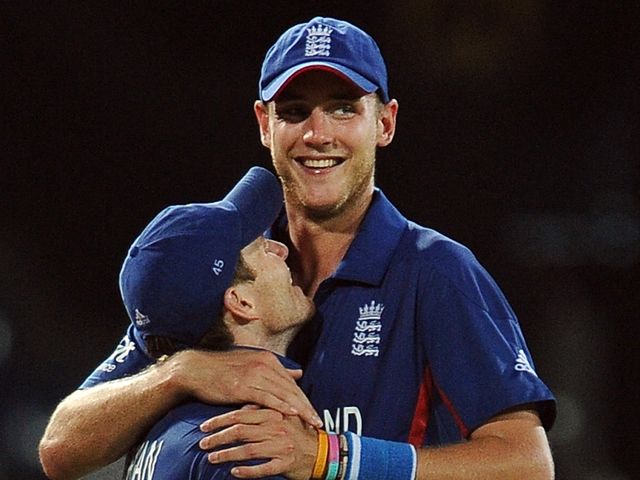 Luke Wright fell one run short of total perfection, but was not letting that bother him after helping England begin the defence of their ICC World Twenty20 with a landslide win over Afghanistan.
England's number three became the second man in the past three months - after Alex Hales' 99 against West Indies at Trent Bridge - to go within a whisker of becoming his country's first Twenty20 centurion.
Instead, he had to settle for the starring role in a thumping 116-run win in England's opening Group A fixture under the Premadasa Stadium lights.
Wright powered England to 196 for five and then needed to bowl just one over - for one run - as his colleagues saw off Afghanistan for 80 all out.
"I think it was (perfect)," Wright said as he reflected on the success which means champions England are already through to the Super Eight stage.
Stuart Broad's team were determined not to take Afghanistan lightly and simply never let up, even after Wright had hit eight fours and six sixes from just 55 balls.
"We knew how dangerous they were going to be," Wright added.
"We watched their game against India and saw the dangerous batters and obviously, after the first over, to come back the way we did and then bowl them out for 80 was a superb effort."
England lost Craig Kieswetter for a duck to Shapoor Zadran as the match began with a wicket-maiden.
But thanks to Wright's good sense, and tremendous big-hitting skill, they never looked back again.
As for so narrowly missing his hundred - he needed three from the final ball of the innings but could manage only a two - Wright will not be losing any sleep.
"I suppose there's always disappointment not to finish with a hundred," he added. "But if I'd been offered that this morning, I'd have snapped anyone's hand off.
"I was just so tired by the end, I was just happy to keep the board going.
"The most important thing was we got a big total and I think scoreboard pressure really told then."
Wright was only on the fringes of England's squad until Ravi Bopara lost form and the 27-year-old is very thankful to have been given another chance to prove his worth.
"I was desperate to get back playing for England and there is no comparison with scoring runs for your country," he added. "I feel like I'm a better player this time round.
"Today felt very special, a long way back from injury to get on this road."
Wright had contributed handy 30s to England's two warm-up victories, but added: "It's so important in Twenty20 cricket, as soon as you get someone 'go big', everyone else can come in around you.
"To see the guys coming out to bat, each one knowing they can hit sixes at will, just takes massive pressure off the person in. It's exciting to see these boys keep coming in to join you."
Wright gradually increased the tempo, starting with an over from Zadran which cost 23 runs in all and got England moving after their sticky start.
"It was me and Halesy just talking to each other and saying 'If we can just get something started," he added.
"We didn't want to lose any more wickets at that point and we said 'If we can get one over where we can go we'll pull it back' and that's what happened."
Shapoor had less to smile about after Afghanistan bowed out of the tournament with a whimper.
He said: "We had lots of lapses in fielding and we have to rectify that as soon as possible if we want to compete on this stage against tough opponents.
"Against champion sides, you have to be perfect in all three departments."