Eoin Morgan and Alex Hales' century stand gave England fleeting hope when none existed, after they lost two wickets for none in their vain run chase against West Indies at Pallekele.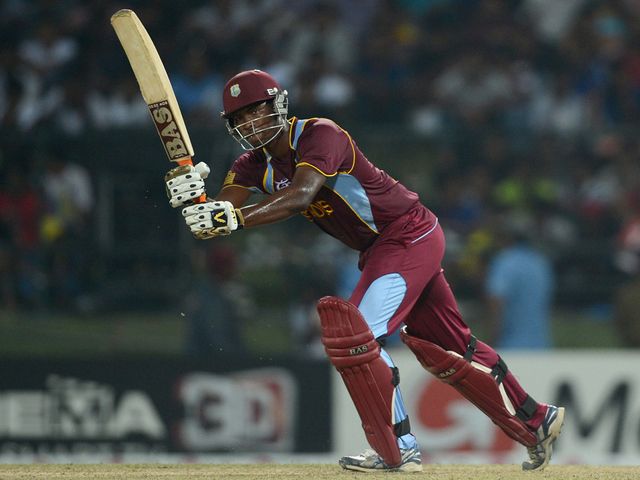 The ICC World Twenty20 champions shot themselves in the foot as they set out in pursuit of 179 for five in their first Super Eight match.
Morgan (71 not out) and Hales (68) responded with seven sixes and 12 fours between them, the Irishman's innings lasting only 36 balls.
But England still fell 15 runs short on 164 for four, and therefore must beat New Zealand in the second of their three matches at this stage to stand a fair chance of qualifying for the semi-finals.
Opener Hales conceded afterwards that, although he and Morgan got almost within striking range, England were struggling throughout to stay competitive after their sticky start.
"It was always going to be tough chasing that total, once we were eight for two after three overs," he said, rueing Craig Kieswetter and Luke Wright's ducks to consecutive balls in Ravi Rampaul's first over.
"But I thought we fought back really well. I thought 'Morgs' came in and played outstandingly well - and gave us half a chance towards the end."
England felt, despite half-centuries from Windies openers Johnson Charles (84) and Chris Gayle (58), they had given themselves an opportunity for a successful chase. "At the halfway stage, we were very confident," added Hales.
"We thought it was a very good batting track, and we were in the game. But getting off to a start like that isn't ideal - and from then on, we were always chasing the game."
Morgan's experience, and skill, gave Hales the belief that anything might be possible nonetheless.
"He kept me going out there; he was very cool," said Hales.
"He just said 'enjoy it - it's a great opportunity for us to try to see England over the line in a tough situation'.
"He was very good to bat with, and very calm.
"When he got going, at a strike rate of 200, I thought 'if he really clicks in the last few overs we might actually have a chance'.
"But they executed their plans well at the end there."
West Indies ended up bowling 15 overs of spin in their 20 - even more than seemed likely, despite indications of what was to come in their team selection. Asked if England had expected quite so many overs of slow bowling, Hales said: "Maybe not quite that much.
"We knew that was going to be their gameplan, having rested Fidel Edwards. So we figured we'd be seeing a lot of spin.
"But it was a good batting track, and we felt at the halfway stage we could have had a shout.
"It didn't quite happen."
Charles' score was his highest so far in any form of professional cricket.
He could reflect on a job well done, and spoke too of how much batting with master blaster Gayle helped him.
"It was a great win," he said.
"We're looking to win the tournament, and you can't do that if you don't win matches.
"If you're batting with Chris Gayle and you know how quickly he can score, all you have to do is give him support.
"I back myself, and I know I have the ability. You could say it was kind of easy.
"That's my highest score. But I'm looking to get better. I hope in the next match, I can get a hundred."