Post-match reaction to England's 170-run victory over New Zealand in the first Test at Lord's.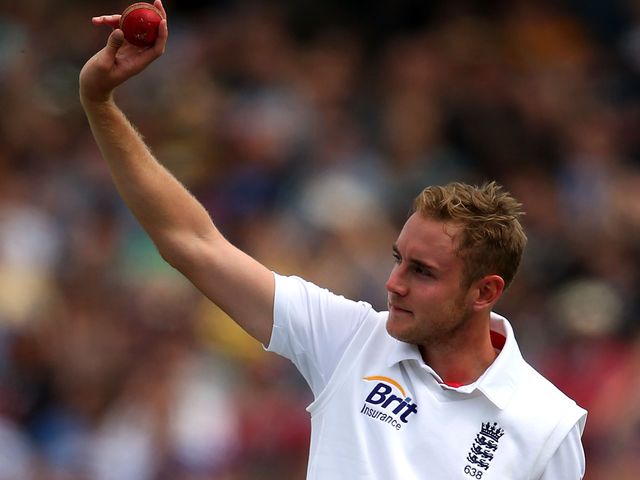 Stuart Broad was England's irresistible force as he and James Anderson left New Zealand in tatters at Lord's, and England captain Alastair Cook lauding their exemplary new-ball bowling.
Broad's career-best seven for 44 and two wickets from Anderson skittled New Zealand out in under two hours for just 68 at Lord's, as England won by 170 runs to go 1-0 up with one to play in the Investec Test series.
Cook is the first England captain since 1936 to deploy only two men to bowl a team out - one Australian was absent hurt at Brisbane 77 years ago, and the Kiwis' final wicket today was a run-out.
Afterwards, he spoke in glowing but measured terms of a performance which gave the New Zealanders no leeway from the outset and made a mockery of an apparently plausible pursuit of 239 to win.
"That hour Jimmy and Broady bowled there was as good as any bowling I've seen in an opening spell," said Cook.
As for Broad, who has a knack of turning matches with outstanding spells, Cook is just grateful to have him in his armoury.
"Obviously he's done it on numerous occasions now.
"Anyone who bowls at high-80s (miles per hour), from six foot five or six, and bangs a good length - and it's swinging - it's going to be very hard.
"I know as an opening batter, if you're challenging off-stump enough - like he does - it's very hard work."
It was Broad, then, who finished as man of the match after a contest which had also seen Tim Southee put his name on the honours board with a 10-wicket haul and Anderson become only the fourth Englishman to pass 300 Test victims.
"I don't think I've experienced a game that ebbed and flowed quite as much as that," added Cook.
"There were times when we got ourselves in a really good position, then New Zealand would come fighting back strongly."
Broad made the most of another cloudy morning at HQ, where the ball swung throughout the three-and-a-half days required.
Asked if he rated it his best spell, he said: "I think so, yes.
"As Cookie mentioned, there were a few nerves around this morning.
"Both sides would have come to the ground, knowing they had a chance to win the game."
England did not appear to have turned the odds significantly their way, after turning 180 for six into only 213 all out this morning - putting the onus on their bowlers again.
"I think in the context of the game, we needed to set the tone in that hour (before lunch)," said Broad.
"We talked as a bowling unit very quickly about just giving the ball a chance, getting it up there - 'if we get driven early, it's a lot better than getting cut'.
"We managed to do that as a partnership, and took our catches as well.
"It's a great time to bowl when you get a little hour like that, because you can really let loose - and the batsmen are trying to figure out where the game is going.
"I'm delighted with the way we stuck at it as a unit today, and it's obviously fantastic to contribute to an England win."
Broad can veer from match-winner to periods of inconsistency.
"I just hit my straps straightaway," he added.
"It happens like that. Some days you get the nicks, some days you don't.
"I think, as a partnership today, the pressure Jimmy and I built - we were having plays-and-misses - we just didn't really give them anything.
"That was fantastic, and we were rewarded with the wickets."
Cook had to field questions before this match about England's perceived 'under-performance' in the 0-0 stalemate in New Zealand two months ago.
Even after his team proved superior here, he will not be taking anything for granted for the second and final match of the series in Leeds - starting on Friday.
"We went to New Zealand trying to win games, and didn't play quite as well as we could," he said.
"Here, at times we were excellent, and at times we weren't quite as good as we could have been either.
"It's important to keep a lid on it. Yes, it's a good Test win ... but we'll try to be better in Leeds."
Brendon McCullum was at a loss to explain the "hour of madness" in which his New Zealand team lost the first Investec Test to England at Lord's today.
The Kiwi captain gave due credit, of course, to Broad for his career-best bowling in a passage of play which saw the tourists - set 239 to win - collapse against the new ball to a terminal 29 for six.
"It's pretty tough to explain," said McCullum.
"For so long during this game, we were up with play, and at times I actually felt we were dictating terms.
"But in an hour, the game turned on its head, and I guess England continued to grow in confidence as they kept picking up wickets regularly.
"Our confidence was starting to subside somewhat, and the difference between the two teams came down to that one hour of madness."
As Broad wreaked havoc in the middle, the Kiwis were at sixes and sevens in the pavilion too.
"Guys were getting their pads on and their pads off pretty quickly," added their captain.
"You're looking for a calm presence somewhere - whether that's out in the middle or in the changing room.
"There was plenty of calmness about the guys in the changing room, and I just felt we weren't quite able to transfer that to the middle."
There was an unwelcome deja-vu for the tourists, who began this year by being bowled out for just 45 by South Africa's world-beating seam attack in Cape Town.
McCullum is hoping, however, that - having matched England, in three drawn Tests at home, and for so long here - they can rediscover their composure in time for the second and final match of the series in Leeds at the end of this week.
"We've had many of these experiences before.
"I think we've put distance between the last time that we felt this sort of pain and this time round, and I think we've taken some significant step forwards.
"But today was undoubtedly a step backwards inside that hour."
McCullum was among Broad's victims, and knows an outstanding performance when he sees one.
"Broad's spell of bowling was high-class," he said.
"He swung the ball beautifully; he was able to get the odd ball to hold its line as well up the slope, and I thought his lengths were impeccable.
"We weren't quite able to work out a way to be able to get through it, so there's partial blame there - but also there's credit to Stuart for his performance.
"Today we were confident that 230 was achievable, but you need a decent start - and 29 for six was certainly not the start we were after.
"Their confidence grew, and we probably started to panic somewhat.
"I guess the gap between the two teams started to widen once that unfolded."
The embarrassing margin of defeat was especially tough on New Zealand seamer Tim Southee, who had helped to hustle England out and put himself on the honours board with a 10-wicket match haul.
"I'm obviously pretty gutted at the moment, with the result, and I think that personal achievement will sink in later on," he said.
"I think everyone tried. No one goes out to do that deliberately.
"I'm sure we'll learn from it, and the beauty of the game is in a few days' time we've got the chance to do it all again against the same team."
---
Click here for completely free £10 bet with Sky Bet
---