Imran Tahir defied expectations to be South Africa's most successful bowler on day one against Kent at Canterbury.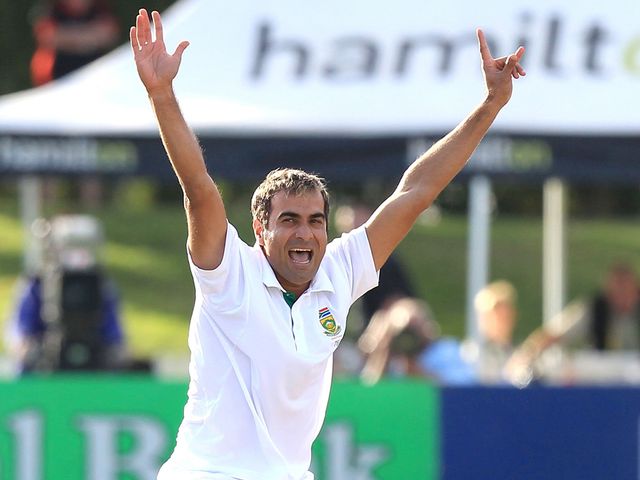 Tahir's wrist-spin variations are being depicted as very much the final piece in a high-profile attack, otherwise dominated by pace, as South Africa bid to hijack England's number one Test status this summer.
Yet it was he who finished with four for 31, albeit including the last three in a long Kent tail, as Graeme Smith's team bowled their hosts out for 210.
After the tourists had closed on 31 for one in reply in this final warm-up match before next week's first Investec Test at The Oval, Tahir spoke of his high hopes against England.
"I'm confident when my time comes; I'm really up for it," said the much-travelled Pakistani-born bowler, who has also played for four counties.
"I've played one game at The Oval, and it turns a lot - especially in the second innings - so I'm looking forward to it."
Tahir knows English wickets will not come easy this summer, though.
"I've got the variations, but it depends on how I use them," he said.
"They are good players, so I need to wait for the right time, and I hope I'll get a reward for that. It's going to be a good challenge for me."
If Tahir's chance does come - after Dale Steyn, Morne Morkel and Vernon Philander have already had theirs - he will doubtless be judged by many on how his wickets tally measures up to the hosts' Graeme Swann.
He said of his opposite number: "He's done really well for England, one of the best off-spinners in the world.
"I can't compare myself with him; I'm just waiting for my time."
South Africa needed Tahir to make short work of the tail, after Kent's openers had kept out the tourists for much of the first session.
Morkel went on to finish with three for 49. But it took him until the afternoon to get rid of teenager Daniel Bell-Drummond - who impressed, but admitted batting was anything but easy.
"They're all very different, Morkel really tall and gets a lot of bounce, Steyn skiddy and swings it a lot," he said.
"It's really hard adjusting to each bowler.
"It was seaming quite a bit, and Philander bowled quite a few good deliveries. I'm glad I could keep them out."