England are considering resting the likes of James Anderson and Stuart Broad for the third Investec Test against the West Indies after wrapping up the series with a nine-wicket win at Trent Bridge.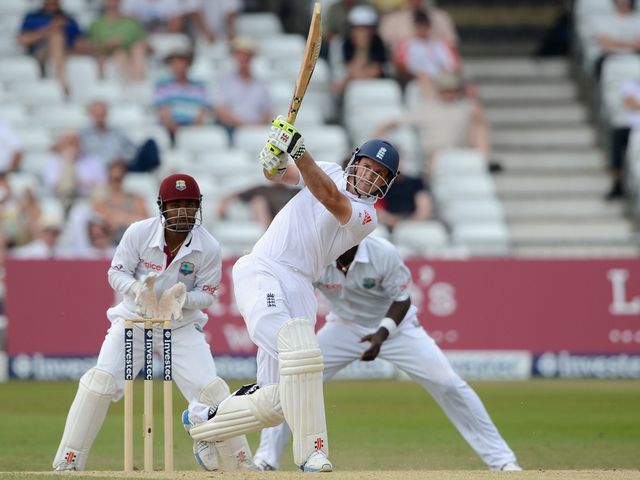 Following victory at Lord's in the opening match, Andrew Strauss' side hold an unassailable 2-0 going into the concluding fixture at Edgbaston on June 7.
England would not ordinarily consider withdrawing key men at such an early stage of the summer - and often prefer to make changes to limited-overs squads rather than Test teams - but with a packed schedule ahead of them, Strauss and the national selectors are looking at their options.
A limited-overs series against the Windies is next, followed by a one-day campaign against Australia and a full tour by South Africa. After that comes the defence of the World Twenty20 in Sri Lanka and four Tests in India.
"We'll definitely think about changes," said Strauss, after top-scoring with 45 in his side's successful chase of 108 on day four in Nottingham.
"We've always viewed resting and rotating as something you have to do on a case-by-case basis so we'll speak to the seamers, see how they're feeling and see how we're looking for the rest of the summer.
"You always have to look quite a long way ahead when it comes to potentially resting someone.
"It's always a balance to strike because primarily you want to win every Test you play: that's the starting point.
"We'll have a conversation about it in the coming days."
In Steven Finn and Graham Onions, England have two high-class performers ready to step in at a moment's notice and England would appreciate to see the pair in Test action again.
But Strauss made sure to stop short of confirming England would make changes.
"It's a difficult situation and I certainly wouldn't want to nail my colours to the mast one way or the other," he said. "At this stage we have to sit down, think it through rationally and decide what the best course of action is, both for the Test match and for the long-term prospects of the team over the summer."
Strauss also believes England are still capable of improvement despite the emphatic nature of their win.
Perhaps alluding to when Marlon Samuels and Darren Sammy both scored centuries after West Indies had been reduced to 133 for six on day one, Strauss believes his team can perform better.
"You always like to be a bit more clinical than you have been," Strauss told Sky Sports. "We've had match-winning positions where we could have really finished the games earlier than we have.
"But being made to work hard, it makes it feel pretty good when you actually get over the line.
"We had that great session last night that put us in a very strong position to win today but we still had to go out and work hard to take those final wickets and knock off the runs."
Tim Bresnan was named man of the match for his eight wickets and 39 runs.
Most telling was his spell late on the third evening that helped reduce West Indies to 61 for six. After Anderson had dismissed Kieran Powell and Adrian Barath an Broad had taken the wicket of star man Shivnarine Chanderpaul, Yorkshireman Bresnan took three more scalps to leave the Windies reeling.
"To get them six down was a phenomenal effort by all the seamers and it probably took the game away from West Indies," Bresnan said.
"We backed up well and finished it off this morning."
Bresnan took his first Test five-wicket haul and struck 90 in his only other five-day match in Nottingham against India last year.
"I've enjoyed the two Tests I've played here immensely," he added. "The first one against India was where I felt I could play Test cricket as an all-rounder and I've enjoyed this Test match as well.
"You've always got that confidence boost in the back of your mind or when you're thinking 'I've got a five-for here, I can do it again', and I've got runs here as well."
England's fast bowling coach David Saker was quick to pay tribute to Bresnan's all-round performance after England wrapped up their seventh home series victory in a row.
Bresnan had been under pressure coming into the match, having registered a duck and taken match figures of one for 144 in the first Test at Lord's.
Yet he answered his critics in fine style at Trent Bridge, and a beaming Saker said: "I've always been really impressed by him.
"I'm really happy for him that he came out and got some wickets in the first innings and then came out and did what he did last night.
"Really happy for him and he contributed with the bat as well.
"He's a great person for our group, he's a likeable sort of lad and you know what you're going to get when you pick him."
Meanwhile, West Indies captain Darren Sammy was left to bemoan his side's lack of concentration.
England looked poised to claim a large first-innings lead at the end of day two, on 259 for two on a largely unresponsive track, but the Windies' bowlers ensured the advantage was just 58 runs by the time the tourists came out to bat for a second time.
Yet, not for the first time in this series, their top order failed to fire and handed the initiative right back to England.
Although Marlon Samuels added to his first-innings 117 with an unbeaten 76, it was not enough as the West Indies crashed to a heavy defeat - much to the chagrin of Sammy.
"I think we just have to be more focused, continue working hard and put a higher price on our wickets," he said.
"We did really well to put ourselves back in the game because on the end of the second day England were looking at a 200 lead but the bowlers fought back .
"We as a batting group have to really appreciate what the bowlers go out and do because we work really hard for the wickets we get against England and when it's our turn to bat we don't really put a high price on our wickets."
Sammy, who scored his first Test century in his side's first innings, acknowledged a lack of focus at crucial times in the game is a common problem and has not ruled out making changes for the third Test.
"It has been affecting us for the last year but still we managed to keep ourselves in the game," he added.
"We really have to consider how we go about playing the cricket, we've been playing for a while now and we're not ready so something has to be done."