Reaction to the fifth day's play between England and South Africa in the third Test at Lord's.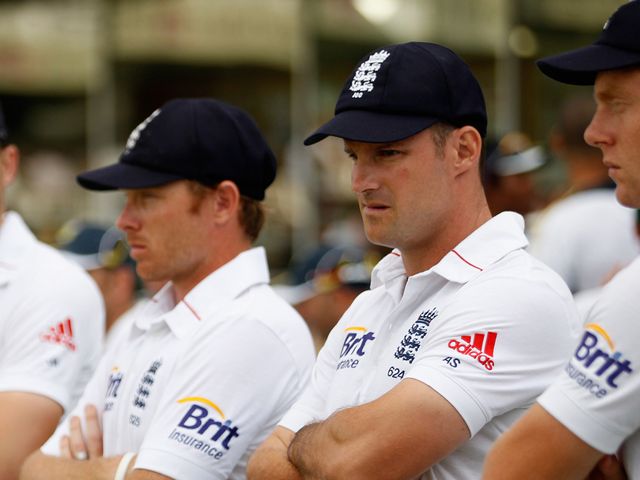 Andrew Strauss will need some recovery time to reconfirm his desire to lead England back to the top of the world after they lost their world number one Test status to South Africa at Lord's.
Strauss stopped short of that on Monday night as he reflected on a 51-run defeat on his home ground, and resulting 2-0 Investec series loss.
England fought hard to overturn the odds against superior opponents - but just came up short.
Matt Prior's resourceful 73 kept the outcome in doubt deep into the evening session, as England's middle and lower order sought to redress the imbalance of failures further up the list.
Among the top five, only Jonathan Trott (63) managed double-figures, and opener Strauss could muster only a single - continuing a sequence of eight Test innings without a fifty from him.
Asked afterwards whether England's performance had helped ensure his appetite for the challenges ahead, his answer was equivocal.
Strauss' preparations for his 100th Test, and 50th in charge, were compromised by the controversy surrounding Kevin Pietersen - dropped after failing initially to apologise for texts, "derogatory" or otherwise about his captain and team-mates, he sent to opposition players during the drawn Leeds Test.
"I've great faith in the team; I've great faith in the set-up. I've still got a lot of desire there," said Strauss.
"We'll see how things go.
"From a physical point of view it was a tiring week, but that passes pretty quickly.
"I'm keen to get away for a few days and have a bit of a break.
"Then we all need to sit down - myself and (coach) Andy (Flower) in particular - and try and map out the way forward."
Strauss' next appointment for England is the first Test against India in Ahmedabad in November, and his first step before then is to come to terms with this defeat.
"I am obviously bitterly disappointed to come out on the wrong side of the result in this game," he said, having seen South Africa's man-of-the-match Vernon Philander undermine England with seven wickets and 96 runs.
"But I can't fault the commitment and hunger and desire and application that everyone showed.
"I thought it was a fantastic effort from our players. But South Africa were just a bit too good.
"They outplayed us over the course of the three Test matches.
"We've got to take that on the chin, try to work out why that was the case and how best to move forward."
In scenes directly contrasting those at The Oval a year ago, when England went to the top of the world rankings after trouncing India, this time Strauss and his team-mates had to watch while Graeme Smith was presented - in front of the Lord's pavilion - with the International Cricket Council mace to mark South Africa's achievement.
Smith was the last opposition captain to win a Test series in England in 2008 - since when Strauss has led his team to seven consecutive successes.
Smith attended the post-match press conference with a slogan paying tribute to Mark Boucher, the wicketkeeper who came here hoping to cap his career - this would have been his 150th Test - only to be forced into retirement by an eye injury suffered in a tour match last month.
"Coming back here and doing it again feels very special," said Smith.
"It's hard to replace 2008. But this feels better because England were number one in the world."
While Prior and Graeme Swann were together an hour earlier, eating into South Africa's advantage in an audacious ninth-wicket partnership, it seemed England might yet cling to their world-beating status.
"I thought it was just getting into the realms of possibility," said Strauss.
"If they'd put on another 20 or so, suddenly it would have looked like a fairly even contest.
"Swann and Prior played outstandingly well. It's always disconcerting for the opposition when guys come out with that freedom and put them under pressure.
"That was the sort of fight we all wanted to show through the course of this match, and I'd like to think we did do that.
"But we left ourselves with too much to do."
The question facing Strauss then is how to rally collective will to even better effect.
"I've got great faith in the talent in the dressing room, and also the desire in the dressing room - and we're going to need that," he said.
"Maybe that tag of being number one hasn't sat as comfortably as it should have done with us.
"We haven't been in that situation before, and maybe we've learned from some mistakes and some important lessons."
He can be encouraged by the determination England demonstrated here.
"It's not people clapping on the balcony necessarily; it's everything that goes with performing - how people look after each other, the language that is used in the dressing room," he said.
"I thought we were outstanding this week.
"The guys really wanted to prove to everyone that the distractions are something we could live with and still perform alongside.
"Everyone gave their all this week, so I'm very proud of the players.
"Actually, I'm incredibly proud of what they've done this week.
"It's just a shame we didn't get the right result."