Ian Bell demonstrated his true talents on the one-day international stage at last today, reviving a limited-overs career many feared was destined to end in tortured anti-climax.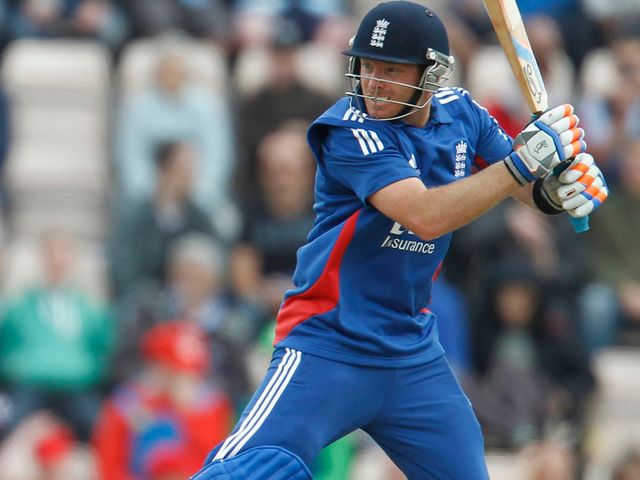 Bell was left out of England's 50-over squad four months ago, and an unexpected 4-0 series victory over Pakistan back then to some minds spelled the end for him as an ODI batsman.
Instead, Kevin Pietersen's shock retirement from the shorter formats has not only given Bell another chance but provided him with the opportunity to bat at the top of the order again.
In his 109th ODI, he did not disappoint - overcoming the significant hiccup of a broken jaw, suffered in indoor practice on Friday, to make a masterful 126 in England's 114-run D/L victory at the Ageas Bowl to go 1-0 up on West Indies in the three-match NatWest Series.
It was only the second ODI hundred of the 30-year-old's career, a damning statistic for one of his undoubted class - proven many times in Test cricket.
Bell feared for an anxious hour or two that his chance to impress might be stolen away again, after edging a pull on to his chin and having to go to hospital for 10 stitches in a deep wound and an x-ray on his jawbone.
But he said: "I was quite lucky that all the precautions from the backroom staff got me in a good frame of mind.
"I pretty much thought I was going to play from last night anyway.
"So it was quite easy coming to the ground this morning, knowing I was going to play regardless."
What of those moments, though, when he thought his friendly-fire injury might rule him out?
"(That was) probably before the scan," he added.
"But as soon as you get the green light from that and everything's fine, there's no doubt I wanted to play.
"It had gone quite deep to the bone, and there were a few layers of stitches - and then the 10 (on the surface).
"It was weird, because it hurt more by my ear really rather than where it actually hit me.
"Then when the blood was coming down, I didn't really know where from - so it was a strange one really."
Once out in the middle, Bell had only one scare - on 23, when he admits he felt a thin edge behind only for umpire Richard Kettleborough to give him not out off Ravi Rampaul.
Before then, there were the usual nerves - but nothing out of the ordinary, even though he was being asked to replace England's highest-profile batsman Pietersen.
"(I had) the normal butterflies for any international - which is exciting - but I wanted to take the opportunity.
"It's something exciting to open with Cookie [Alastair Cook], and to be at the top of the order was something I wanted to do."
Bell was able to play to his strengths, with the new regulations of a new ball at each end and on a pitch of typically decent pace at this venue.
"I felt I was in pretty good nick by the end of that Test series, so it was nice to go at the top of the order and play some proper cricket shots.
"Probably in the past, I've tried to hit the ball too hard sometimes and lose my shape - whereas today I did exactly as I'd play a Test match, sticking to the shots I know well.
"Obviously, there's a bit more intent in one-day mode. But I didn't try to slog - which probably in the past I've been guilty of doing.
"It would have been nice to bat another six overs or so - I felt I was going nicely - but I'm really happy."
It could have finished much earlier, of course, had Kettleborough detected an edge behind.
"I guess I was worried, yes," said Bell.
Dwayne Smith, whose blistering 56 at the top of the Windies order gave his team fleeting prospects of a successful chase, was in no mood to argue about Bell's good fortune.
"There was a sound," he said.
"But the umpire said not out, so we can't do anything about that - it's gone, on to the next."
As for his own batting, Smith's only gripe was that it did not last long enough.
"We had a good start. But unfortunately, I got out at a time I don't think I should have.
"We had to spend time at the crease, and that didn't happen."