England's win over South Africa at Lord's ensures they will remain top of the International Cricket Council rankings for the rest of this year - whether or not they win the NatWest Series.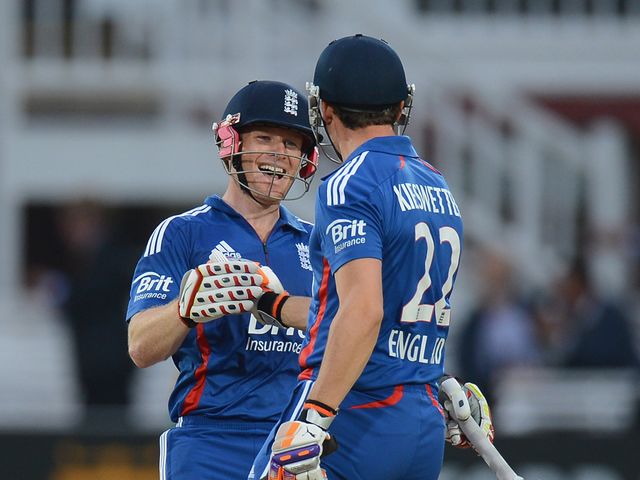 Number one status appears to have changed hands on an almost daily basis between the top two teams over the past week.
But there is something more definitive for the number crunchers to hang on to now, after Ian Bell (88) saw England to a comfortable six-wicket victory with more than three overs to spare in pursuit of South Africa's 220 for eight.
That is not to say the protagonists themselves are especially concerned with the fine margins at play at the top of the table.
England captain Alastair Cook, it seems, will prize a series-clinching victory at Trent Bridge on Wednesday more highly than a mantle he admits feels a little premature for his developing one-day international side.
"It's certainly not a bad thing," he said.
"But I think we feel this side has its future ahead of it, rather than behind it.
"We're still striving to improve in all areas. We've only been together for a year or so.
"We've had some really good results, but certainly don't (really) feel like the number one side - like we did when we got there as a Test team."
England, of course, lost that Test match pre-eminence to South Africa this summer - and Cook is proud of the way they have held their nerve, after going 1-0 down in this series in Southampton last week.
Since then, England's Test captain Andrew Strauss has retired - to be replaced in that format, as he was last year in ODIs, by Cook.
The saga over Kevin Pietersen's controversial differences with England management continues too, and Cook is delighted in those circumstances to see his team-mates demonstrate they still have their eyes on the ball.
"Clearly after what's happened this summer, we could have let our heads go down - a bit of a case of 'here we go again'," he said.
"We admitted we didn't get it right at the Ageas Bowl, and we've bounced back really well.
"We've still got a series to win, but I'm very proud of what we've done this weekend in back-to-back matches.
"It's encouraging signs that after a heavy loss like that, we've stayed true to ourselves and played so well."
England's bowlers set up the victory after Cook won an important toss.
But Bell's batting, since he replaced Pietersen at the top of the order, continues to be a revelation.
"It was a classy knock again," said his captain, after the opener had shared a second-wicket stand of 141 with Jonathan Trott.
"I say that time and time again when you watch Belly play.
"He has so much time, and he's delivering the goods. He's come back into the side, and he's been outstanding.
"We know what a good player he is, and he's put in some really good match-winning performances.
"It's great to watch him at the other end, and I hope it will continue."
The one concern for England tonight is Trott's fitness, after being hit on the hand by a short ball from Dale Steyn.
"Trotty's hand is sore," said Cook, confirming the number three will have an x-ray.
"He was in quite a lot of pain there. We'll know a lot more tomorrow when it settles down, and he has the scan."
Cook's opposite number AB de Villiers refused to cite losing the toss as a valid excuse for his beaten team - and insists they simply must do better.
"I don't think the toss played a massive part," he said.
"It wasn't that hard to bat when I was out there. I won't say the whole 100 overs played the same, but you certainly can't blame the toss.
"We had the opportunity in our batting to kick on with some of our partnerships, and that's where we went wrong today.
"That's two (defeats) in row, and there's a bit of pressure on our top order now.
"We've really got to step up to the plate and make it count - myself included."