Alastair Cook praised his side for improving in all three disciplines after completing a long-awaited victory over South Africa.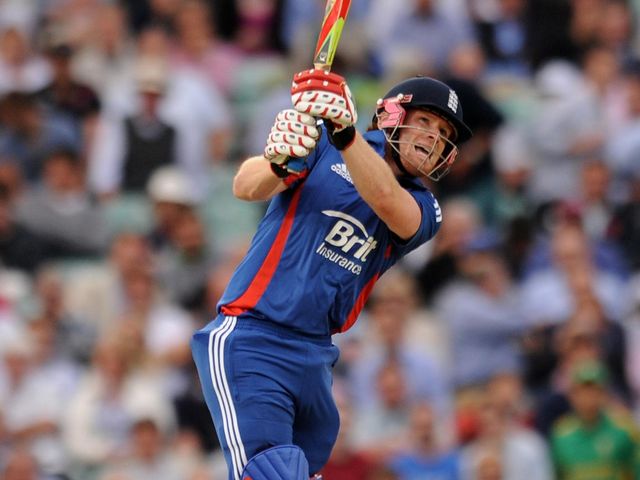 England squared the NatWest Series at 1-1 after three one-day internationals with a four-wicket success at Surrey's Kia Oval - their first win of the summer against the Proteas.
A disciplined bowling performance, with Ravi Bopara, James Anderson and Jade Dernbach all to the fore, saw South Africa dismissed for 211, with Eoin Morgan (73) and Jonathan Trott (71) breaking the back of the chase.
It was all a much different story to the 80-run defeat at the Ageas Bowl on Tuesday and the captain recognised the improvement.
"It's just really nice to win. It's been a tough summer against South Africa and to finally win means a lot to the guys tonight," said Cook.
"I thought the character we showed after a heavy defeat last time out was fantastic. We talked about certain areas and we've improved on those areas in this game.
"We bowled better, we batted better and we fielded better. It's encouraging when we can right our wrongs."
The win capped off a memorable week in the life of 27-year-old Cook, who on Wednesday was formally appointed as England's Test skipper in place of the retired Andrew Strauss.
There are a number of issues he must address in that role before the tour of India in November, not least the continuing conundrum that is Kevin Pietersen, but for now his focus remains on the next two matches of the current series.
Asked if he felt any different since his elevation to the top job, Cook said: "Not really. It's quite nice, in a way, that I've been captain of the one-day side for a while.
"What's gone on in the last three or four days hasn't really changed it at all.
"All that work (on the Test side) will happen after the one-day games are finished."
South Africa captain AB de Villiers was downcast at losing after what he felt was a good chance to go 2-0 up with two matches to play.
De Villiers had chosen to bat first having called correctly and felt the top order - himself included - left the bowlers far too much to do.
"We didn't play good cricket today at all," he said. "We won the toss, which I thought was important, and we had good conditions to bat under but most of our experienced got in and didn't make it count.
"I was seeing it really well today and played a poor shot at a very bad time.
"Those kind of things cost you the game. We just didn't play well with bat in hand and unfortunately we didn't get that extra 30-40 runs.
"They would have been very, very nice tonight with the bowlers bowling well and the fielders putting their bodies on the line.
"From the word go we didn't make it count with the bat and we lost momentum early in the game.
"The bowlers were up for it and we still believed we could win but we just needed that extra 30 runs."