England captain Andrew Strauss felt it was "worth having a go" at an improbable run chase against South Africa before the second Investec Test at Headingley petered out into a draw.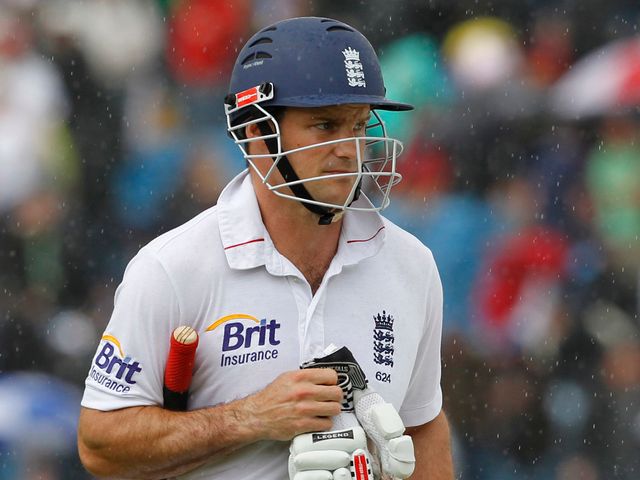 Stuart Broad took four wickets for 12 runs before the tourists declared on 258 for nine, leaving England chasing a highly unlikely 259 from 39 overs.
Yet they took a calculated gamble by sending out Kevin Pietersen, whose 149 in the first-innings changed the complexion of the game, to open.
He fell in the fourth over of the chase, hooking Vernon Philander to mid-on, and while Matt Prior was also sent up the order at number five, once he was run out after a mix-up with Jonathan Trott England effectively had to give up their pursuit.
Trott and Ian Bell remained unbeaten until the close with the teams shaking hands on 130 for four after 33 overs.
"We felt it was worth having a go at it," Strauss told Sky Sports.
"We sent in KP, who's obviously in outstanding form, to set things in action but once Matt Prior got out it was probably time to shut up shop.
"It was a bit of a tall chase in the first place but it was certainly worth having a go."
Pietersen got England off to a fine start, crunching Morne Morkel's first over for three fours but once he was given out, it was Strauss who came out next.
There was a suggestion for sending Prior, who is more attack-minded, or one-day international opener Bell in at number three, but Strauss had no regrets.
"We just felt that if we let KP have a go, and then consolidate if he got out early, and then look at it a bit more and then try and get it into a Twenty20 situation towards the back end...
"We probably lost a couple too many and once Matt Prior got out, it was too much to do," he added.
Strauss can be pleased his side responded to their innings-and-12-run drubbing in the series opener at the Oval in a determined manner although they still need to level the series in the decider at Lord's to cling on to their place atop the International Cricket Council Test rankings.
But the Middlesex man paid tribute to his side's character, particularly the bowlers, who had come under heavy fire for taking just two wickets in the opening Test against the Proteas.
Broad's haul of five for 69 would have given South Africa something to think about heading into next week.
"I was delighted with Stuart Broad today," Strauss said.
"It's nice to get into the South African order a little bit more.
"Our bowlers actually grafted really well for not a lot of reward.
"The ball went past the edge a lot but maybe those early in-roads on the first morning is the key for us to win again."
Graeme Smith revealed South Africa had planned to give themselves a chance at victory by being more attacking after lunch.
In this rain-shortened match, South Africa were cruising on 123 for one after the first session, with Jacques Rudolph departing lbw to Pietersen, who claimed career-best figures of three for 52.
"We came out after lunch and we were positive and we felt that we gave ourselves a chance to have 35 overs tonight then we were probably one wicket away from winning the game."
Smith admitted Pietersen's blistering 149 in the first innings rescued England, who had fallen to 173 for four in response to South Africa's 419.
"I think Kevin's knock was a defining moment in the Test match," Smith added.
"We had England under pressure and he took the game to us and played superbly well, you've got to give credit to him.
"He got England to an even keel in the Test match and for us, it was about just trying to set up an opportunity to try and get a victory with so much time lost to rain."