Alastair Cook's season ended on a frustrating and disappointing low tonight - but the England captain will not dwell on one damp squib in an otherwise outstanding year in one-day internationals.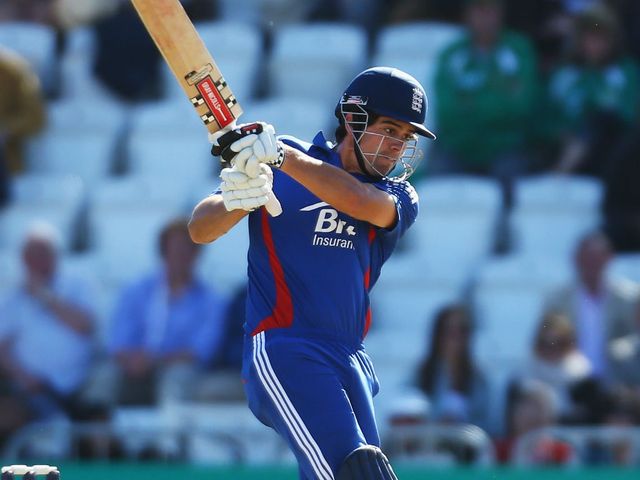 Cook's own half-century was the only innings of any substance in England's below-par 182 all out at Trent Bridge as they surrendered their NatWest Series lead and had to share the spoils at 2-2 with South Africa.
Even after Hashim Amla (97 not out) had continued his prolific form, and AB de Villiers (75no) had belatedly found his in an unbroken century stand to see South Africa home with more than 15 overs and seven wickets to spare, England remain - marginally - the world number one team in ODIs.
They will retain that status for the rest of 2012 too, having won 12 out of 14 completed matches this year.
Cook did not try to hide from the truth of England's poor batting performance, but made sure to put it into context too.
"We're clearly very frustrated, disappointed - especially with the manner of the dismissals," he said, after he and several others had got out to moderate shots on a fair pitch.
"I don't think I've played in a game where we've given away so many dismissals before.
"These things can happen. It's very frustrating when it does happen to you, especially in a series that's there to win."
Cook, also England's Test captain these days, knows nonetheless he has plenty to be proud of after previous series victories in 2012 against Pakistan in the United Arab Emirates and then at home to West Indies and Australia - all without losing a single match.
"It's the highest percentage (of wins) we've ever had as a one-day side, this year," he said.
"So there are a lot of really encouraging things, and sometimes you've got to look at that big picture."
It rarely seemed England had much chance of adding a 13th win today - and although South Africa's reply lurched to 14 for three, Amla and De Villiers quickly set matters straight.
"It seems that both sides, when they get their noses in front, really slam the door in each other's faces," added Cook.
"That's what happened in this game.
"All of us, from one to 11, just played some pretty poor shots.
"I don't know why. As a side, our real challenge has always been to be as consistent as we can.
"We've made huge strides at that. But there's always that performance in there, which we're trying to eradicate."
Amla took his series aggregate to 335 runs, and has averaged well over 100 in both Tests and ODIs against England this summer.
"He's in some serious form," said Cook.
"It was 14 for three; we knew we were one wicket away from causing a few nerves in the camp. But with those two in, they showed what a good batting wicket it was - and they gave us no chances.
"We knew, if we were to have any chance, we had to bowl them out. So we came at them, and Jimmy (Anderson) and Jade (Dernbach) got some good wickets.
"If we'd got one of those two, we'd have had a little sniff."
Cook must now turn his attention properly to England's pressing off-the-field business - negotiations with Kevin Pietersen.
The Test squad to tour India is due to be named next week. In Cook's absence from three forthcoming Twenty20s, he will enter discussions which have so far concerned only Pietersen and coach Andy Flower as England try to work out whether the controversial batsman can return to the fray after being dropped over his summer of contract wrangles and text intrigues.
"I haven't really been thinking about it too much, with the one-day series on," said Cook.
"Over the next couple of weeks, it's certainly an issue which we as the ECB will have to get resolved.
"It is a situation which does need to get resolved. There is stuff which needs to be talked about behind closed doors. That will happen."
Amla, meanwhile, can reflect on his very good job done already.
"I'm just enjoying it, and I think today's innings was probably one of the most enjoyable - because we were in a spot of bother," he said.
"I played at Nottinghamshire for a season, so it's almost like a home ground to me."