We run the rule over the venue for the series finale between Bangladesh and West Indies in Khulna, which will host its maiden Test match.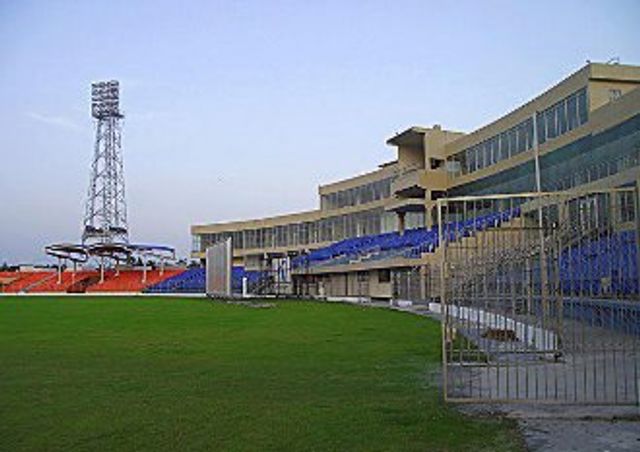 Established: 2004
Capacity: 15,000
Floodlights: No
Home Team: Khulna Division
ODI History: 2 matches (2 home wins)
Tosses: 2 batted first (2 losses)
Overview
One of the five purpose-built cricket grounds erected ahead of the 2004 Under-19 World Cup, Test cricket's 107th venue and Bangladesh's seventh, the Sheikh Abu Naser Stadium beat Bogra's Shaheed Chandu Stadium to host the series finale this week.
Also known as the Khulna Divisional Stadium and formerly the Bir Shrestha Shahid Flight Lieutenant Motiur Rahman Stadium, the venue hosted two ODIs in 2006 - and makes a return to international cricket amid the installation of proper drainage facilities at the Zahur Ahmed Chowdhury Stadium in Chittagong.
The country's third-largest industrial centre, Khulna is situated in the south-western corner of the country - and serves as a gateway to the seaport of Mongla and the Sundarbans. Home to the Royal Bengal tiger. the city is also famous for shrimp processing and newsprint.
Last Time Out
No Test stats yet, of course, but a recent first-class fixture to draw variables and conclusions from.
Rangpur Division's decision to bat first opposed the Barisal Division's choice to bowl in the previous match - and rode to an above average 388 all out on the back of Naeem Islam's century, who managed a similar feat in the Test series opener a week later. Spinner Abdur Razzak, meanwhile, afforded the national selectors food for thought with a fine five-for.
The seamers then took centre stage, with Alauddin Babu and Soumya Sarkar taking a six-for and five-for respectively in Khulna's 249 all out and Rangpur's second-innings capitulation to 92 all out.
The relatively equal share of runs and wickets suggests the pitch didn't flatten out as much as some other Bangladesh venues, with a counterstrike century from Anamul Haque sealing a five-wicket win for the hosts on day four, when Tanveer Haider's leg-spin looked to make the most of additional bounce.
Happy Hunting Ground
All of six years since the last international match here, it's too the National Cricket League we look.
Buoyed by his century in the series opener, Naeem Islam returns to the scene where it all began, with a domestic century earlier this month to add to.
Snubbed for first Test selection, Abdur Razzak will press for consideration in the second match after a match-winning nine-wicket haul for his domestic outfit here a couple of weeks ago. Test seamer Rubel Hossain also represents Khulna Division at this venue.
The West Indies as a whole, let alone their current crop, have never played at this venue. Shivnarine Chanderpaul and Fidel Edwards, however, were part of the 2012 Khulna Royal Bengals' Bangladesh Premier League campaign. While the duo never featured at their adopted home venue in February, they will have gained some insight from familiar conditions at surrounding venues.
They Said
"The grounds in Chittagong and Fatullah are undergoing renovation work, so we are trying to pick another venue for the second Test. Khulna has a good ground with logistical facilities so it is an option. I will be going on 15 May, but the stadium also needs approval from the International Cricket Council if we are to host a Test." - Bangladesh Cricket Board grounds committee chairman Shafiqur Rahman prior to the ICC's greenlight.
Weather Forecast
Sunny throughout the five days, with not a drop of rain predicted - much like Mirpur and the epitome of a Bangladesh forecast in November, EWven hotter than Dhaka, too with temperatures set to hang around 32 degrees Celsius.
Conclusion
Not one of the four ODI innings at the ground have reached more than 190 and a 300-plus score in first-class cricket this year has been a rarity, which suggests conditions primed for bowling.
More like Dhaka than Chittagong, the Khulna track is likely to bring an even balance for spin and seam if recent National Cricket League fixtures are anything to go by.
Batting first remains the favoured option, in a bid to spend the most time at the crease, perhaps only one innings, and then exploit conditions likely to deteriorate into days three and four.
The scorching hot conditions will be taken into account - given the sapping nature of the heat on the bowlers and the baking sun's ability to render a potentially competitive track into a veritable tarmac.
---
Click here for completely free £10 bet with Sky Bet & £5 free every week
---