We run the rule over the venue for the third and final Test between Australia and Sri Lanka in Sydney.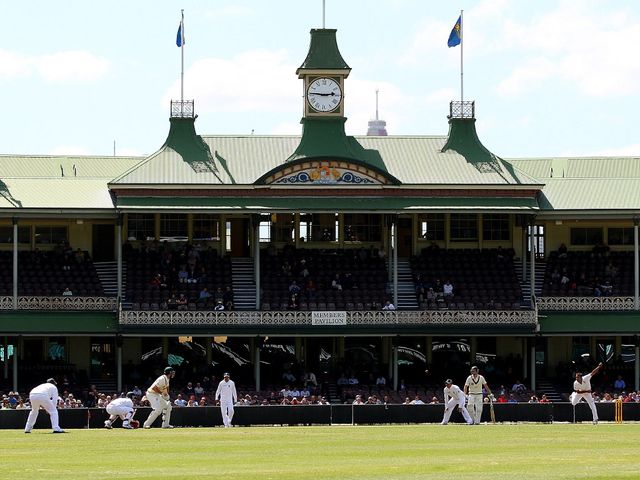 Established: 1848
Capacity: 44,000
Floodlights: Yes
Ends: Paddington End, Randwick End
Home Team: New South Wales
Head Groundsman: Tom Parker
Test History: 100 Tests; 55 home wins; 28 away wins; 17 draws
Last 10 Tests: 8 home wins, 1 away win, 1 draw
Last 10 Tosses: 10 batted first (4 wins, 1 draw, 5 defeats)
Overview
The Sydney Cricket Ground is situated in Moore Park and is the home of the New South Wales Cricket Association. Formerly known as the Garrison Ground, the first recorded cricket match was played there in 1854 but the venue was rebuilt in 1877.
Just five years later it welcomed Test cricket, by which time it boasted two grandstands. The rebuilding continued, including the removal of a cycling track in the 1920s, with the Bradman Stand completed in 1973. More renovations will be undertaken prior to the 2104 Ashes Test.
It has long been used as the venue for Australia's New Year Test and although not huge by Australian standards, can create an intense atmosphere with the spectators so close to the players.
The SCG is also the home of the AFL's Sydney Swans and has staged tennis, both codes of rugby and even motor racing. In 1938 it hosted the British Empire Games.
2012 New Year's match between Australia and India brought the Sydney Cricket Ground's its 100th Test, making it only the third venue after Lord's and the Melbourne Cricket Ground to reach the milestone.
Last Time Out
India were again lame in the second Test of a four-match series they would eventually lose four-nil. The match brought just 24 wickets, 23 of which went to seamers, but really it was Michael Clarke's triple-century that stole the show.
At the crease for more than 10 hours, Clarke display powers of concentration second to none - on an SCG track that had previously brought him little success. Sydney's milestone 100th Test was over inside four days.
They Said
"Conditions have probably changed a little bit over the last few years, no doubt the way I was brought up on this wicket it was spin conducive wasn't it. I faced a lot of spin as a kid, I'd seen a fair bit of reverse swing at a young age and generally this wicket is a little bit slower than say Perth and Brisbane and what we've just seen in Melbourne. - Australia captain Michael Clarke.
"But the last couple of years it's quickened up a bit, there's been enough there for the bowlers, swing and seam and you need to try and adapt to that, but I think it certainly feels like my home ground. The way I play I guess is very similar to the conditions I've faced, from an 18-year-old boy until only until the last couple of years it's probably changed." - Clarke, again.
"The superstructure of the SCG has changed a great deal since my first visit 44 years ago, but the history remains and grows, and the ghosts that inhabit the stands don't care if their habitats are made from Sydney sandstone, Hawkesbury clay or glass and stainless steel. They just want us to remember that it is a cricket ground, not a stadium. And so do I." - former Australia fast bowler-turned-commentator Geoff Lawson.
"The new stands are another moment in the ground's evolution. The design instructions made it expressly clear that, when the work is completed, the stands will look like they have always belonged inside one of the world's greatest cricket grounds. Just as the Victor Trumper Stand fits in so beautifully. The Noble, Bradman and Messenger stands no longer meet the requirements of the modern day spectator. Their useful life is fast drawing to a close." - SCG Trust chairman Rodney Cavalier announces plans for redevelopment before 2014.
"It's always good to leave deliveries because initially the Kookaburra ball does a bit more, and after the first 15 or 20 overs we have seen that it doesn't do the same amount as the new ball does." - India captain Mahendra Singh Dhoni earlier this year.
Happy Hunting Ground
With the retired Ricky Ponting's prolific statistics a thing of the past, Michael Hussey leads the line - on the back of 700 runs in seven matches, including three centuries.
Next is captain Michael Clarke, 668 runs in eight matches, almost half of which were scored during January's record-breaking 329 not out against the hapless Indians. Peter Siddle, meanwhile, has 15 wickets in four matches here.
Sri Lanka as a whole, let alone their current squad, have never played a Test match at the SCG. Mahela Jaywardene, though, will take heart from the half-century he scored in an ODI here in February.
Weather Forecast
Hot and dry amid the Australian summer, with temperatures set to hang around 27 degrees Celsius. Some rain has been predicted for day five, but certainly not enough to have a say in the contest, if we even get that far. All and sundry will welcome the cooling south-easterly breeze.
Conclusion
Sydney is no longer a spinner's paradise and Michael Beer and Graeme Swann didn't have much of an impact during last year's Ashes Test as they shared only three wickets.
Clarke and coach Mickey Arthur have previously stated that he is always hesitant to go into a Test without a spinner, but his pace bowlers did a brilliant job at the Melbourne Cricket Ground and Sri Lanka's batsmen were comfortable enough against Nathan Lyon.
If ever there was a chance to pick an all-pace attack, then this might be it. The hosts will contemplate their options, and so they should, but really conditions dictate more than enough room for Peter Siddle, Jackson Bird, Mitchell Johnson - and Mitchell Starc.
It's pretty much a given, whoever wins the toss will bat first and look to put the opposition under pressure with a massive first-innings score.
---
Click here for completely free £10 bet with Sky Bet & £5 free every week
---