We profile the venue for the second Test between Australia and South Africa, neither of whom should think twice before batting first if triumphant at the toss.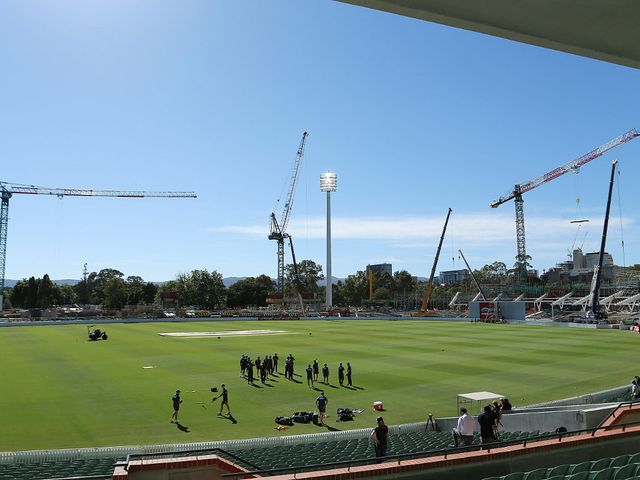 Established: 1873
Capacity: 32,000
Floodlights: Yes
Ends: City End, Cathedral End
Home Team: South Australia
Head Groundsman: Damian Hough
Test History: 70 Tests: 35 home wins, 17 away wins, 18 draws
Last 10 Tests: 6 home wins, 2 away wins, 2 draws
Last 10 Tosses: 10 batted first (2 wins, 2 draws, 6 defeats)
Overview
Set among gardens and trees and with the spire of St Peter's Cathedral peeking over the grandstands, the Adelaide Oval has a strangely English feel for an Australian cricket ground.
Recent upgrades to the Oval, including a large new grandstand which is part of a redevelopment plan that will boost capacity to 50,000, have been carried out with due respect for the older stands and the famous scoreboard, and it remains one of cricket's most picturesque grounds.
Adelaide has become a happy hunting ground for the home side in the last two years. 10 victories in 12 attempts between January 1996 and December 2006 have made way for a mere two wins in five matches since.
The ground also hosts Australian Rules Football, archery, athletics, baseball, cycling, hockey, lacrosse and soccer, among other less sports.
Last Time Out
An utter run-fest, thanks to a tame opposition attack rather than placid conditions, greeted double-centurions Michael Clarke and Ricky Ponting in January.
Australia declared on 604 for seven, then skittled the Indians for 272, before declaring a second time on 167 for five. The visitors' response was as poor as their first, amounting to a near 300-run defeat - and four-nil series whitewash.
The pitch remained true throughout, deteriorating belatedly on cue, with the result achieved shortly before lunch on day five.
They Said
"That was a pitch that helped the seamers a lot. But the second was a normal Adelaide wicket which sped up as the game went on. It was really good for the first three days and then assisted the spinners a bit. It was even a bit uneven for the quicks and then started reversing." - South Austraila and former South African Test spinner Johan Botha reflects on recent first-class fixture in Adelaide.
"Tahir should play here. It's going to be quite hot in the lead-up to and during the match, so it will definitely deteriorate here. The quicks also can't bowl all day in the heat. It should be a good match to watch because the bowlers are going to have to work hard." - Botha, again, predicts the return of Proteas leg-spinner Imran Tahir.
"I don't think you really have to be more aggressive in the second innings, the wicket just starts helping you a bit and the game speeds up that way The bounce of the pitch is true and the outfield is pretty quick." - Australia coach Mickey Arthur this week.
Happy Hunting Ground
Ricky Ponting is a veritable runs machine here, churning out 1729 in 27 innings, including six centuries, at a ground average (63.81) some 11 runs higher than his career aggregate (52.54).
Next in line is Michael Clarke, with almost two thirds less runs (841 in 11 innings) but a ground average (93.44) far greater than that of Ponting, with Michael Hussey weighing in with a formidable 73.55.
Australia's fresh crop of seamers sport very little Test experience at the venue, though Peter Siddle and Nathan Lyon will take heart from their respective first-innings five-for and second-innings four-for against India earlier this year.
Jacques Kallis is the only one of South Africa's squad to have played Test cricket in Adelaide, with innings of five, 65 not out in 2001 and two 15s in 1998.
Weather Forecast
Sapping heat and no chance of rain awaits the teams in Adelaide, which has also seen a hot build-up to the match. Little wind to speak of throughout, too, with temperatures set to exceed 35 degrees Celsius at times.
Conclusion
It's a foregone conclusion that whoever wins the toss bats first in Adelaide. Making first use of the track is a must, even if it is just to avoid batting last on an arid pitch likely to turn.
The stats may not suggest batting first is such a sure thing, with six captains successful at the coin toss going on to taste defeat. But there are mitigating factors: first, Australia have only won four of those 10 tosses, and their clear superiority has often been enough to overcome the disappointment of fielding first.
Second, two of the games were lost by teams who racked up more than 550 in the first innings. Whatever went wrong (and it was plenty) winning the toss and batting first doesn't appear to have been part of it.
And the one captain to bowl first in the last 27 years? India's Mohammad Azharuddin, whose side lost a thriller by 38 runs on what Wisden referred to as a "slower than ever" Adelaide track.
The last time South Africa played in Adelaide, in 2001, they fielded spinner Claude Henderson, who sent down plenty of overs in defeat. In 1998, it was Pat Symcox for the draw. Suffice to say, then, Tahir will return this week.
---
Click here for completely free £10 bet with Sky Bet & £5 free every week
---