We run the rule over the venue for the series decider between New Zealand and England in Auckland, where Test cricket will be played for the first time in seven years.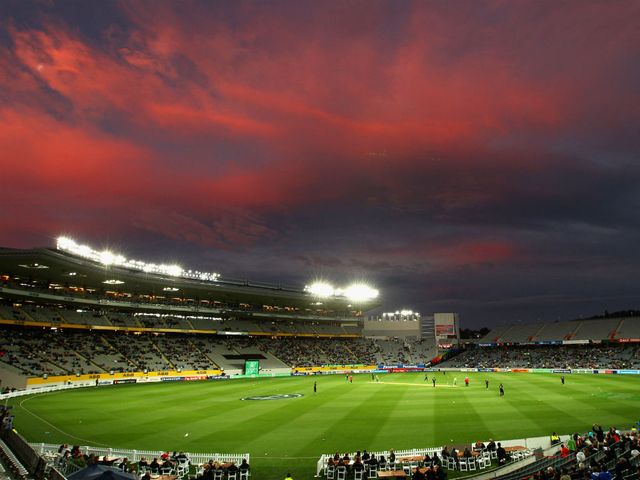 Established: 1901
Capacity: 50,000
Floodlights: Yes
Ends: Broadcasting End, Terraces End
Home Team: Auckland
Test History: 47 Tests; 9 home wins; 15 away wins; 23 draws
Last 10 Tests: 4 home wins; 3 away wins; 3 draws
Last 10 tosses: 5 batted first (4 wins, 1 draw); 5 bowled first (3 wins, 2 draws)
Overview
Gone are the days of Eden Park's debt-ridden doubts, with its $256 million redevelopment in 2010 breathing new life on the country's biggest sporting stadium - formerly a swamp - and at the foothills of Mount Eden.
This week's clash will see a venue with a rich history, recently lined with Rugby World Cup matches and Super Rugby fixtures, return to Test cricket after a seven-year hiatus. A trust, started in 1926, ran the venue's finances until this year, when the Auckland Council took over - effectively giving ratepayers control.
Temporary seating in front of the North and West Stands (usually only used for international rugby matches) is required for the capacity to be reached. Due to sightscreens and the larger playing area - and the odd grass embankment for the crowd - cricket capacity is less.
Last Time Out
New Zealand's last Test here brought a 75-run win over the West Indies late on the fourth day - thanks largely to Scott Styris' century and Shane Bond's second-innings five-wicket haul.
Seven years later, though, perhaps February's ODI offers a more relevant deduction of conditions. Last month's series decider brought early reward for England's decision to bowl first, with the host top order collectively weak before McCullum's 79 forced a score of 185 all out.
The visitors were stop-start in their response - the top five each reached 28 but not one went bigger than Alastair Cook's 46. A patient Joe Root, in seaming conditions, eventually sealed the win for England.
They Said
"I'm sure our bowlers will look forward to bowling on a bouncier wicket. I think it was bouncy in Wellington and I can't see it being too much more so here." - New Zealand batsman Ross Taylor.
"It definitely suits my game. We have to be good all around the world and this is another opportunity to learn in bouncier conditions. In the past I've played a few T20s here and it has been flat with good carry and bounce. I'm not sure how it will go for a five-dayer." - New Zealand batsman Dean Brownlie.
"In an ideal world a pitch with more pace and bounce would make for a more exciting wicket. But whichever pitch we get in Auckland we'll try to find the best way to win the game." - England captain Alastair Cook.
"We want the best cricket wicket possible really. It will offer a bit first up and then settle down for the batsmen to do their thing." - Groundsman Mark Perham.
"Test pitches around the world are generally quite flat. You've got to work hard for your victories. It's no different out here." - England fast bowler James Anderson.
"For me, I'd like a wicket similar to these last two, in Auckland. If it is a bit bouncier than we've seen in this one, and especially in Dunedin, we'll have to come up with a strategy to overcome it." - New Zealand captain Brendon McCullum.
"Auckland hasn't hosted a Test match since 2006 and we felt the England tour presented a good opportunity allocate a match to our largest city. An inbound England tour brings in a large number of supporters who create a wonderful atmosphere." - New Zealand Cricket chief executive David White.
Happy Hunting Ground
Brendon McCullum is the lone survivor from Auckland's last Test in 2006, when he put in a second-innings half-century - and enjoyed the same in a recent one-dayer.
England's current crop have never played a Test here, though Steven Finn will take heart from his six wickets in two matches during the limited-overs series.
Weather Forecast
While the rain that marred proceedings in Wellington isn't likely to hamper Auckland, the same bitingly chilly temperatures will keep jumpers donned. Plenty of sun is predicted for the start of this series decider, but the toss-winning captain must take into account the cloudy overhead conditions to follow on day two and beyond.
Conclusion
This will be England's first visit to Auckland this series, but first for a Test in a decade. They played three seamers and a spinner then, and are likely to do so again, with Jonathan Trott's part-time seam sure to be an option - like that of Mark Butcher was 10 years ago.
McCullum, meanwhile, has suggested an unchanged XI - unless Doug Bracewell recovers from a foot injury in time. A return for Bracewell might mean a rest for Tim Southee, who has shouldered the brunt of the load this month.
Contrary to Saker's claims and McCullum's request, there is likely to be more life in the deck at Eden Park than there was at the University Oval and Basin Reserve. Auckland, too, will sport a drop-in surface, put in place mere days after the latest rugby game at the ground.
Intriguingly, not one of the last 10 toss-winnings captains have lost the match. Those 10 fixtures, however, have brought five draws.
---
Click here for completely free £10 bet with Sky Bet & £5 free every week
---