We run the rule over the venue for the first Test between New Zealand and England in Dunedin.
Cricket Live. Click here to bet.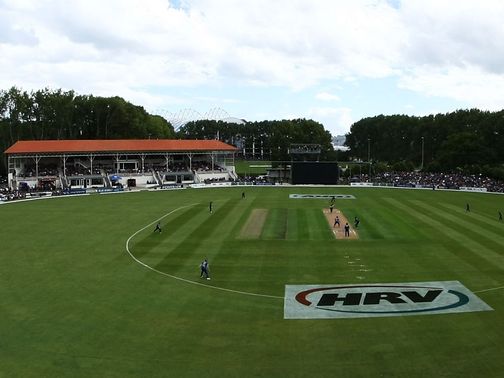 Established: 1920
Capacity: 6,000
Floodlights: No
Ends: Southern End, Northern End
Home Team: Otago
Test history: Four Tests (Two home wins, two draws)
Toss history: Three fielded first (one win, one loss, one draw), one batted first (one draw)
Overview
Forming part of the Logan Park, a multi-sport complex, University Oval became New Zealand's seventh Test venue when it hosted the Black Caps' clash with Bangladesh back in January 2008.
Built on reclaimed land that formally constituted an inlet of the Otago Harbour, the ground is a mixture of expansive grass banks, a historical grandstand and a modern media complex.
While the facilities themselves are of a high standard the playing surface has been called into question; a penchant for the production of sporting tracks and poor drainage has often led to criticism of the groundstaff.
While the ground is small and would hardly be considered for international status in other countries, it does at least have a proper turf wicket rather than the 'drop-ins' that frequent many of New Zealand's bigger stadia.
Its grandstand is also among the quainter you're likely to see, and hilly forests make for pleasant surrounds.
Last Time Out
The series opener in a three-match affair the Proteas would eventually clinch promised plenty of competition, only for the track to even out and the weather to have the final say.
The Proteas were rolled for an unspectacular 238 in their first innings, to which New Zelaand replied with 273 - for a modest lead. The tourists later declared on 435 for five - thanks to three centurions, but the inclement weather never allowed more than 137 for two from the Kiwis' second dig.
Both sides played a specialist spinner, though neither made a significant impact. Instead, swing bowlers took preference.
Happy Hunting Ground
With Chris Martin out of favour and Daniel Vettori injured, Doug Bracewell's record of five wickets in one match here - at an average of 24.40 - is as good as it gets for New Zealand's current attack.
Ross Taylor and Brendon McCullum, meanwhile, lead the batting ranks - with averages of 65.00 and 43.20 respectively. The latter has played in all four Test matches hosted at this ground.
England have never played Test cricket at the University Oval, though Steven Finn sports knowledge of the ground after his 2012 stint with Otago.
They Said
"It's a taste of home, I suppose - cold and wet. We have to adapt to the conditions. But I hope if there's a bit of weather around, it will nip around for the seamers." - England fast bowler Steven Finn.
"We expected this, so that's why we declared when we did yesterday. We were hoping to have a bit of a go at them. We were aiming for about four or five down with a second new ball around the corner, then I think we would have been in with a shot." - South African captain Graeme Smith acknowledges the fickle weather last year.
"The pitch was pretty flat, so I don't want to get too carried away, but you can only play on what wicket you're on. I'll take it as a pass mark." - former New Zealand skipper Ross Taylor in 2012.
"The wicket here is normally pretty good, it's just the overhead conditions that dictate what it's going to be like more than anything. I think in the past if it's been cloudy then the ball has swung, and you talk to the Otago guys and they say it's a completely different wicket depending on the overhead conditions." - former Black Caps captain Daniel Vettori, too, last year.
"It has to be appreciated that this ground is the old Pelichet Bay, so it is reclaimed land. When you get that amount of rainfall, you get to a point where you can clear off the surface moisture but by trying to get more out you only end up dragging more up." - Otago Cricket Association chief executive Ross Dykes defends the groundstaff and facilities after the 2008 Test against West Indies was abandoned.
Weather
Showers are predicted for Wednesday, Friday and Saturday - days one, three and four of this Test - but otherwise the forecast is decent. It's going to be chilly, though, with the mercury rarely rising to 20 degrees Celsius and generally hovering closer to 15.
Conclusion
Going into this series, New Zealand have been faced with a dilemma. Should they aim for a lively green wicket to aid their own seamer strength and hope to win the toss, or should they ask for a slower pitch to give their batsmen a better chance against an English attack that generally got the better of the hosts in the one-dayers.
In 2012, it appeared that the pragmatic approach had been taken. The majority of the grass, of which there wasn't a huge amount, was brown rather than green, and it proved a good, even batting wicket.
But as Vettori said last year, looking up is likely to give a better indication than looking down, and the forecast suggests that there should be a fair amount of cloud cover and moisture about. New Zealand's decision to bowl first 12 months ago was certainly justified.
There might not be a great deal of nip off the pitch, but swing bowlers are likely to hold the key to a result and the toss could be crucial with a bit of rain and moisture about on the first day - as Finn will attest to.
---
Click here for completely free £10 bet with Sky Bet & £5 free every week
---