We run the rule over the venue for the second Test between New Zealand and England in Wellington.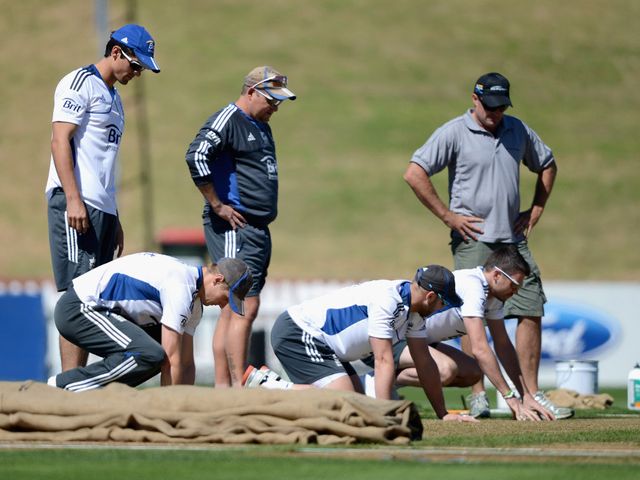 Established: 1868
Capacity: 11,600
Floodlights: No
Ends: Vance Stand End, Scoreboard End
Home Team: Wellington
Test History: 53 Tests; 14 home wins; 18 away wins; 21 draws
Last 10 Tests: 3 home wins; 4 away wins; 3 draws
Last 10 tosses: 4 batted first (2 wins, 1 defeat, 1 draw); 6 bowled first (2 wins, 2 defeats, 2 draws)
Overview
The Basin Reserve hosted its first Test back in 1930, when Stewie Dempster and Jack Mills became the first New Zealanders to score Test tons in their opening stand of 276. England were the visitors on that occasion, and managed to hold on for a draw.
It wasn't until 1969 that New Zealand tasted victory on their most beautiful ground (it's protected by an Act of Parliament and is the only sports ground on New Zealand's National Heritage list) when West Indies were the visitors.
Nestled beneath Mount Victoria and Mount Cook, the Basin is a proper cricket ground, with a cracking sun-trap of a grass bank on the eastern side, which also offers shelter from the notoriously unpredictable southerly winds that can whip across the ground.
The Basin Reserve owes its existence to an 1855 earthquake that levelled out enough ground for a cricket field, and is the scene of many of New Zealand cricket's finest moments: Sir Richard Hadlee took his 300th Test wicket here, while Martin Crowe (299) and Andrew Jones (186) put on 467 for the third wicket against Sri Lanka in 1990-1 - at that time a world record.
Last Time Out
March 2012's final Test was lined with chilly conditions and consistent rain, with the result ultimately a draw. New Zealand's decision to bowl first afforded South Africa a first-innings declaration of almost 500 - thanks to tons from Alviro Petersen and JP Duminy.
Vernon Philander then matched fellow seamer Mark Gillespie's six-for to have the Kiwis all out for 275. Another declaration from South Africa looked to force a win, only for Kane Williamson's unbeaten ton to ensure the inevitable stalemate.
The Proteas played without a spinner and Daniel Vettori bowled the bulk of the hosts' overs, so the tactics were contrasting in conditions resigned to more than 20 draws in 53 Tests.
They Said
"It's an interesting one. All three are strike bowlers in their own right and do a different role for their domestic team, but it's certainly something you have to consider when you come to Wellington - who will do that role. All three aren't used to doing it so hopefully we'll get days where it isn't too windy. But it's something you also have to think about when you go back to domestic cricket; bowl some spells into the wind to prepare yourself for this level." - New Zealand bowling coach Shane Bond knows hard work awaits Tim Southee, Neil Wagner and Trent Boult bowling into the strong Wellington wind.
"We've played here a few times and no doubt it's probably the bounciest quickest pitch in the country and it probably suits the nature of their bowlers a bit more. It's important to be smart about it and stay very grounded, they're very different conditions here and it's important we prepare appropriately." - New Zealand batsman Kane Williamson.
"There were people who wanted to play cricket so they went to see the provisional council and said, 'If we get free labour, can we turn that swamp into something worthwhile?' One of them was the head man of the jail on the other side of the city. He had the free labour. The most important part of this ground is a certain pathway. You can walk right around the ground and you don't encounter any fence or wall. No matter what time of day cricket is being played, people are always walking there, whether it's to go to the toilets or to go for a cup of coffee. It's always alive." - Wellington cricket historian Don Neely.
Happy Hunting Ground
Ross Taylor leads the batting pack here and is followed by Brendon McCullum, but with a considerably less average. 11 innings have brought Taylor almost 600 runs - and a ground aggregate some 14 runs more than his career average. McCullum, however, sports a mere 573 runs in 20 knocks - a ton and three half-centuries contrast three ducks.
With Chris Martin and James Franklin out of favour and Daniel Vettori, Ian Butler's Basin Reserve record is as good as it gets. The seamer has clinched 11 wickets in two matches - over 10 years ago, though.
England's last visit here was in 2008 - and James Anderson will take heart from his second-innings five-for, while Alastair Cook will recollect his 100-plus runs for the match.
Weather Forecast
The sunny, dry conditions predicted for day one will gradually make way for cloudy, wet terrain, with the weekend set for the worst forecast. The wind Bond spoke of should be at its most prevalent on days two and three, as the bowlers with the strong north-westerly at their back likely to benefit.
Conclusion
Nobody - probably not even the groundsman - had seen the pitch in the two days leading up to last year's Test, as cold, rainy weather swept over Wellington. Head groundsman Brett Sipthorpe started his preparations early then, and although won't be initially marred by Mum Nature, can expect the same on the weekend.
While the weather and the ground's record might suggest a draw is on the cards, particularly with rain about on Saturday and Sunday, it's worth noting the contrary. Stifled in Dunedin, both sides will be eager to clinch a vital series lead, and will afford each other the attacking approach needed for such an edge.
With New Zealand's seamers in reasonably good form and England's batsmen largely struggling to deal with them, Neil Wagner and company will fancy their chances of knocking them over if we get a decent amount of play. Of course they'll have to contend with Wellington's famous wind - one which has been known to move a heavy roller all on its own.
The pitch is expected to have more pace and bounce than the one on offer in Dunedin - some claim the Wellington deck is the quickest in country. Anderson enjoyed plenty of swing here in 2008, while other bowlers capable of generating steep carry should succeed.
---
Click here for completely free £10 bet with Sky Bet & £5 free every week
---