We run the rule over the venue for the second Test between India and England in Mumbai.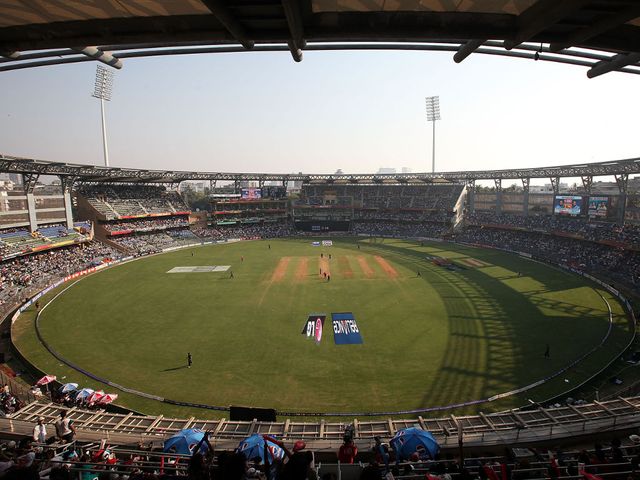 Established: 1974
Capacity: 45,000
Floodlights: Yes
Ends: Garware Pavilion End, Tata End
Home Team: Mumbai
Curator: Sudhir Naik
Test History: 22 Tests (9 home wins, 6 away wins, 7 draws)
Last 10 Tests: 4 home wins, 4 away wins, 2 draws
Last 10 tosses: 7 batted first (6 wins, 1 draw), 3 bowled first (2 wins, 1 draw)
Overview
Mumbai is India's biggest city and its commercial and entertainment capital, home to both the Bombay Stock Exchange and Bollywood, India's famous film industry.
It's certainly not short on tourist attractions, with Chowpatty Beach, the Gateway of India and the Colaba Causeway some of the more popular destinations for those visiting the city.
The Wankhede became Mumbai's third Test ground in the 1974-75 season after a dispute between the Cricket Club of India and the Bombay Cricket Association saw the latter move away from Brabourne Stadium and build their own facility in less than nine months.
The stands are named after famous Mumbai cricketers such as Vijay Merchant, Sunil Gavaskar and Sachin Tendulkar, while the ground was completely redeveloped ahead of the 2011 World Cup, when it hosted two group games and the final. Back to host Test cricket after its neighbouring Brabourne Stadium filled in during renovations, the Wankhede ended a five-year hiatus from the five-day game in 2011 - and added a modern-day element to a ground once stuck in a bygone era.
Last Time Out
Learning a swift lesson from the previous captain to win the toss and bowl first - and lose - at the Wankhede, Windies skipper Darren Sammy duly obliged the status quo by batting first.
The decision brought a near 600 total on the back of a big century from Darren Bravo amid a pitch that proved pretty flat at the outset. India's reply reached 482, with a string of unconverted starts from the top order paving the way for a ton from number eight Ravichandran Ashwin.
The nature of the surface then did an absolute about-turn, springing to life with plenty of bounce and spin on day four. Spinners Ashwin and Ojha shared 10 wickets as the Windies folded to 134 all out. The damage of the first three days was too much to undo, though, and a draw that was on the cards earlier than it should have been duly panned out.
Happy Hunting Ground
Indian batsman, still playing, with a solid record at the Wankhede are a dying breed. Sachin Tendulkar, of course, fronts the pack - as he does almost everywhere else. His 831 runs in 16 matches have come at an average of 51, though the right-hander has scored one of his 51 Test centuries here.
Bowling-wise, the venue has naturally been good to India's spinners, with Harbhajan Singh snaring 22 wickets in four matches at less than 20 a pop. Ravichandran Aswhin and Pragyan Ojha average a smidgeon more.
England were last at the Wankhede in 2006 - and won. Kevin Pietersen, James Anderson and Monty Panesar all played in that 212-run triumph. Pietersen and Panesar were not particularly successful, but Anderson enjoyed a first-innings four-for.
They Said
"You can't expect the wicket to turn on the first day of a Test match. But you do expect some bounce. This game, I was definitely expecting some bounce. So I felt cheated in that regard. This is my eighth game at Wankhede and this is the first time I am seeing a wicket like this.
"I am quite surprised. It is very much like the practice wicket to the left. I was praying it wouldn't be like that. It is usually one of the most sporting wickets in India. So it is disappointing to see it behave like this." - India spinner Ravichandran Ashwin rues the lack of bounce last November.
"What I would like to see in Tests in India, played out on fifth-day wicket in Mumbai. I want the pitches to turn from the very first day. It sets off a bit of panic in the opposition's dressing room and, at the same time, India are under pressure to perform as well. That what makes it interesting," - India captain Mahendra Singh Dhoni concurs with Ashwin.
"Frankly, I really don't what happened to the pitch. It started to turn in the morning. Until yesterday, everything was fine. It was among the flattest of wickets. Something happened in the morning and it started to turn." - Dhoni, again, changes his tune three days later.
"Things change very quickly in India, especially on red soil. If we can make 550, we have two quality spinners to put some pressure on them and get a result." - Indian opener Gautam Gambhir after day three in 2011. Things didn't change quickly, India didn't get to 550.
"There's been something in it for the fast bowlers and the batsmen seem to be playing their shots. If our bowlers decide to bowl short, bowl bouncers, they could get something out of the wicket. Let's hope it's a good wicket where there is something in it for the bowlers and batsmen." - West Indies captain Darren Sammy's ambition didn't backfire last year, but didn't exactly succeed either.
Weather Forecast
Sunny, humid, temperatures in excess of 33 degrees Celsius, no rain predicted, very little wind. Would you expect anything less from the sub-continent?
Conclusion
More than five years ticked over before the Wankhede Stadium hosted its return Test 12 months ago, when initially placid conditions bucked the norms of yesteryear's competitiveness. The same is expected this time around.
The coastal placement of the Wankhede Stadium affords swing bowlers some assistance during the early stages of each day. The deck, traditionally, has been conducive to big totals, yet it does help the slow bowlers across the last couple of days.
Playing two specialist spinners is certainly called for, as is batting first if triumphant at the toss. England simply can't ignore the call of Monty Panesar any longer - at the expense of a seamer, while the nature of the deck is primed for Ojha and Ashwin to continue their prolific partnership.
---
Click here for completely free £10 bet with Sky Bet & £5 free every week
---