We run the rule over the venue for the fourth and final Test between India and England in Nagpur.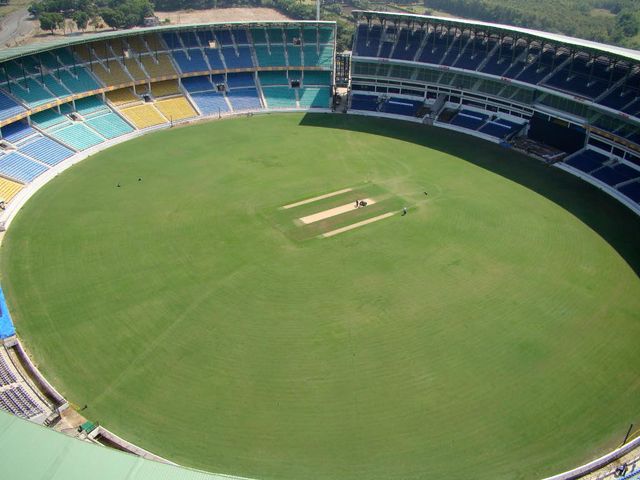 Established: 2008
Capacity: 45,000
Floodlights: Yes
Ends: Secretary End, Pavilion End
Curator: Praveen Hingamiakar
Test History: 3 Tests; 2 home wins; 1 away win
Tosses: 3 batted first; 2 wins, 1 loss
Overview
The new Vidharba Cricket Association Stadium became Nagpur's international ground in 2008 after BCCI president Shashank Manohar decided that his home city needed a state-of-the-art facility to replace the old VCA Stadium.
While the old stadium is a plain, aging ground in the centre of Nagpur, the swanky new arena is 18 kilometres out of town on the road to Hyderabad and was built with the expansion of the Indian Premier League in mind.
The stadium is a picture of modernity with fresh bucket seating in all areas, and has been compared with the Gabba by some Indian commentators, although its surrounds are rather more remote and the distance from the city is a sure put-off for fans.
As it's still fairly fresh the pitch is harder than most in India, which has led to high-scoring affairs in its early limited-overs matches. Sachin Tendulkar scored the first century on the ground as India beat Australia by 172 runs in the first Test in November 2008.
Last Time Out
India had failed to trump New Zealand in the first two Tests, leaving November 2010's third fixture the series decider, which the hosts won in resounding fashion.
The Kiwis' decision to bat first was historically the wrong one, with a mere 193 all out in 66.3 to show for their errors, as seamer Ishant Sharma landed a first-innings four-for.
A big century from Rahul Dravid, 98 from MS Dhoni and other half-tons from Gautam Gambhir, Virender Sehwag and Sachin Tendulkar then allowed India to declare on 566 for eight after the tourists spent almost a dozen hours in the field.
The length was too taxing, and the stamina nowhere to be found, with the Black Caps stumbling to a mere 175 all out the second time around, and the match was over before tea on the fourth day.
Happy Hunting Ground
Two Indian batsmen have thoroughly enjoyed this ground - Sachin Tendulkar has two centuries and a half-ton in four innings here, while Virender Sehwag has only failed to pass 50 once in his five knocks. As a result, Sehwag averages over 70 in his three Tests - and clearly benefits from the fact that the ball tends to come on nicely in the early stages.
The wickets have largely been shared around, but Ishant Sharma's match haul of seven last time around took his ground tally to 11 from three matches at an average of 21.63 - some 17 runs less than his career aggregate.
England, let alone their current crop, have never played a Test match here, though Jonathan Trott's half-century was at the fore of 2011's Word Cup Group B victory over the Netherlands.
They Said
I don't think I'm giving anything away by saying it's going to be a result pitch in Nagpur. If I was India I would want a result pitch to take my chances. I'd rather have a pitch that produces a result that one that produces 600 plays 600. So we know it's likely to be a pitch where it will be tough for the batsmen, with the ball turning." - England batting coach Graham Gooch.
"The pitch looks a bit dry but there is a bit of grass. We will have wait and see. I am hoping there will be turn and bounce. India is known more for its turning tracks but I haven't seen such tracks in the past few Tests. You might get some reverse swing here but the conditions are not enough to play three seamers. We will go in with two seamers and two spinners." - India captain Mahendra Singh Dhoni before the clash against the Kiwis two years ago.
"The feedback is that it's not a 400 to 500-run wicket. It may not be a 400-run pitch, but it wasn't bad for batting either. The spin was slow." - then New Zealand captain Daniel Vettori, whose decision to bat first backfired in November 2010.
"The real difference was Sharma. To take seven wickets on this surface, we knew we were in for a challenge against spinners but we should have done better against the seamers. It was a pretty flat track for the seamers but for him to come in and do the damage was the real difference between the two teams." - Vettori, again, in awe of Ishant's series-clinching haul.
Weather Forecast
Much like Ahmedabad, Mumbai and Kolkata - sunny, humid, temperatures in excess of 33 degrees Celsius, no rain predicted, very little wind. Would you expect anything less from the sub-continent?
Conclusion
The three Tests played at the ground so far have seen hard, glossy surfaces which offer a bit of bounce but also some turn for spinners from day two or three.
However, the crucial elements for South Africa and India's innings victories in 2010 was their ability to get the ball to reverse thanks to the dry pitch, and the omission of Zaheer Khan is therefore an intriguing oversight, given how good an exponent of the art he is.
The toss could be absolutely crucial, because so far we've seen that batting first has a huge advantage, with the ball coming onto the willow beautifully for the first two days before the pitch gradually gets slower.
The draw often looks a certainty early on, but in all three matches teams have found enough in the pitch to force a result. With Dhoni's men desperately needing a victory to square a series they were expected to walk, the hosts will be hoping that proves true once again.