Established: 1841Capacity: 17,000Floodlights: YesEnds: Pavilion End, Radcliffe Road EndHome Team: NottinghamshireTest History: 57 Tests; 19 home wins; 16 away wins; 22 draws (including 1 neutral Test)Last 10 Tests: 6 home wins; 3 away wins; 1 drawLast 10 tosses: 7 batted first (4 wins, 2 defeats, 1 draw); 3 bowled first (1 win, 2 defeats)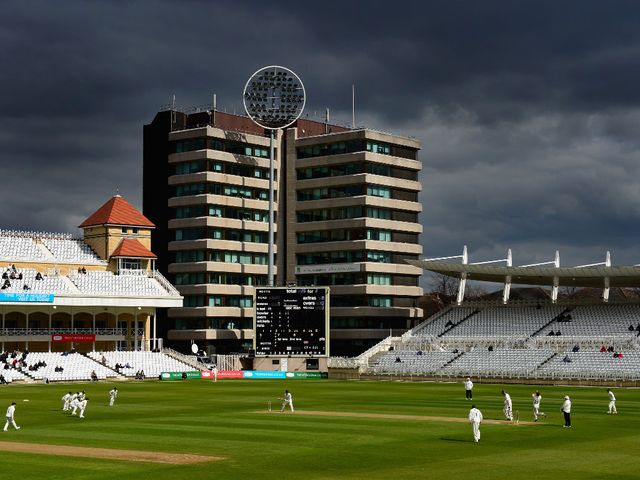 Overview
Since making its Test debut in 1899, Trent Bridge has become a regular on the international circuit. Originally it was shared with Notts County Football Club, but by 1910 there was a big enough overlap in cricket and football seasons to force Notts County to move to nearby Meadow Lane.
Although the pavilion remains within the architectural parameters of its 1889 foundation there has been no shortage of redevelopment recently, starting with the Radcliffe Road Cricket Centre, which was completed in 1998.
Since then the striking Fox Road stand, which includes a modernistic aircraft-wing roof, has been changed, while the West wing and Parr stand on the Bridgford Road side of the ground was replaced in 2008.
The effect of those alterations is that the ground is now completely encircled by buildings tall enough to cut off any breeze, and there has been a noticeable increase in swing - which was already abundant - since that last development.
As a result Trent Bridge has increasingly become a results ground, and the only two draws to have taken place in the last decade were both rain-affected.
Last Time Out
The second installment in India's four-part drubbing in 2011 brought England victory by 319 runs.
India's bid to buck the relatively recent trend and field first reaped early reward, but true to form, their batsman couldn't back up the bowlers.
England's first innings of 221 all out would have read considerably worse had Stuart Broad not propped up proceedings with a lower-order 64. Right on cue, seam trio Praveen Kumar, Ishant Sharma and Shantha Sreesanth shared nine wickets. Spinner Harbhajan Singh was a veritable non-entity in the pace-friendly conditions.
Rahul Dravid ground out a century in return. Little support around him, though, left India all out for 288. Broad rollicked through a six-for. Graeme Swann, like Harbhajan, was a non-feature.
The home side then quickly wiped out the nominal first-innings deficit before tucking into a huge lead on the back of Ian Bell's century and four other 50-plus scores. Despite the enormity of the 120 overs bowled, spinners only completed 28 of them.
India later folded to 128 all out. Tim Bresnan led the charge with five wickets. James Anderson and Broad took the rest. Spin, in fact, only featured across 53.4 of the four days' 327.1 overs.
Above and beyond the facts and figures, the match will be remembered for Ian Bell's bizarre run-out and Mahendra Dhoni's kind reprieve, Yuvraj Singh's brief return to Test cricket and England's glaring concern with HotSpot technology - easily proven fallible by the possibility of rubbing Vaseline on the bat's edges.
They Said
"The West Indies will find the going in Nottingham even tougher than they did at Lord's because the ground is renowned as a swing bowler's paradise and in James Anderson, Stuart Broad and Tim Bresnan, England have three of the best in the business. Since the new Radcliffe Road Stand went up, it seems to swing more than it ever did and the lush outfield at the ground means the ball stays in a better condition to swing for longer. The Windies attack has plenty of pace but you wouldn't call them big swing bowlers, so conditions are likely to favour England heavily. The key to the match could be how the inexperienced West Indies batsmen handle the moving ball." - former England batsman Alec Stewart told the BBC.
"The great thing about Trent Bridge is that it's a really good cricket wicket, but you can lose the game inside the first hour because it can swing around. We need to adjust our line and lengths - you do get good value for pitching the ball up at Trent Bridge - and a lot of catches can go to the slips, so that's something we will be working on in training." - hometown hero Stuart Broad.
"Certain grounds do seem to swing every time, and Trent Bridge has been good to me the last couple of times I've been here." - England seamer James Anderson.
Happy Hunting Ground
Trent Bridge's bowler-friendly character is reflected in the records of those England players who have turned out here. While the bowlers have all enjoyed their outings, almost every batsman has an average at the ground which is well below his overall average.
With an 11-wicket haul against Pakistan in 2010, James Anderson's record is most impressive with 33 wickets in five Tests at better than 18 apiece. The only blot on that record is the fact that he took just one wicket for 157 runs when India visited Nottingham four years ago.
Nottinghamshire hero Stuart Broad, meanwhile, will be eager to build on his Man of the Match performance at Lord's and will remember fondly the eight victims he secured in front of his home crowd against India last year.
It's no surprise that opening batsmen struggle here, and in seven Tests Andrew Strauss averages a shade under 25, while Alastair Cook averages even less in four matches. Batsmen down the order are better placed to score, as Ian Bell and Tim Bresnan showed with 159 and 90 respectively last year.
The last time the Windies played a Test match at Trent Bridge was in 1995. Suffice to say, other than the veteran Shivnarine Chanderpaul, none of their current crop were around then.
Fidel Edwards, Ravi Rampaul, Denesh Ramdin and Marlon Samuels all played in 2007's ODI victory over England, though. Edwards was particularly impressive with three key wickets.
Weather Forecast
The sodden conditions that rendered plenty of county clashes in May damp squibs is on its way out.
Thursday through Monday seems set fair in Nottingham, with the weekend enjoying the warmest temperatures. And, in case you were wondering, pollen levels will prove moderate and pollution gradients low.
Conclusion
With a result in all of the last seven games at Trent Bridge, it's fair to say that the only thing which could lead to a draw is the weather.
Statistics have backed up the suspicion that there's been more swing on offer at the ground since the Bridgford Road stand was completed, with average scores at the ground in county matches falling.
The theory behind the increase in lateral movement is that a fully enclosed ground creates its own 'micro-climate' in which less air escapes and more circulates. This creates a warmer atmosphere which in turn can affect the level of friction in the air, thus causing a ball that's only worn on one side to swing more.
The decision of whether to bat or bowl first can be a difficult one at Trent Bridge, which is statistically the toughest venue in England for teams batting first in the last decade.
Generally captains will base their decision on overhead conditions, so if there is a bit of cloud about on Friday morning then bowling first is likely to be on the cards, especially with clearer conditions forecast for the weekend.