We run the rule over the venue for the third and final Test between England and the West Indies at the home of Warwickshire cricket.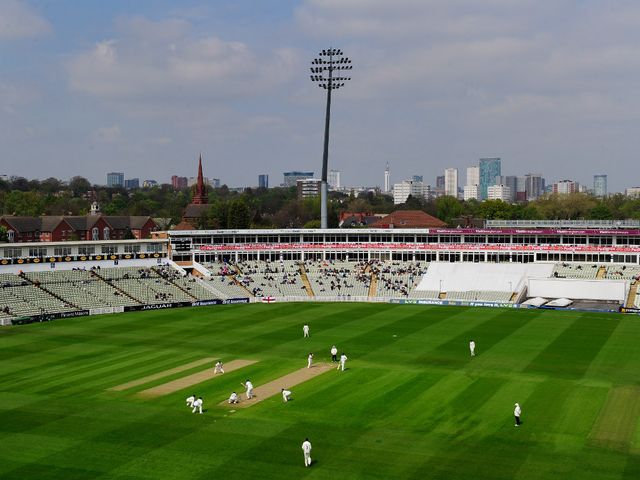 Established: 1882
Capacity: 21,000
Floodlights: Yes
Ends: City End, Pavilion End
Home Team: Warwickshire
Head Groundsman: Gary Barwell
Test History: 46 Tests; 24 home wins; 8 away wins; 14 draws
Last 10 Tests: 6 home wins; 2 away wins; 2 draws
Last 10 tosses: 5 batted first (1 win, 2 draws, 2 defeats); 5 bowled first (4 wins, 1 defeat)
Overview
Before the Riverside's promotion to Test status, Warwickshire's Edgbaston was the baby of the grounds on the regular rotation.
Test cricket was first staged at Edgbaston in 1902, but was an infrequent visitor in the ground's early years: only four Tests were played there in the next quarter-century.
But it's now very much a regular, and probably has the best atmosphere of any English ground. When the 'Bullring' gets going it can be tough for visiting teams, reflected in the fact that England have a better record here than at any other major venue.
A period of significant renovation at the end of the 1990s produced the new Cricket Centre and the £2million Hollies Stand. Further redevelopment plans were given the stamp of approval in early 2010, paving the way for a new Pavilion Stand equipped with plush new dressing rooms and media centre.
Floodlights were installed in 2011 for the first time, and the third Test between England and India was the first opportunity for Edgbaston to show off its fresh look on the international stage.
Some of the most memorable moments of recent cricketing history have taken place here. In 1994, Brian Lara amassed his world record 501 not out for Warwickshire against Durham, while in 1999 the ground hosted the famous tied World Cup semi-final between South Africa and Australia.
Then there was the 2005 epic, when Michael Kasprowicz gloved a short ball to Geraint Jones to hand England a thrilling two-run win in the greatest Ashes Test ever.
The West Indies have played here twice this century, each game ending with vastly different results. In 2000, the visitors destroyed England by an innings and 93 runs, thanks to Courtney Walsh's five-for in the first innings and an all-round pace demolition in the second that saw England all out for 125.
The last time the Windies played here was a different story, though, when in 2004 England won by 256 runs. England batted first, racking up a massive 566 on the back of centuries from Marcus Trescothick and Andrew Flintoff.
The pitch became less conducive to batting as the days wore on, and the Windies required 479 runs to win in their second innings. Ashley Giles put paid to any such attempt though, and bagged a five-for as the Windies were skittled out for double Nelson.
Last Time Out
August last year brought the third Test against India, and it was a happy occasion for England as they thrashed the tourists by an innings and 242 runs, taking the number one Test ranking off the Indians at the same time.
England won the toss and chose to field first, which India skipper Mahendra Singh Dhoni admitted he would have done too, as fielding first at this venue is historically a smart move. As dictated in the stats above, in the past decade fielding first has an 80 percent win rate.
India's batsmen struggled on the green, pacey pitch, with only Dhoni making a decent score of 77. Stuart Broad and Tim Bresnan, who should be in action against the West Indies, were the stars of that innings, bagging four wickets apiece at economy rates of just over three.
England's innings, which began on day one, was a master class in concentration and accumulation. Andrew Strauss, batting in his 12th innings at the venue, remained without a century here but scored 87, and was one of five batsmen to rack up big totals on their way to a mammoth score of 710 for seven declared.
Prior to this match, Kevin Pietersen was the only player in the current side to score a ton here, but this innings saw Alastair Cook and Eoin Morgan record triple figures. Morgan made 104 off 199 deliveries and Cook made his highest score to date, 294.
He fell six short of his triple ton, after recording hefty partnerships with Strauss (186) and Morgan (222), when Raina caught him at deep point after he flashed at a wide Ishant Sharma delivery. His dismissal saw Strauss declare the innings, leaving Bresnan unbeaten on 53 not out.
India's second innings saw them needing nearly 500 runs just to draw level, and with the light fading late on day three, they batted for 12 overs and lost the wicket of Sehwag before stumps.
James Anderson, who has been left out of the upcoming match, was the main striker in the second knock, bagging four wickets, while Broad and Graeme Swann took two apiece. India lasted for 55 overs, all out for 244. Again, Dhoni was the main-scorer, making 74, while Sachin Tendulkar and Praveen Kumar fell on 40 each.
They Said
England captain Andrew Strauss, after the win against India: "It wasn't a massive gamble to bowl first, there was probably less in the wicket than we thought there would be and by the time we batted the wicket had gone flat."
West Indies coach Ottis Gibson discussing his team composition, based on the pitch: "It's (a call) we'll have to make when we get to Edgbaston and look at the pitch and decide what sort of make-up of the team we want to go in with. If it's worth the risk - it will be tough on the guy who hasn't played any cricket to go and play in these conditions, but we have a squad of 15 and all 15 should expect to play."
Former England batsman Marcus Trescothick, discussing his 2004 innings, and the Edgbaston pitch, with the ECB this week: "My record was pretty good there; I had some decent success there. They were quite slow, the Test pitches we have played on, but they do spin and go up and down later on. We have had some good results there.
"It does spin there. As the game goes on it's usually quite dry hence why you get the spin and a bit of up and down over the course of the game. You would like to think it spins on most Test pitches around the country; once you get a bit of sun on it tends to break up a little bit.
"Spinners have always done OK there; obviously Ashley (Giles) has done well in his career with Warwickshire and England."
Warwickshire director of cricket Ashley Giles this May, discussing how to make the pitch less unpredictable: "It is always difficult with pitches at this time of year.
"Early in the season there was talk about wickets doing too much and batsmen having a rough time but we saw last week with a little bit of good weather then suddenly there have been some big scores round the country.
"We are always trying to get that balance right and our groundsman Gary Barwell has done a brilliant job preparing our wickets but a lot of our wickets at Edgbaston are very different.
"A lot of the strips have different qualities and this is Gary's first season with us and he is getting to know each surface as we go along. The answer probably is to leave a little bit more grass on and back our batters to get the runs."
Happy Hunting Ground
Kevin Pietersen has the best record at this venue of the current crop of England players. He is the 12th-highest run-scorer here, scoring 487 runs in eight innings, at an average of over 60.
Prior to the India Test last year, he was the only current centurion at the ground, but Alastair Cook not only broke that stat but scored the venue's best Test innings in that match, 294.
Andrew Strauss is the highest player on the run-scorer list not to have a century here, but he has three half-tons in 12 innings at an average of 37. He will be hopeful of a ton this time around, though, having scored centuries in the first two Tests of this series.
As for the bowlers, James Anderson is the highest current wicket-taker of the current lot, in fourth place with 24 wickets, but he is not playing in this match. Next in line, a further 17 places down, is Stuart Broad with 14 wickets in three Tests, including the six he took against India last time out.
The only current Windies player to have set foot on this field is Shivnarine Chanderpaul, who made 45 and 43 in the 2004 Test that England won.
Weather Forecast
It doesn't look great, with a 90 percent chance of rain predicted for almost the whole of Thursday. Friday has a similar, if slightly better forecast, with Saturday showing more sporadic showers throughout the day.
Sunday, day four, looks to be starting off calmly, with a 95 percent chance of showers predicted after lunch. Monday is much of the same, with light showers predicted in the afternoon. If the weather plays out the way the forecasts predict, a draw is on the cards. And this for an English summer...
Conclusion
Test history here tells you to expect a result, with only three draws in the last 15 matches and one in the last six. The pitch is generally on the slow side and the faster bowlers often rely more on overhead conditions, if predominantly cloudy, than the lagging lift across the deck.
With England resting Anderson and having already sewn up the series, it is expected that either Steve Finn or Graham Onions will be given a shot here, if the weather plays along and lets them use the refurbished pitch maintained by new groundsman Gary Barwell.
The West Indies are likely to give spinner Sunil Narine a place after sending Kemar Roach home with an injury, though his success came on the dry pitches in India during the IPL, so it will be interesting to see how he does in damper English conditions.
The overhead conditions could well be the deciding factor come the toss on Thursday morning, but if the sun pokes its head out then the captain winning the toss can be expected to bowl first.