We run the rule over Lord's, the home of cricket, ahead of England's first Test against the West Indies on Thursday.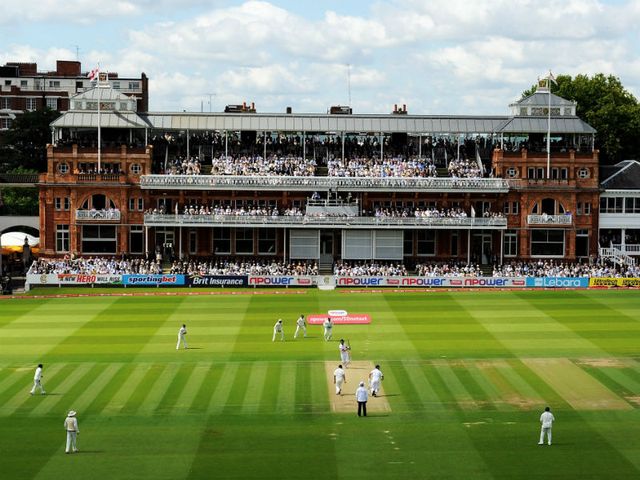 Established: 1814
Capacity: 30,000
Floodlights: Yes
Ends: Pavilion End, Nursery End
Home Team: Middlesex
Test History: 123 Tests; 47 home wins, 29 away wins, 47 draws
Last 10 Tests: 5 home wins, 1 neutral win, 4 draws
Last 10 Tosses: 2 batted first (1 win, 1 draw); 8 bowled first (3 draws, 5 defeats)
Overview
As the home of English cricket - indeed world cricket - it has been suggested that Lord's inspires the opposition more than it does the hosts. Nevertheless England have not lost here since the Ashes series of 2005 - a run of 12 matches.
Despite the MCC's reputation for stuffiness, the ground has been extensively redeveloped to keep it at the forefront of cricketing venues, and many of the additions - notably the futuristic Media Centre at the Nursery End - are strikingly modern without diminishing the famous venue's historical power.
Further development has been proposed, and recently put on hold, as the MCC struggle to find agreement on a 'Vision for Lord's'. In the meantime, the ground will be used for archery during the London 2012 Olympics this summer.
Between 2006 and 2009 the pitch became something of a batting paradise - despite the infamous slope - producing six straight draws between Australia's 2005 victory and England's three-day defeat of West Indies in early 2009.
However, the pitch is playing rather quicker these days by all accounts and offering assistance for everyone rather than just fancy-dan batsmen looking to get their name on the dangerously overcrowded Lord's honours board.
Last Time Out
The 2000th Test, and the 100th between England and India, was played out in front of excellent crowds - none better than the 27,728 who packed in on a final day that saw queues around the block at Lord's. Many arrived in the hope of witnessing Sachin Tendulkar's 100th international century, but that wasn't to be as the Little Master's highest score at the home of cricket remained 37.
Instead England recorded a convincing 196-run win which set the tone for the rest of the series. India's woes began as soon as Zaheer Khan limped off the field and out of the series midway through his 14th over. He had claimed the wickets of both England openers in helpful conditions, but his departure lifted the pressure on the home side who went on to post 474 for eight on the back of Kevin Pietersen's unbeaten double-century. Praveen Kumar took five, but MS Dhoni was forced to remove his pads and bowl medium-pacers as India laboured.
Stuart Broad then showed that there was something in the pitch for fast bowlers if they showed a bit of skill, as his 4 for 37 saw India bowled out for 286. Rahul Dravid carried his bat with an unbeaten 103, as all but one of the wickets fell to fast bowlers.
With England 62 for five in the second innings, India were back in the match. Taking his cue from the way Broad had bowled, Ishant Sharma pitched the ball up and made life awkward, but then had a prolonged absence from the attack as Dhoni played over-rate catch-up. England took the momentum in that time, and Matt Prior's superb century in an unbroken partnership of 162 with Broad saw England to the declaration.
India were left needing 458 to win in four sessions, and reached stumps just one wicket down to suggest a dramatic final day could be in store. That was not to be - although there were pockets of resistance, most notably Suresh Raina's 78, England went on to win in the final session.
They Said
"I've pushed myself five percent more than maybe I would have done on other grounds. I'm really excited to play at Lord's in a Test match. It will be a dream come true and I really want to play, because I don't know when I'll get another chance." - Bangladesh opener Tamim Iqbal gives an idea of what Lord's means to foreign players.
"It's not the pitch, the atmosphere or the opposition players. Rather, there is a mystique that only a cricketer could understand. I imagine it's like how it is for a budding actor making it to Holly (or Bolly) wood, or a wannabe model making it to the catwalks of Milan." - Ross Taylor gives his take, writing for Cricinfo during New Zealand's 2008 tour.
Happy Hunting Ground
Most of England's batsmen have good records here, though those are swollen slightly from the boom years of the late noughties and also the fact that they have taken on some very ordinary opposition at the home of cricket.
Nevertheless Jonathan Trott's record stands out as an impressive feat - he has nearly 600 runs from just four Tests here at a Bradmanesque average of 99.66. Kevin Pietersen and Ian bell also have excellent stats here - having both recorded their highest scores at the ground, they boast averages of 65 and 61 respectively.
Andrew Strauss has no had the best time with the bat over the past 18 months and could use a score to quieten the murmurs over his place in the side. With that in mind a return to his home ground could be just the tonic. He hasn't had recent success here in Tests, but still averages 54.
Bowling-wise, James Anderson has 43 scalps at 27.13 apiece, but that's put in the shade by Graeme Swann who has 24 wickets from six Tests at an average of 23.
It's also bettered by Graham Onions, who took seven wickets the last time the West Indies were here and averages 19 in his two Tests. He'll be up against Tim Bresnan and Steven Finn for the third seamer's berth, with the latter making a solid case with his 17 wickets in three Lord's Tests at a shade under 23.
Weather Forecast
Generally pretty good. Cloudy skies are expected for most of the Test, but only the final day can expect serious showers.
Conclusion
After a spell where getting Test matches to last a full five days was put before entertainment, Lord's has developed into a venue where bat and ball can enjoy an even contest, with the only draw in the last seven Tests being heavily affected by rain.
Although three of those were May or August Tests against substandard opposition (West Indies in 2009, Bangladesh in 2010 and Salman Butt's tainted tourists three months later), England's Ashes victory in 2009, Australia's win over Pakistan in 2010 and last year's 2000th Test all proved that there is a good balance between bat and ball.
Although no side has won the match after electing to field first since England beat Bangladesh in 2005, that is a fact which has more to do with who won the toss and elected to field. Often stronger sides were able to force a result in their favour after a weaker side called correctly. All of which suggests a good surface on which the better side generally triumphs, while conditions overhead are often a bigger factor in a captain's decision than what's below his feet.
Of course the wickets have been tumbling in the county championship this season and Lord's has played its part - the 95 wickets that have fallen in the three matches thus far have cost just 20 apiece. But the absence of the heavy roller in county cricket has had a reasonable say in that, so things should be easier when that restriction is taken away.
Nevertheless there should be enough encouragement for the seamers - particularly with so much cloud cover forecast - to expect a result. Based on the West Indies' recent form with the bat, England could be expected to win it inside four days, and thus evade any concern over day five showers.