A pitch prepared by a new groundsman at a venue not familiar with Test series openers awaits England and South Africa in London.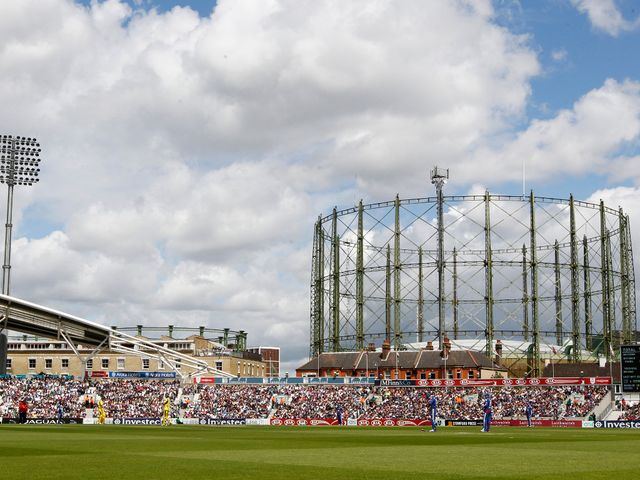 Established: 1845
Capacity: 23,500
Floodlights: Yes
Ends: Pavilion End, Vauxhall End
Home Team: Surrey
Test History: 94 Tests; 39 home wins; 19 away wins; 36 draws
Last 10 Tests: 6 home wins; 2 away wins; 2 draws
Last 10 tosses: 9 batted first (3 wins, 3 draws, 3 defeats); 1 bowled first (1 defeat)
Overview
The Oval is a venue blessed with a rich sporting history, which includes playing host to the first Test match on English soil, a game in which WG Grace scored a century in England's win against Australia in 1880.
Significantly it was at The Oval that the legend of the Ashes was born and the great Sir Donald Bradman played his final Test innings at the ground.
Apart from cricket the venue was also host to the first official international football match as well as the first rugby international in England in the early 1870s. Another notable fixture was the first ever FA Cup final in 1872.
The Oval now traditionally plays host to the final Test of the English summer, bar this one, and has therefore seen some dramatic finishes in its time.
From the 1968 Ashes Test when supporters pitched in to mop a sodden ground in time for Derek Underwood to bowl the Australians out to square the series, to Kevin Pietersen's match-saving - and series-winning - 158 in 2005 against the same opposition, The Oval's history is sparkled with magical moments and memories. It too was the scene of Inzamam-ul-Haq and company's defiant walk-off in 2006 after umpire Darrell Hair's accusations broke the proverbial camel's back.
A spectacular new stand to complement the huge pavilion has made for a more pleasant viewing experience, and the famous old ground continues to be developed with floodlights the latest new arrival in South London. The most well known feature of The Oval is, of course, the gasometers to the east of the ground.
Last Time Out
India were in tatters, ravaged by injury and murmurings of alleged disunity. A 4-0 whitewash was ripe for the picking, and England delivered. Ian Bell and Kevin Pietersen welcomed big centuries against an attack lined with the inadequacy of RP Singh and far too reliant on the leg-spin of Amit Mishra.
England's giant 591 for six declared brought an inadequate response of 300 all out, with Rahul Dravid's century again the standalone feature of an otherwise lame showing with the bat. England's seamers shared the initial wickets, before spinner Graeme Swann enjoyed a taste of what was to come with three scalps.
India's follow-on was exemplary of their poor tour. Swann landed a second-innings six-for to finish with nine scalps for the match as the tourists fell to 283 all out and defeat by an innings and eight runs. Their performance was ugly, and failed to harness the competitive conditions on offer. England were the complete opposite, thorough and professional across the board.
They Said
"The job of head groundsman at The Oval is never an easy one, but in Lee Fortis I believe we have found a formidable candidate that will be able to provide consistently world-class wickets for many seasons to come." - Surrey chief executive Richard Gould welcomes his new employee earlier this year.
"Any time you win the toss on what looks like a good batting deck, it's not the ideal position you'd want to be in. By the end of the day it looked a good wicket. But we've seen that the minute the clouds come over it seems a different proposition altogether - seaming around, and nipping a bit quicker." - England wicketkeeper-batsman Matt Prior laments the hosts' failure against Pakistan a couple of years ago.
"It's still a cracking batting track." - short and sweet from England spinner Graeme Swann in 2010.
"Historically it's a drier surface that does bounce and carry a bit and those sort of conditions can help the ball get scuffed up, which everyone knows helps it reverse." - Then Australia coach Tim Nielsen gives his take on the history of The Oval pitch before the 2009 Ashes Test.
Happy Hunting Ground
Kevin Pietersen is top of the pops for current England batsmen at this ground, with his 727 runs across 11 knocks affording the right-hander a healthy ground average of 66.09.
Ian Bell (557 runs, 50.63 average) and Alastair Cook (502 runs from 45.63 average) are next in line, while Andrew Strauss has managed a substandard average of 37.64 in 15 innings here.
James Anderson's seven Tests at The Oval have brought him 25 scalps at 34.72 apiece - considerably poorer than his career average of 30.05. Graeme Swann's ground record makes for impressive reading, with the spinner bagging 24 victims in just three Tests here at 20.16 each.
None of South Africa's current crop sport a particularly outstanding Test record at The Oval, though Graeme Smith and Jacques Kallis will take the experience gained from two previous tours into this one.
Hashim Amla and Morne Morkel, too, are entirely more refined cricketers than they were for the 2008 visit.
Weather Forecast
Rain has marred the bulk of the domestic season, and doesn't look like relenting enough not to affect the series opener. Showers are predicted for all five days, though the fourth (Sunday) might escape relatively dry.
Temperatures are likely to hang around 20 degrees Celsius, with a slight dip toward the weekend sure to have Three Lions and Proteas jerseys donned. South-westerly winds, yes, but not enough to have a definitive effect on the state of play.
Conclusion
The pitch is one which provides interest for all. Runs are not hard to come by, while seamers have the encouragement of pace and bounce on a dry surface.
That will also keep the spinners interested and, as at all English venues, the ball should swing.
History says that batting first is the obvious choice, even for a South African batting line-up short on match practice.
England, thrown off only by 2010's loss to Pakistan, have made The Oval into something of a stronghold with nine of their last 10 games at the ground unbeaten against sturdy opposition (bar India 2001, and the 2006 Pakistan result thrown in as a bonus).
The Oval has a new groundsman, who is yet to prove himself in Test cricket. Familiar with preparing good pitches for ODI contests, Lee Fortis is faced with a tough prospect in readying conditions for a full five days amid plenty of inclement weather.
This year is not a position of comfort for England, either. Usually at The Oval for the last Test of their summer, England will have two more after this one. South Africa will be well aware of the opportunity to pounce against an English unit all too familiar with their opponents by the time the final Test of the series arrives.