Crolla wins Murray battle
Anthony Crolla won the battle of Manchester and defended his WBO inter-continental title with a stunning 10th round stoppage victory over John Murray.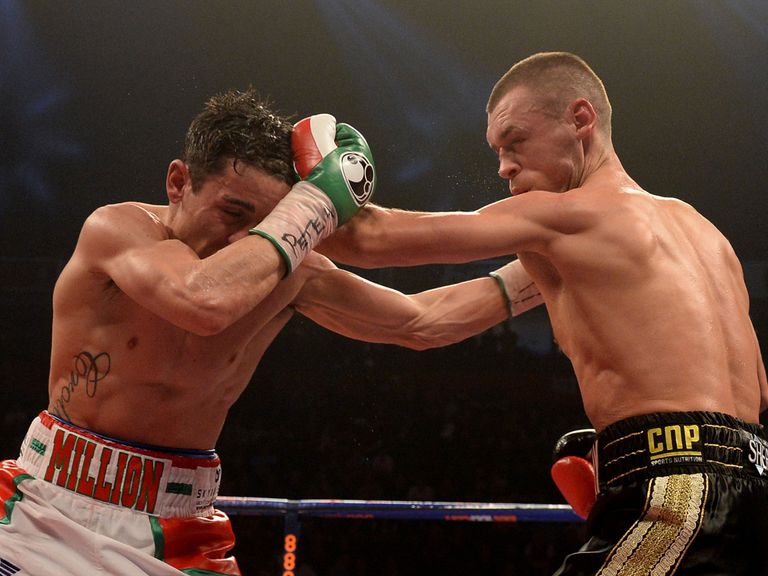 The pair, former gym-mates and still good friends out of the ring, fought an intriguing contest at breakneck speed but it was Crolla who had the gameplan to come out on top.
Murray, as expected, started like a train stalking his prey and looking to land downstairs, but Crolla stayed out of range when required and his trademark jab was very accurate and he also got home with the better right hands.
Murray denied his opponent the space in the second and Crolla was forced to backpedal throughout, the older man's shots looking to have more impact.
The former European champion continued his marauding style in the third and simply walked his man down throughout, unloading a heavy volume of shots as he backed Crolla onto the ropes.
Crolla was not without his successes though and his accurate jabs and left counters caused damage to Murray's right eye.
Murray was cautioned several times about leaning on Crolla but he had a lot of success late in the fourth, a huge right hand rattling Crolla and forcing him to cover up as Murray went in for the kill.
For once Crolla's defence could not keep the 'Machine' at bay but the pair went to their respective corners breathing heavily.
The fight was living up to its billing but as the pace slowed in the fifth Crolla was able to re-establish himself with the double jab, often beating Murray to the punch and leaving him off balance.
Murray came out with more venom in the sixth but his work was becoming increasingly ragged, Crolla making him miss more often than not as he loaded up the overhand right while tapping the challenger almost at will.
Murray came on strong again though in the seventh, gradually asserting himself on his former gym-mate and out-working him by two to one, the big right hand buzzing Crolla on occasion.
Back it swung in the eighth as Crolla had his best round, frustration and weariness etched on Murray as he plundered forward but the New Moston man scored with the greater accuracy once again.
Murray was blackened and marked under the left eye but, urged on by his corner, he came out with violent intentions again in the ninth but he walked onto Crolla's upper cuts and hooks as the action turned into a brawl - Murray stung for the first time by a straight left hand in a massive round that had the true boxing fans on their feet.
Crolla's confidence had grown measureably judging by his start to the 10th, catching his old friend cleanly off both sides and Murray hurt again as blood began to pour from the nose.
The tank appeared to be running dry and Crolla put him down with a left hand that owed more to Murray's tiredness than a single shot. Crolla sensed his time had come and he opened up in style, backing Murray into a neutral corner and unloading huge accurate strikes that forced Terry O'Connor to intervene.