Home comforts for Lee Selby
Our Simon Crawford believes Lee Selby will delight his home fans by winning the European featherweight title against Rendall Munroe this weekend.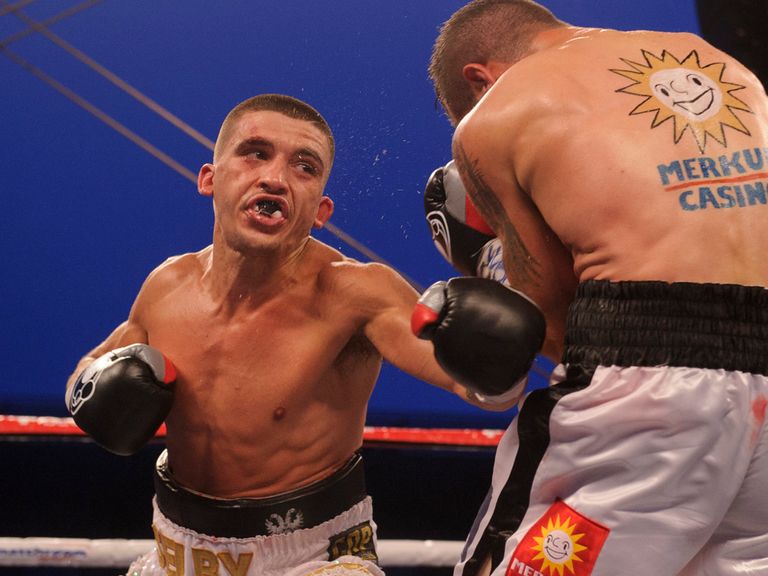 British fight fans have a potential cracker to savour this weekend as Welshman Lee Selby faces Leicester veteran Rendall Munroe for the vacant European featherweight title in Cardiff.
Selby, who won the British and Commonwealth titles against Stephen Smith in December 2011 and has scored six straight wins in various title defences since, will have the backing of a partisan home crowd at the Motorpoint Arena as he bids to underline his credentials as world champion in the making.
At 26, orthodox Selby has won 17 of his 18 fights (six knockouts) with his only defeat coming at the hands of Samir Mouneimne in only his fifth fight, back in May 2009.
But since that unexpected four-round points setback his form has been impressive as he has beaten the likes of John Simpson, Martin Lindsay and Ryan Walsh to steadily climb the world rankings.
Although Munroe is now 33, Selby still has plenty of respect for him.
"I'm expecting the best Rendall Munroe," he said. "I think he's going to come at me, keep coming through the fight and try to wear me down.
"I'm super fit, I live in the gym, and when he tries to up the pace, I'll up it more, I'll outbox him, catch up with him and get him out of there.
"I don't think I am far away from the world-title scene. Hopefully I can win this title and maybe make a couple of defences, then look to a final eliminator for a big one."
Munroe could easily provide him with the toughest test of his career.
The former binman is on the comeback trail after temporarily calling it a day following defeat to new world champion Scott Quigg almost 18 months ago.
But Munroe, who took on WBC super-bantamweight champion Toshiaki Nishioka in Japan in 2010, still believes he has what it takes to get to the top - this time as a featherweight.
Munroe expects his experience at the highest level to shine through against Selby, who has cleared out the domestic division in the last two years.
"Selby is coming to win and I am coming to win so this is his step to the next chapter that he wants," said Munroe. "He will come very prepared and really up for it.
"He's got nothing that worries me, nothing. I'm world class and I think I've proved that. As for him being bigger, I've been sparring bigger lads since day one. I always have to get sparring partners who are bigger than me anyway because I'm a strong lad at the weight myself.
"I'm not getting any younger but I'm good enough, strong enough and I've proved I belong at that elite level."
It certainly has all the makings to be a classic domestic clash - orthodox against southpaw, rising star against the seasoned veteran.
Both are well-schooled fighters, can mix it up and can hit hard.
However, I'm going for Selby to edge it as I think that Cardiff crowd can lift him late in the fight when he will need to lift the tempo.
I also believe he is the slightly more hungry man. He has much of his career ahead of him whereas I can't help but think that Munroe's heart might not be totally in it after he quit following that Quigg defeat in November 2012.
Yes, he has bounced back with three wins and is certainly talking like there is still plenty of ambition left, but if Selby gets on top will he unravel?
As boxers there is little to choose between them so that's why I think a raucous crowd and Selby's desire can give him the edge and a narrow points win.
The best you will get on a Selby win is 2/7, while Munroe is a best of 39/11.
No value there so I'm going to take the 5/2 being offered for Selby to win on points.
The fight is being televised live in the UK on Sky Sports.
---
New Sky Bet customers: Free £30 matched bet
---