Brook shines as Froch stays top
Our Derek Bilton brings you his latest British P4P rankings as he reflects on victories for Kell Brook and Carl Froch.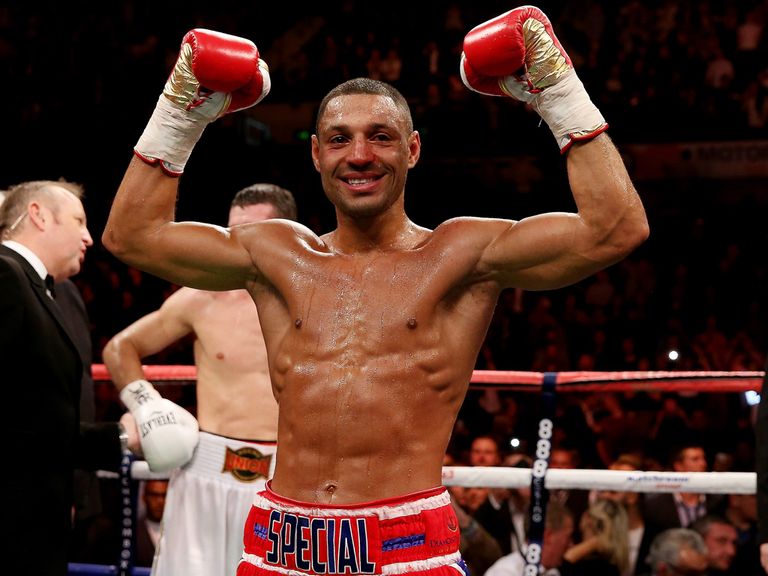 It's all been happening on the British beat in recent weeks.
First Kell Brook showed he is 'The Special One' with a devastating display against former Ricky Hatton conqueror Vyacheslav Senchenko in Sheffield.
The 27-year-old really made a statement in the fight, earning himself an IBF world title tilt in the process and showing that now he has got his conditioning sorted he is indeed the genuine article. 31 fights. 31 wins and 21 stoppages tells its own story and the way Brook puts his heavy combinations together is truly awesome to watch.
Brook against Amir Khan is arguably the biggest British fight that can be made next year and I truly hope that their respective promoters can iron out a deal to show just who the top welterweight in the country is.
No sooner had the dust settled on that, boxing on these shores was left stunned as David Haye pulled out of a February contest against Tyson Fury with an injury that looks like ending the former's career.
It's a bitter pill to swallow (not least for yours truly who had already booked tickets and a hotel) and a shame two of the best British big men of recent times won't be trading right hands and heavy hooks with one another.
Then Fury himself took to Twitter to hastily announce he is 'one million per cent retired' from the sport, so fed up was he of boxing politics. Happily Fury's team later refuted said boast and the big unbeaten Traveller is hopeful of securing a meaningful fight still in February.
Then of course we have the small matter of Carl Froch v George Groves, one of the most savage, exciting and mesmerising bouts between Britons since Nigel Benn clashed with Chris Eubank way back in 1990.
The smart money going in was on Froch to win by brutal KO early doors, with many feeling that the bout had come far too soon for an unbeaten but hitherto untested Groves. However 'The Saint' hadn't read the script, dropping Froch heavily with an arcing right hand in the very first round that almost ended the fight.
The 25-year-old challenger kept WBA and IBF champion Froch on the back foot for much of the early part of the fight and miss it seemed with that right.
'The Cobra' only really began to get a foothold on proceeding as the fight moved into its second half. The ninth of course will be talked about always.
Froch stunned his man with a shot to the temple and followed up with a brutal salvo of body shots but referee Howard Foster's intervention was as premature as it was bizarre (grabbing hold of Groves rather than the advancing Froch before waving it off amid torrents of abuse from the thousands in attendance and millions watching around the world).
Afterwards Team Groves and the public bayed for a rematch, but having watched Froch come apart so spectacularly don't hold your breath ahead of any return match up. There is even talk that Carl might call it a career after one of his toughest nights as a pro.
At 36 nobody can be sure what he has left in the tank and I cannot think of an active fighter who has had such a brutal run of fights since 2008. 'The Cobra' remains top of our latest list due to the fact that whatever you might say about how he achieved it he got the win and his recent body of work is comparable to any world champion in the game.
He is a proud, proud man who has fought valiantly to get where he is in the sport today. The temptation will be to make hay while the sun shines and cash in on his popularity and status.
However his display against Groves worried me and I have not seen a British world champion age in the ring like that since Lloyd Honeghan.
'The Raggamuffin Man' was never the same fighter thereafter so perhaps Froch will do well to heed the advice of William Wordsworth, who once said that 'The Wiser man mourns less for what age takes away than what it leaves behind.'
Sportinglife.com pound-for-pound British top 10:
1 Carl Froch
2 Kell Brook
3 Amir Khan
4 Scott Quigg
5 Carl Frampton
6 Ricky Burns
7 Tyson Fury
8 Nathan Cleverly
9 George Groves
10 Frankie Gavin
Honourable mentions: Jamie McDonnell, Billy Joe Saunders, Darren Baker and Martin Murray.
---
Sky Bet Free Bet Club: £10 free bet - £5 free every week
---