Groves set for another shot
Eddie Hearn says he fully expects George Groves' next fight to be for a world title whether that means a rematch with Carl Froch or not.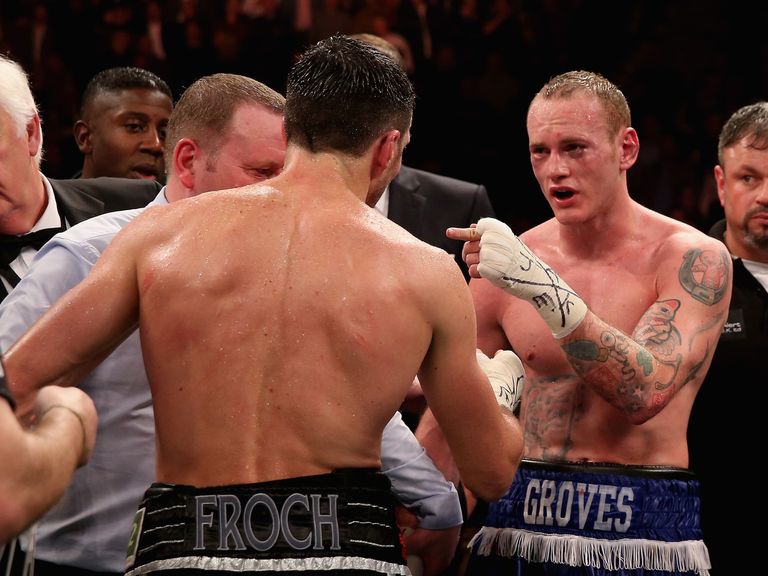 Groves was controversially stopped in the ninth round of his super-middleweight contest with Carl Froch on Saturday by referee Howard Foster while ahead on all three of the judges' scorecards.
And Hearn, who promotes both fighters, said despite Groves suffering the first defeat of his professional career, he has announced himself as a genuine contender on the world super-middleweight scene.
"Everyone knew how talented George Groves was going into the fight but he'd never been at that level before," Hearn told Sky Sports News. "There were question marks about how good he was and he showed how good he was.
"He was sensational last night. He emerged from this fight as the real star and of course now there will be a lot of pressure on the rematch.
"I spoke to him in the changing rooms afterwards and obviously he was devastated and I said to him I know you're not feeling it now but this has just taken you to another level.
"Groves was sensational. He did what he said he was going to do and he backed up everything he said in the pre-fight build up.
"He announced himself as a huge star in the sport and he's 25 years of age. He's going to be around for a long long time and he'll get his shot whether it's Carl Froch or another world champion - and I think immediately."
Hearn refused to be drawn on what the future holds for Froch but suggested the 36-year-old fighter may have little option but to fight Groves should he continue boxing after yet another gruelling encounter.
"People talk about the rematch and I've got too much respect for Carl Froch to try and map out his career after a fight of that magnitude," said Hearn.
"He's 36 years of age. He's been in fights like that for the last three, four years and he's going to need some time to recover, his body's going to need some time to recover and he will decide what he wants.
"The fight was one of the best I've ever seen," Hearn added. "Let's take the controversy away - the fight was incredible and I think that's what a lot of people should remember as well.
"And because the fight was so good I think it's going to be difficult for Carl Froch to take another fight.
"Fights get made for the demands of the broadcaster and the paying public so if that's what they want, and if Carl Froch is going to fight again, which I believe in my heart of hearts he will, I think the Groves-Froch rematch could be inevitable."
---
New Sky Bet customers: Claim free £5 bet every week
---