Speed the key for Pacquiao
Manny Pacquiao has revealed speed will be the key in overcoming Brandon Rios in his welterweight clash in China this weekend.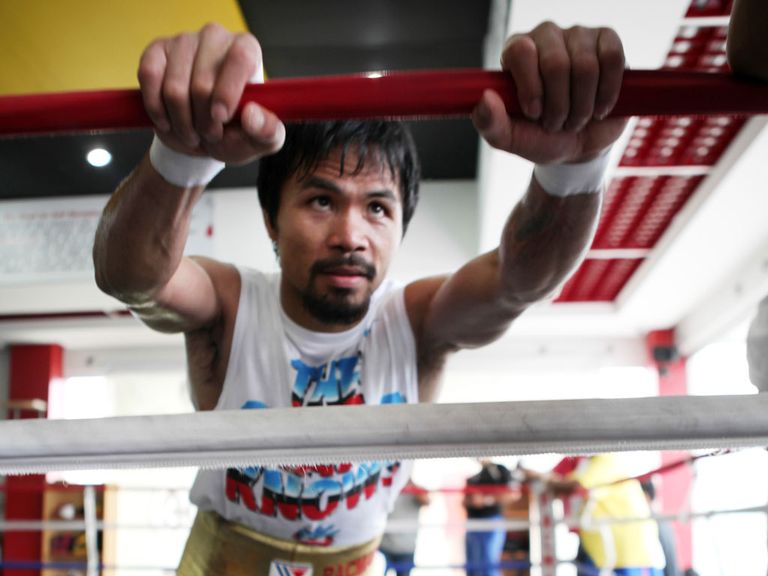 The Filipino, who makes his eagerly anticipated ring return following his sensational knockout defeat to Juan Manuel Marquez last December, believes that the outcome will be decided on who lands first.
"I'm focusing on quickness, speed and some different techniques I can apply for his style," Pacquiao told BoxNation.
"He's a very aggressive fighter but I'm faster than him and speed and power will be the key to winning this fight. We chose Rios because he's the best opponent for me and we can give an exciting action fight for the fans."
The 'Fighter of the Decade' also admitted that this was the best training camp of his career, as he prepares to go in with a fighter in Rios who never backs down and will be in front of him for as long as the fight lasts.
"The difference with this training camp is that I started early; this is one of the longest preparations in my boxing career," Pacquiao said.
"Also it's good because it's the first time I've trained in General Santos for a big fight like this. My team is very happy with how I've looked. Our training camp was good, so I'm very relaxed and happy going into the fight."
This belief has been backed up by his promoter Bob Arum who believes that fight fans are going to be treated to the 'old' Pacquiao, who dazzled in performances against the likes of Oscar De La Hoya and Britain's own Ricky Hatton.
Top Rank chief Arum has given a unique insight into the reasons why Pacquiao has failed to perform to his optimum in recent outings.
"I was over in General Santos a few weeks ago for the media day and Manny looks like the old Manny, at the top of his game," said Arum.
"He looked like when he fought De La Hoya, Hatton and Cotto. I was trying to figure out why? And number one, it's obvious he has fewer distractions over there. He has a gym that's on lockdown and people just can't wander in.
"When he trained at the Wildcard in LA the Filipino people living in the United States would come from San Francisco from San Diego, they'd drive to the gym and they'd say please let us in because we drove so long.
"We don't have that distraction - we haven't got it in General Santos. Also, Manny is involved in so many different things; political things, financial things in the Philippines. So because of the time difference he would work from 5am in the morning, he would be in the gym that afternoon and then he would come back to his house in LA and he'd be on the phone all night because that was day in the Philippines.
"People didn't realise that, he was up all night talking on the phone. Now when he's training in the Philippines he lives a normal life. He gets up in the morning, he trains, works out, does whatever business he does in the afternoon, comes, trains in the gym and goes to sleep.
"And 10pm, 11pm, there's nobody for him to call. Everybody is sleeping. People didn't realise that but it's occurred to me that that's why a lot of people said in his last few fights how distracted he was."
Manny Pacquiao vs. Brandon Rios is live on BoxNation (Sky Ch. 437/Virgin Ch 546) this Sunday at 1.30am. Visit www.boxnation.com to subscribe.
---
New Sky Bet customers: Claim free £5 bet every week
---