Froch to make his point
Our tipster Simon Crawford predicts wins for Carl Froch and Manny Pacquiao in a blockbuster weekend of boxing.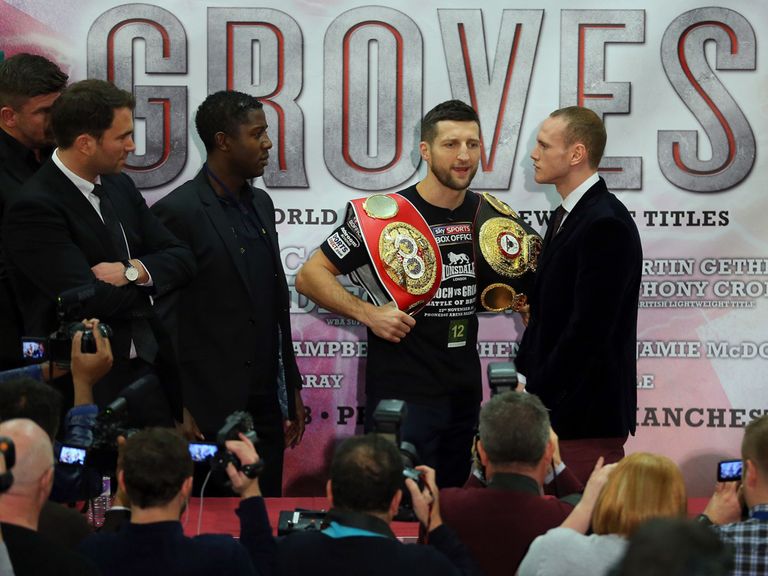 After what seems like an unprecedented amount of media hype, WBA and IBF super-middleweight champion Carl Froch defends his titles against domestic rival George Groves in Manchester this weekend.
Who knows how much planning has gone into it, but the clash has developed into a real grudge match after plenty of verbal sparring in the build up.
It's not the sort of nonsense Froch usually gets involved in - but Groves appears to have found ways to at least annoy the 36-year-old champion.
Only time will tell if questioning Froch's status as a world champion, his hunger, his desire and indeed his skill inside the ring will assist Groves in pulling off what would be a shock win.
But should you really poke a dangerous animal with a stick?
Froch has branded his London opponent, 11 years his junior, as childish, arrogant and rather dismissively as a chump.
But the Phones 4U Arena in Manchester was quickly sold out and the punters and TV audience alike will be hoping the bad-tempered starters are merely the aperitif for the great main course tear-up to follow.
Will it be that? I think not.
I believe the greater experience and power of Froch will win through on the night - but I think he will have to dig deep and it might not be pretty.
Froch (31-2 22KOs) is getting better with age. He has been involved in 10 world title fights and has operated at a much higher level than Groves for most of his career.
"It is a big fight and these two world titles mean everything to me," he said.
"I am taking it very, very seriously and George Groves is in a world of trouble.
"He is going to get an absolute shock on Saturday night because, not only am I going to beat him, I am going to beat him in spectacular fashion and potentially end his career. He is not going to see that one coming."
Groves (19-0 15KOs) has barely beaten a world-rated contender and the highlight of his career was edging past former amateur stablemate James DeGale courtesy of a highly contentious points decision.
He has been rocked by Kenny Anderson, current British champion Paul Smith and DeGale, none who have the brutal power of Froch, so questions marks have quite rightly been raised about his punch resistance.
It's a huge step up in class for Groves and I cannot see him outworking Froch for 12 rounds nor can I see him being able to stop 'The Cobra' who is blessed with a granite chin.
Another negative to Groves' challenge is the fact he split with long-time trainer and manager Adam Booth back in September after rumours that the pair had fallen out.
He is now being prepared by Irishman Paddy Fitzpatrick but a world title fight is far from the ideal place to test out such a fledgling partnership.
Nevertheless, the challenger goes into the fight with plenty of confidence.
"Why shouldn't I be ready for a fight against the second best super-middleweight in the world?" he said.
"We're not talking about me fighting Andre Ward, the number one. I know I'm still a little way off beating Ward, but Froch is a different story all together.
"He isn't the best in the world and never has been. Do I think I can beat him with 19 fights under my belt? Absolutely."
So how does Groves win?
The simple answer is that he doesn't. I think he can frustrate Froch early on and perhaps get some rounds in the bank, boxing on the back foot and keeping out of range as much as possible.
But Froch is an intelligent fighter and will, eventually, find an answer so I think he will will come on strong in the second part of the clash and secure a decisive victory.
I don't think it will be a classic because I don't believe their two styles will gel, but there should be plenty to keep the audience on the edge of their seats.
If Froch were to lose then I believe he would have little option but to hang up his gloves because his standing as 'world class' would be taken away.
But defeat for Groves would not be catastrophic. At 25, he has time on his side to regroup and come again and I think that is a major advantage for Froch, knowing that he must win to keep his career going.
The layers make the Nottingham man a very strong favourite and 2/7 is the best you will get on him, with Groves a general best of 7/2.
My belief is that Froch will seize control of the fight in the second half and canter to a points win.
Manny Pacquiao faces a must-win clash with Brandon Rios in China if he is to get his faltering career back on track.
After being widely regarded as the best pound-for-pound fighter on the planet alongside Floyd Mayweather, many now feel the 'Pacman's' best days are now behind him after losing his last two fights to Timothy Bradley and Juan Manuel Marquez.
The 34-year-old's defeat to Bradley was by way of a controversial points decision, but his loss to Marquez was a devastating sixth round KO.
Granted, he was winning the fight comfortably and just got caught which can happen to even the best, but the way he want down was a sickening sight.
"Brandon Rios says he's hungry to win this fight and I also say I'm hungry to win this fight because I've lost twice last year," said Pacquiao, who is also a congressman for the Sarangani province.
"I'm doing my best to give a good fight and to win the fight, especially with what happened to my countrymen and what happened to the Philippines with the typhoon. To all the people and families affected by this storm - this fight is for you."
Rios, fighting out of Oxnard, California, is adamant that Pacquiao will have his work cut out after claiming he had his best camp ever.
Famed for his all-action, gung-ho approach, the 27-year-old believes that the 'Fighter of the Decade' will be his stepping stone to superstardom.
Rios said: "They think I'm no problem but I'm going to be a huge problem. This camp is the best I've ever had. I've been disciplined. I've followed my diet and done everything I need to win.
"Everyone thinks I'm a tune-up fight - I'm nobody's tune-up fight and nobody's punch bag. A punching bag don't punch back. I'm a monster when I get in that ring. On Sunday a new star is on the rise."
Reports claim that Pacquiao has been a monster in his training camp and if that is to be believed then it would suggest his hunger for the fight game has not diminished and that spells danger for Rios.
Like most boxers, if Rios catches his opponent then he has the power to end it, just as Marquez did.
But I think Pacquiao's speed and movement will ultimately see in overwhelm Rios who could be made to pay a heavy price for his, at times, reckless approach.
The layers have Pacquiao as a strong 1/5 favourite, with Rios a general 4/1 and you can't argue with that.
But I'm convinced Pacquiao will stop his man and in some style so I'm going to take the 5/2 being offered by Ladbrokes on him to win in rounds 1-6.
---
New Sky Bet customers: Claim free £5 bet every week
---