Rios out to shock the world
Confident American Brandon Rios insists he is relishing being the underdog and predicts he will shock the world by beating Manny Pacquiao when they clash in China on November 23.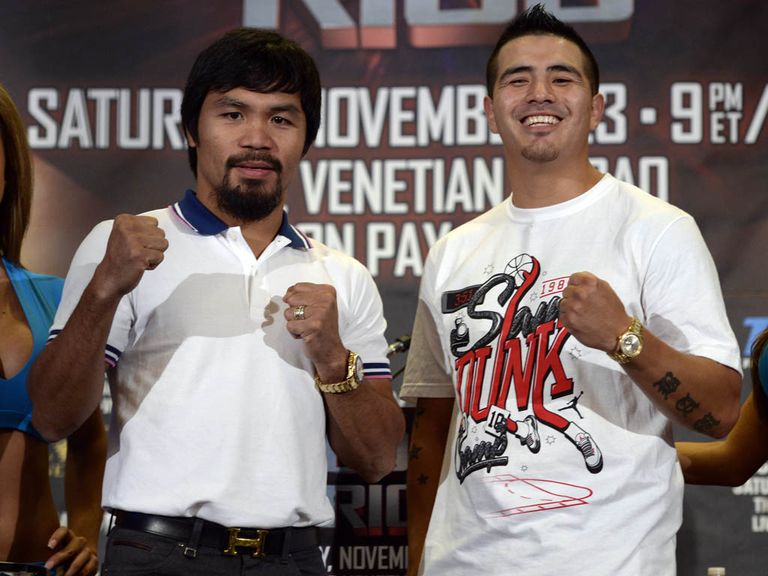 Pacquiao, the first and only eight-division world champion, faces Rios for the vacant WBO international welterweight title in Macau and starts the fight as a heavy favourite despite losing his last two fights.
But Rios (31-1-1 23KOs) believes he can pull off a major shock against 34-year-old Pacquiao.
"It's OK - everybody looks at me as a punching bag," said Rios, 27, who stopped Manchester's John Murray in 11 rounds back in March 2011.
"But that's all right - I have a great game plan and I am going to shock the world and show them what kind of a fighter I am.
"I am just ready man. To be honest with you, I don't care what people think - if I have a chance or not. I am just going to prove everybody wrong. And that's good; they are not giving me credit. That makes me train harder and gives me the drive to show them and shut them up.
"No one is giving me a chance. Everybody is overlooking me. But I am going to show the world that he belongs with the best; he wants to fight the best. This is the guy that has heart and balls that gives everything in the ring, that's what he wants.
"I love it. I love it when they doubt me and I can prove them wrong. I proved them wrong against (Anthony) Peterson. I did it again against (Miguel) Acosta. I did it with (Urbano) Antillon and I did it with (Mike) Alvarado. So I'll be ready."
Pacquiao (54-5-2 38KOs) goes into the fight having been surprisingly knocked out by Juan Manuel Marquez in six rounds just over a year ago and before that he dropped a points decision to Timothy Bradley.
But Rios is expecting the former pound-for-pound king to be back to his best on November 23.
"I'm ready for the Pacquiao that was dominating the game - that's the guy I'm ready for," he said. "I am not looking at his last fight when he got knocked out by Marquez. That could happen to anybody - that could happen to me.
"We cannot go in thinking Pacquiao is done, that he's old. I'm not looking at that. I'm looking at the Pacquiao that was dominating the game.
"I'm getting in the best shape I can get and I'll be ready mentally and physically for this fight. And if he looks old? Great - that gives me more time to warm up. If he's at his best? Great - then I'll have to warm up faster.
"We have to go in there and wait and wait and wait and see what he has because he is still a dangerous opponent.
"Pacquiao is always going to be dangerous, so I can't go in there and jump on him to see if he's done with. I'm not thinking like that.
"I'm going in there with a great game plan. I have to follow instructions and stick to the game plan and I think we should be ready.
"It's going to be a great fight and it's going to be a great fight for everybody around the world. You're going to see two warriors go at it and they really do go at it."
---
New Sky Bet customers: Claim free £5 bet every week
---