Price looking for revenge
Heavyweight David Price is out for revenge against Tony Thompson after admitting his defeat to the American earlier this year gave him sleepless nights and dented his confidence.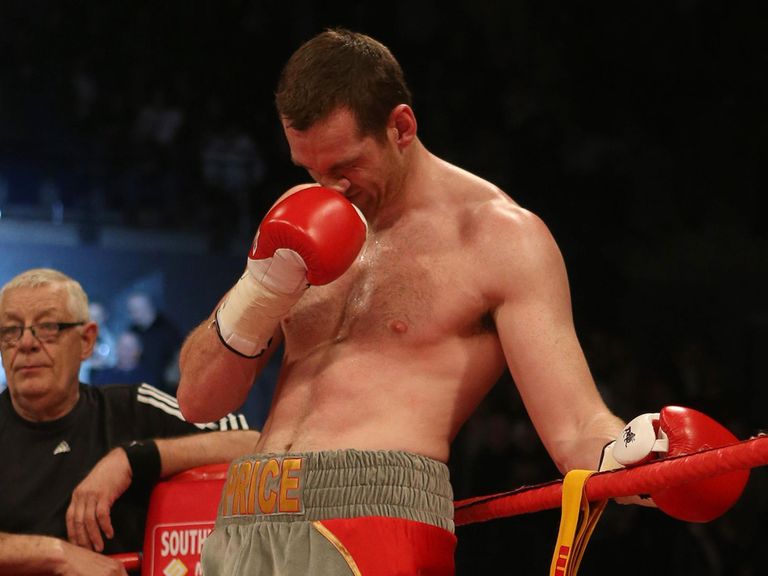 The Liverpool-born fighter suffered his first loss in 16 professional bouts after being floored by a right hook to the side of the head from the 41-year-old in the second round of their February fight.
He immediately asked for a re-match and the pair will meet again at the same venue, Liverpool's Echo Arena, on July 6 - Price's 30th birthday.
But it will be a different Price who enters the ring on that night.
"It did shake me up and I was gutted. I put a brave face on and tried my best not to feel sorry for myself," he said.
"It is human nature: if you have a setback it is going to affect your confidence but it is how you overcome it.
"I didn't shed a tear but I was trying to keep myself busy and my mind occupied, doing anything I could to not think about it.
"But when I went to bed at night I was just laying there thinking about it non-stop.
"I still think about it now but nowhere near as much because I can't look back.
"This fight is going to define my career in terms of how I come back from such a devastating defeat.
"When I win this re-match it will make people sit up and take notice over how I've responded in adversity and that is going to prove I am going on to become a great heavyweight.
"Without bad times you wouldn't know good times - it was a bad time but it will make victory on July 6 the best feeling ever.
"I do believe I am going to redeem myself."
Price insists he has learned some valuable lessons from that defeat in February.
He thinks it was the wake-up call he needed to take his game to the next level after admitting he had become "drunk" on his own success.
"I've been reflecting on the fight and have come to the conclusion that if what happened didn't happen then it was going to happen in the next three or four fights because of the way I was mentally," he added.
"I thought I was just going to have to get fit in the gym, turn up, get in the ring and knock him out.
"You can do that at domestic level but you can't do it at the world level - which I found out the hard way.
"If I had carried on as I was it was just a formality because you get drunk on your own success and become complacent - maybe it happened at the right time.
"It is a lesson learned. Twelve months down the line I'll be able to say I'm glad it happened then but I can't say it now because I haven't avenged the defeat.
"I know there is massive pressure on me because it is make-or-break but I've gone past feeling the pressure now.
"If you lose a fight people lose interest but as soon as I get back to winning ways I am right back in the heavyweight mix."
Price has just returned from a three-week training camp in Canada with former world heavyweight champion Lennox Lewis.
"It was an eye-opener and it gave me a fresh outlook," added the Liverpool boxer.
"I knew there was a level of training that existed at that level - and we always work hard - but we got to see first-hand what the best of the best must have done when he was at the top of his game.
"It was good to talk to Lennox about his personal experiences and how he'd had to face people who had beaten him and gain revenge.
"It came at just the right time for this fight. I can only benefit from what he has passed on to me."
---
Click here for completely free £10 bet with Sky Bet
---