Maidana won't respect Mayweather
Marcos Maidana has been goading Floyd Mayweather into "fighting him like a man" and meeting him in the middle of the ring on September 14.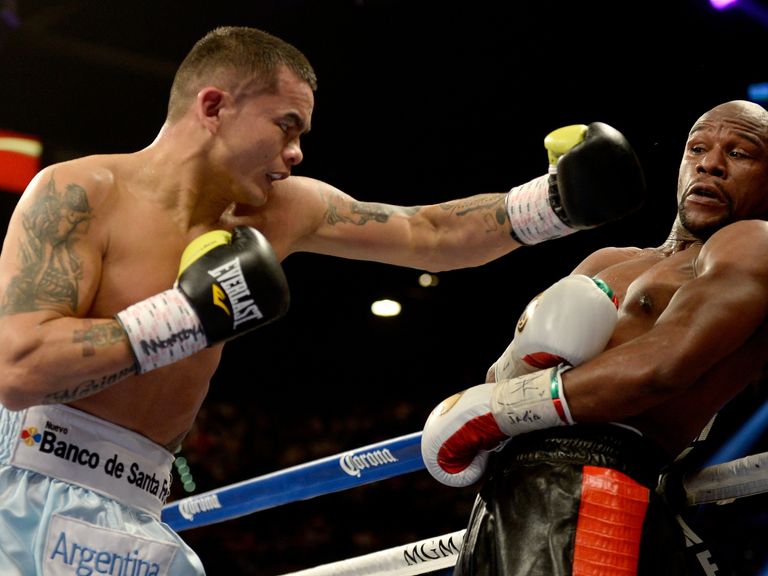 The two fought a close bout in May this year that saw Mayweather just do enough to win a majority decision. But it wasn't your typical Mayweather fight.
"Money" is known for his defensive style, but when he came up against the Argentine he was willing to exchange and lived dangerously throughout the fight.
Maidana is doing all that he can to make sure the rematch is much of the same, calling upon Mayweather to meet him in the middle of the ring and fight.
He said: "This second fight I hope he decides to stand and fight with me, to fight like a man. I hope he doesn't start running or trying to move away.
"I'm not going to respect him. I'm not going to respect him. I'm going to go at him, and I want him to fight like a man. Stop crying and fight.
"It's very difficult to knock out Floyd because he runs, but I'm going to do my best, and we'll see what happens."
Even Maidnan's coach Robert Garcia joined in the fun trying to get under Mayweathers' skin.
He said: "Let's stand in front, let's exchange punches, and let's see who is the better man is. Let's see who is the stronger man is, and we'll show him the difference there. But I think age is not a factor in his age right there."
Mayweather is notoriously hard to hit and has number of defensive techniques that have kept his opponents missing him for years.
But Maidana has a plan for that.
He said: "The way to counter his defensive moves, with the shoulder roll and the arms and all that, I'm going to hit him there. I'm going to hit him in the shoulder. I'm going to hit him in the arms, and come eighth, ninth round he's going to be so tired from all the punches that he's not going to be able to defend himself anymore."
Thw two meet on September 14 at the MGM Grand in Las Vegas and the fight is available on Sky Box Office.