Chisora feels Tyson's Fury
Dereck Chisora and Tyson Fury shook hands on a £100,000 bet on the outcome of their highly-anticipated rematch on July 26 during a heated press conference on Monday.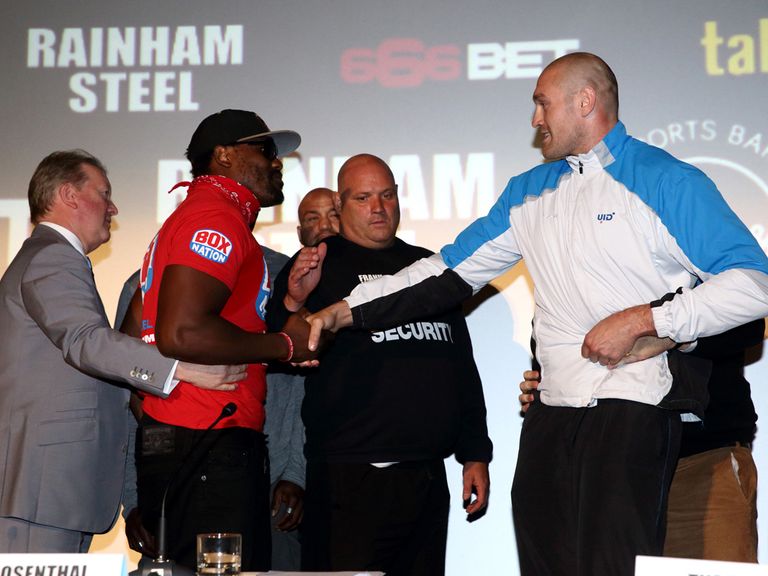 The British and European titles will both be up for grabs at the Phones 4u Arena in Manchester as the pair do battle for the first time since Fury beat Chisora on points in 2011.
After delivering a barrage of personal insults at his opponent, Fury offered the wager to Chisora who duly accepted.
As the pair rose to shake hands on the bet, tempers boiled over and Fury threw down his jacket, offering to fight Chisora on the stage of the cinema, where the press conference was being held in Kensington.
Chisora's trainer Don Charles then called out Fury and it took four security guards to intervene before order was restored and the conference was brought to an end.
Earlier Fury said: "For me this is nothing more than a stepping-stone fight.
"This is Dereck Chisora's final crack at the whip - but for me this is a stepping stone.
"Dereck Chisora is a journeyman, what champions do to journeymans is they smash them to bits.
"If I can't smash him to bits then I must be a journeyman too."
Undefeated Fury took Chisora's British and Commonwealth titles when he won at Wembley Arena three years ago, as well as ending his opponent's unbeaten record.
Fury insists, however, the British and European belts mean nothing to him and promises to hand them back to Chisora even if he wins.
"His European title and his belts - I'm not interested in them, I'm giving them back after I beat him," Fury said.
"He's the challenger, he's the chump and he's 10 levels below me and I'm going to prove that by smashing his face right in.
"Every time he thinks of Tyson Fury in the future he's going to wish he'd never heard that name.
"I'm going to annihilate him. He's going to sleep for good. There's no doubt in my mind. I'm flattening his big, ugly, fat face.
"He's the ugliest man I've ever seen, he can't talk, he's useless, the only thing he's got about him is he's a bit tough and he comes forward and swings some shots."
Chisora has requested the ring in Manchester to be as small as possible so he can close the gaps on Fury.
Offered the chance to respond, Chisora said to his opponent: "I am coming for you in Manchester. I am coming for you.
"Give me your home address and I will take you to the fight myself. Understand this, I am coming for you."
Fury unloaded with another flood of expletives, prompting one journalist to question whether he had any respect for the sport or the members of the public in attendance.
"If you don't like the station, change the channel b****," Fury responded.
"This is my show, I do what I want. This is boxing, it isn't tap-dancing. If anybody doesn't like that they shouldn't be here.
"I'm in fight mode, kill-mode. I don't apologise, it is what it is."
The winner of the bout will also take the number one spot in the WBO rankings and assume a position to challenge world heavyweight champion Wladimir Klitschko for the IBF, WBA and WBO crowns.
Fury has previously said he does not expect Klitschko to accept a fight but admits it is still a match-up he wants.
He said: "This is about Dereck Chisora coming here to get a few quid and a good hiding.
"This is about me chasing down that wimp Wladimir Klitschko who hasn't got the pair of b******* to fight me.
"I'm going to flatten him as well. I just hope the promoters can deliver Klitschko - the so-called best heavyweight on the planet who's terrified to death of me."
Fury is taller, heavier and has the significantly longer reach than Chisora, who has lost four of his 20 professional bouts.
"He talks a good game but we'll see," Chisora said. "He's a gypsy - what do you expect from him? He hasn't got any manners.
"You can't take a dog to a dinner-table can you? He can't intimidate me. I'm laughing at this."