Bellew: Cleverly is a liar
Tony Bellew has finally lifted the lid on his bitter feud with Nathan Cleverly and has labelled his domestic rival a "lying scumbag".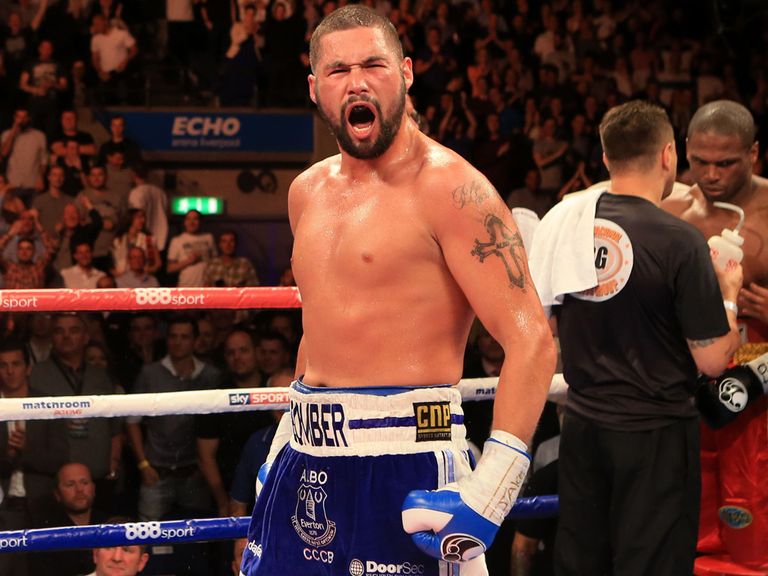 Welshman Cleverly beat Bellew on a majority decision back in 2011 when they both campaigned at light-heavyweight.
Both have since moved up to cruiserweight and are set to clash for a second time later this year after chalking up victories on the same card in Liverpool on Saturday night.
They almost came to blows at ringside following Scouser Bellew's impressive victory over Brazilian Julio Cesar Dos Santos and it seems certain there will be plenty more fireworks before the two face-off for a second time.
Bellew was predictably forthright and controversial when asked why he does not get along with his Welsh rival.
"Because he's a w****r," Bellew told sportinglife.com.
"There is genuine disdain, hate ... whatever you want to call it here. Carl [Froch] and George [Groves] recently served up something, that in my opinion, was manufactured but you have no idea how much I want to hurt him.
"I've never wanted to cause any hurt or damage to any fighter I've faced in the past but I want to smash his head from pillar to post. I won't be happy with just a win - I won't be happy with just a knockout ... I never want to see him in a boxing ring again."
Then for the first time Bellew opened up as to exactly the reasons why his rivalry with Cleverly has become so personal.
"When we first fought I thought 'well I don't really like you but you're not that bad'," said former world title challenger Bellew, 31.
"We fought and shared 12 rounds and I'm not saying I was robbed in that first fight, but I thought I'd done enough to win. It was a close fight that could have gone either way and I thought it should have gone my way.
"In the ring after the fight the words he said to me were 'that's the hardest fight I've ever had, there'll be no rematch - I'm never fighting you again. You're a very good fighter but that's it'.
"His dad said the same but he added that they thought I would be chinny and easy to hit - they thought they would blow me away basically.
"Then when I looked back at his after-fight press conference he claimed he had never got out of second gear, it was an easy fight, he'd done it with two cracked ribs and claimed I was nothing as a fighter.
"That infuriated me and winds me up so much that I could kick his head in right now. He dissed me and slated me after saying something totally different to my face and I can never forgive that.
"Why would you say something to my face and then go in a press conference and basically tell a lie? He's a liar and he cons everybody with what he says ... 'I've got a degree, I'm a nice person, I'm a great fella' - he's a lying scumbag. If he had said in the press conference what he told me in the ring then there would be no nastiness now.
"So when I knock him out in the second fight there will be no shaking hands, he won't be coming near me - I'll tell him to sling his hook.
"And I'm going to walk into the press conference and say that's the easiest fight I've ever had - even if my nose and both hands are broken.
"So that's why I hate and despise him - it sits horribly with me that he lied and that's why I have evil intentions towards him."
Cleverly has also joined in the resurfacing war of words but Bellew claims any hatred is one-sided.
"His supposed hatred of me is manufactured - he has no reason to hate me," said the diehard Everton fan (22-2-1 14KOs).
"At the end of the day the only reason he is fighting me again is that he'll get a big payday. He doesn't want to fight me - but he has nowhere else to go. Why didn't he give me a rematch straight after the first fight when I begged for it? I even said I'd go to Cardiff for it but he still didn't want to know.
"His career is based on lies. It's one thing beating me at 175lbs (light-heavyweight) but it's another beating me at 200lbs (cruiser).
"There'll be no nastiness in the build-up to the next fight. I will not be the first one to attack because I don't think the facts sit well with him and he doesn't want to hear them. But make no mistake, this is not just business - this is personal."
Bellew insists he had no trouble focusing on Saturday's clash with Dos Santos, despite the Cleverly rematch being on the horizon.
A left hand to the head sent Dos Santos to the canvas in the fifth round and, although the South American managed to beat the count, he remained unsteady on his feet and the fight was waved off as he was stopped for the first time in his career.
"It was tunnel vision - everything was about Dos Santos but it was fair to say I was perhaps a little cautious at the start," said Bellew.
"I was thinking about everything I was doing, every step of the way. I was trying to set him up for a right hand as I knew he was strong.
"One thing I did know is that he is durable and I hit him with a right hand in the second round just to gauge him. Then he started saying these little words that obviously I couldn't understand and I was just a little tempted to say '7-1'. But I thought if I say 7-1 he might say 'out in the group stages' and that would have tipped me over the edge!
"But I knew I needed to land a perfect shot and I'm always confident of trading left hooks with anybody in the world. I've got this stigma somehow that I'm chinny but I've only been stopped by one fighter in the world who is one of the biggest punchers in the game [Adonis Stevenson].
"I take a great shot at this weight and I've been nailed hard and often in the gym by heavyweights so I'm confident in my ability to take a shot - but also to give them as well."