Eubank: Groves over-confident
Chris Eubank believes George Groves has "missed a trick" ahead of Saturday's hugely anticipated rematch against Carl Froch.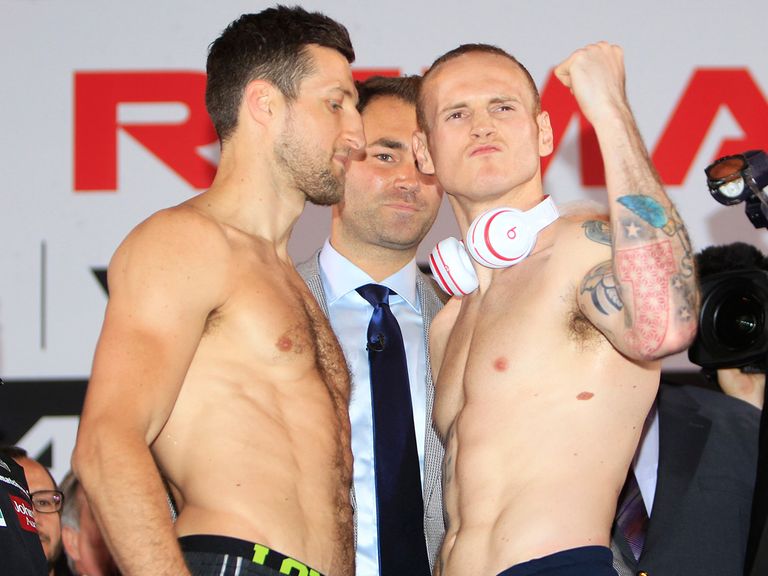 Groves goes toe-to-toe with the IBF and WBA super-middleweight champion in front of a sell-out 80,000 crowd at Wembley live on Sky Sports Box Office, after losing the first bout by technical knockout last November.
Groves' self-belief is unwavering after flooring Froch in the opening round in Manchester and being unlucky to have the fight stopped in ninth.
But former super-middleweight world champion Eubank, whose son has sparred with both competitors, believes the 26-year-old is being naïve.
"In my view, when you are so sure that you have something sussed is when you've missed a trick," Eubank told Sky Sports.
"That's the only thing with George for me - he is so sure and you should never be so sure.
"George is fresh, with fewer than 20 fights. He has skill, ability and talent in abundance but he doesn't have the experience of being in the trenches when you have nothing left but your will.
"What Carl has over him is resolve. He is a battle-hardened, a seasoned campaigner and by my experience, if it goes into the later rounds, then Carl will have the edge."
Froch, 36, appeared to let Groves' clever mind games get the better of him ahead of the first fight, developing a personal disliking of the west Londoner.
But Eubank said: "I think Carl is in a steadier place now. He is being objective.
"If you have severe disdain for your adversary then you tend to have your mind on a different target, which is usually to hurt, and when you want to hurt you are not on your game.
"You're supposed to be scoring points. You're supposed to be objective, not subjective. Carl is thinking: 'this is nothing personal, just business. This is about me scoring more points than you'."
Froch is the slight favourite with Sky Bet at 4/6, but Eubank stopped short of picking an eventual winner.
He said: "Out of respect for the fighters, and even more so myself, to give a prediction isn't fair because we don't know what's in the hearts of the fighters and I'm not a clairvoyant."
Groves tweeted at Froch on the morning of the fight. Simply, it read: "No more sleeps @CarlFroch #TickTock."
Book Froch v Groves II: Unfinished Business here online at skysports.com/frochgroves2, via your remote or order by phone at 08442 410888 (there is now a £5/€5 surcharge)